Spotlight
Womensday with Jennifer Thomson
Introduce yourself…
Hello,  I'm Jennifer Thomson and I am an Artist from Edinburgh. I went to school and Art college here, then I taught art at Madras College in St Andrews for a couple of years, before becoming a full-time artist back in Edinburgh. I live with my husband, son, daughter and a Fox Terrier. I am probably best known for my colourful paintings of everyday life in Edinburgh as well as my harbour and beach scenes in The East Neuk of Fife. I have also enjoyed painting many other beautiful locations that I have visited in Scotland and abroad!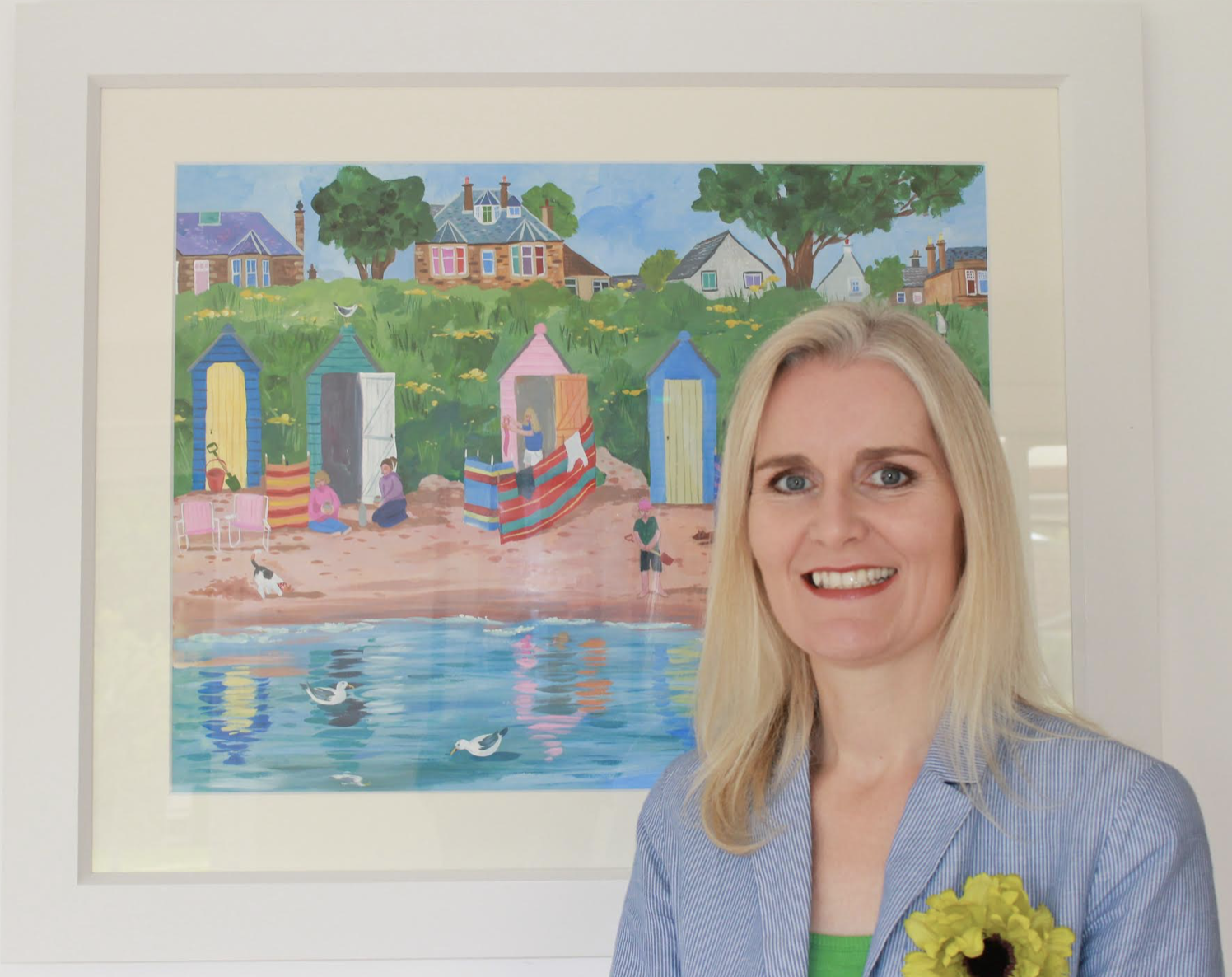 What is the best thing about being a woman in the 21st Century?
I think the best thing about being a woman in the 21st Century is having the freedom to follow your dreams and having the technology to help.
What does feminism mean to you?
To me, feminism means choice and opportunity.
Which women inspire you and why?
The kind of women who inspire me are women who know what they are about and are not afraid to show that to the world, even if that makes them appear different or odd. I think it is such an important thing to discover what is special about you and celebrate it! A great example of this is artist Frida Kahlo. She was a woman with many fascinating aspects to her personality and life which she colourfully illustrated in her self-portraits.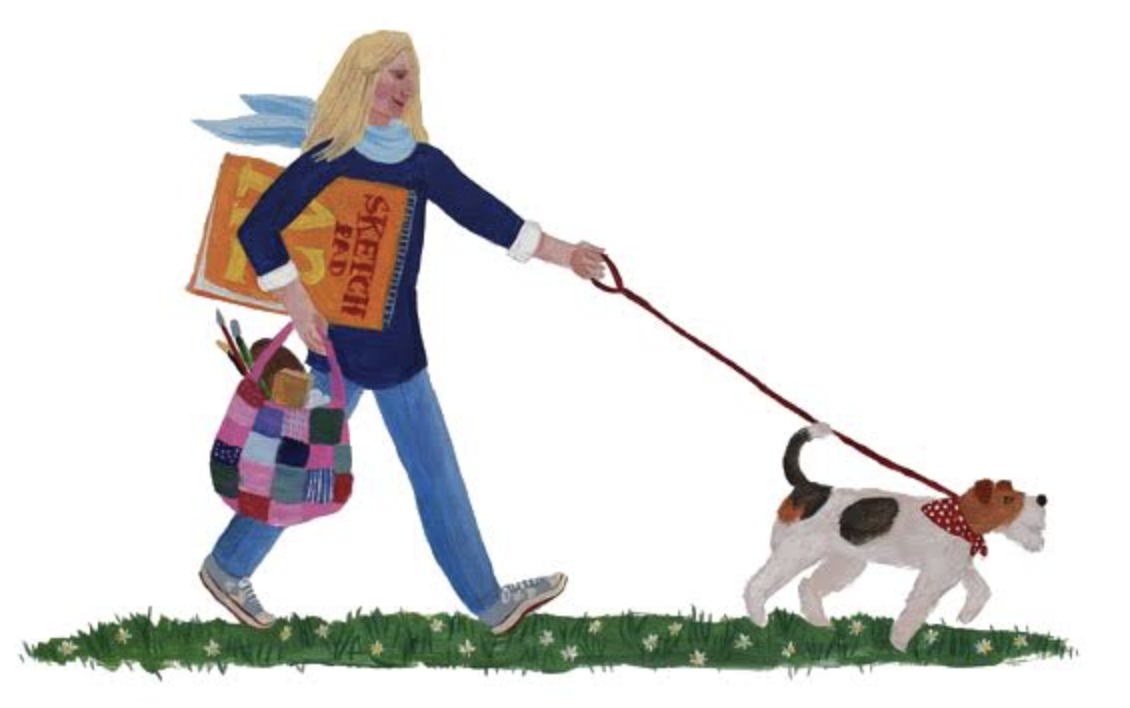 If you could meet any woman, living or dead, who would it be and why?
I would choose another artist called Grandma Moses. She is one of the most renowned Naïve Artists in the world and because this style of art has always inspired me, I think it would be really interesting to find out more about her life and what made her tick. I love the simplicity of her work. Her paintings are so straightforward and optimistic. The world that she portrayed was beautiful and good. Amazingly she began her career at the age of 78 and produced over 1500 works of art before she died at age 101 which just goes to show it is never to late to change career. And that wasn't all she achieved … she raised 5 children too!
If you could learn to do anything new what would it be?
I would like to take up some form of dance. I enjoyed dancing when I was younger but my painting career plus bringing up a family filled most of my time so I'd love to get back to it now that my youngest is about to leave for Uni. I have looked into it recently and there is an incredible amount of choice in Edinburgh, everything from 'Vintage Ballet or Tap' to 'Bollywood' or '80's Icon'. Not sure where to start!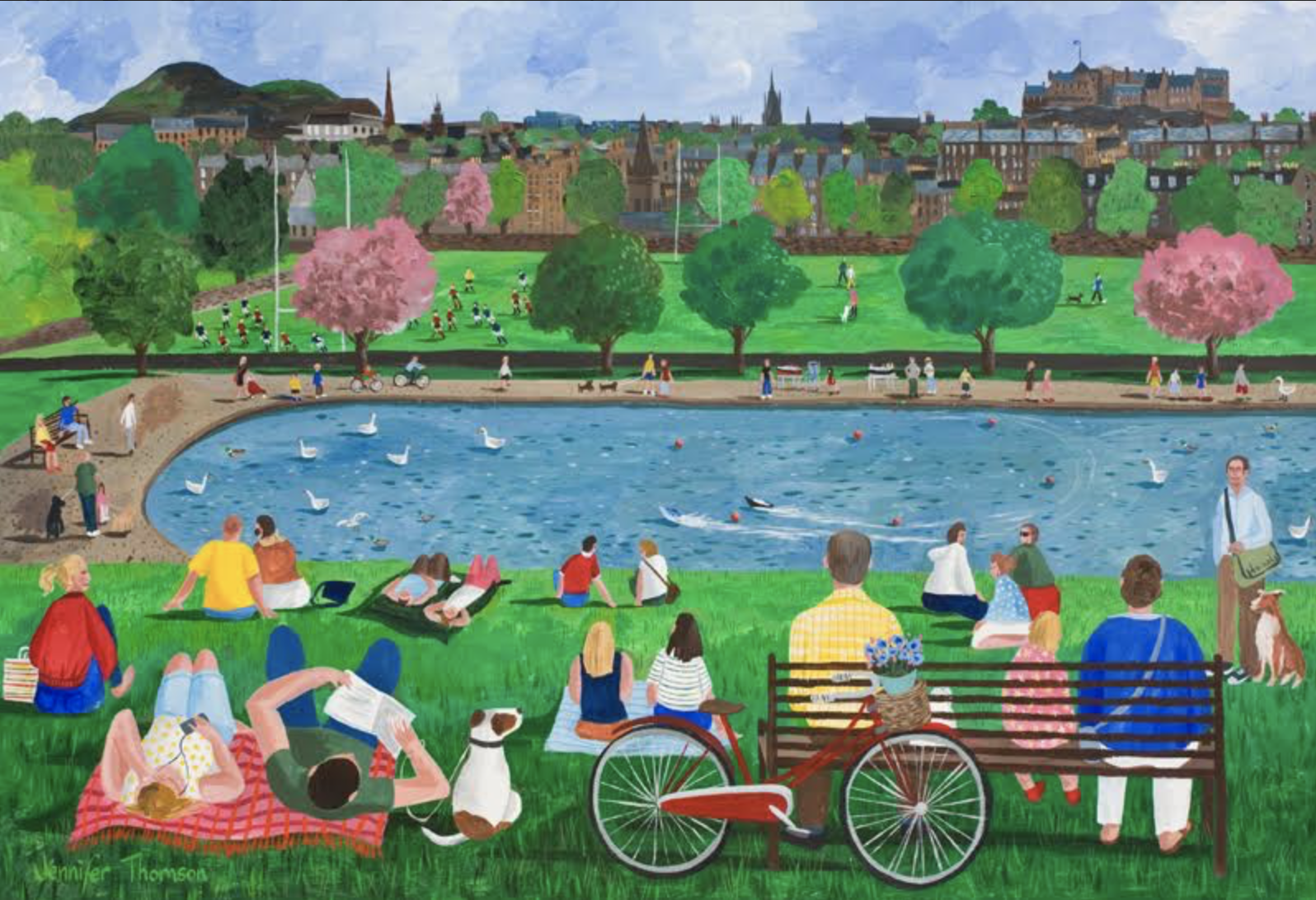 What do you believe would be the biggest challenge for the generation of women behind you?
I believe the biggest challenge will be to achieve some quiet head-space in this busy, ever changing world of technology and information. I think it is essential to stop the mind chatter on a regular basis and just be. This is how we can allow new ideas and creativity to flow.
Your secret guilty pleasure?
'Big Share' bags of Cadbury's giant chocolate buttons. I have a special high shelf in my kitchen cupboard dedicated to these delicacies. I have to admit though, there's not really a lot of sharing involved, these guys are all mine!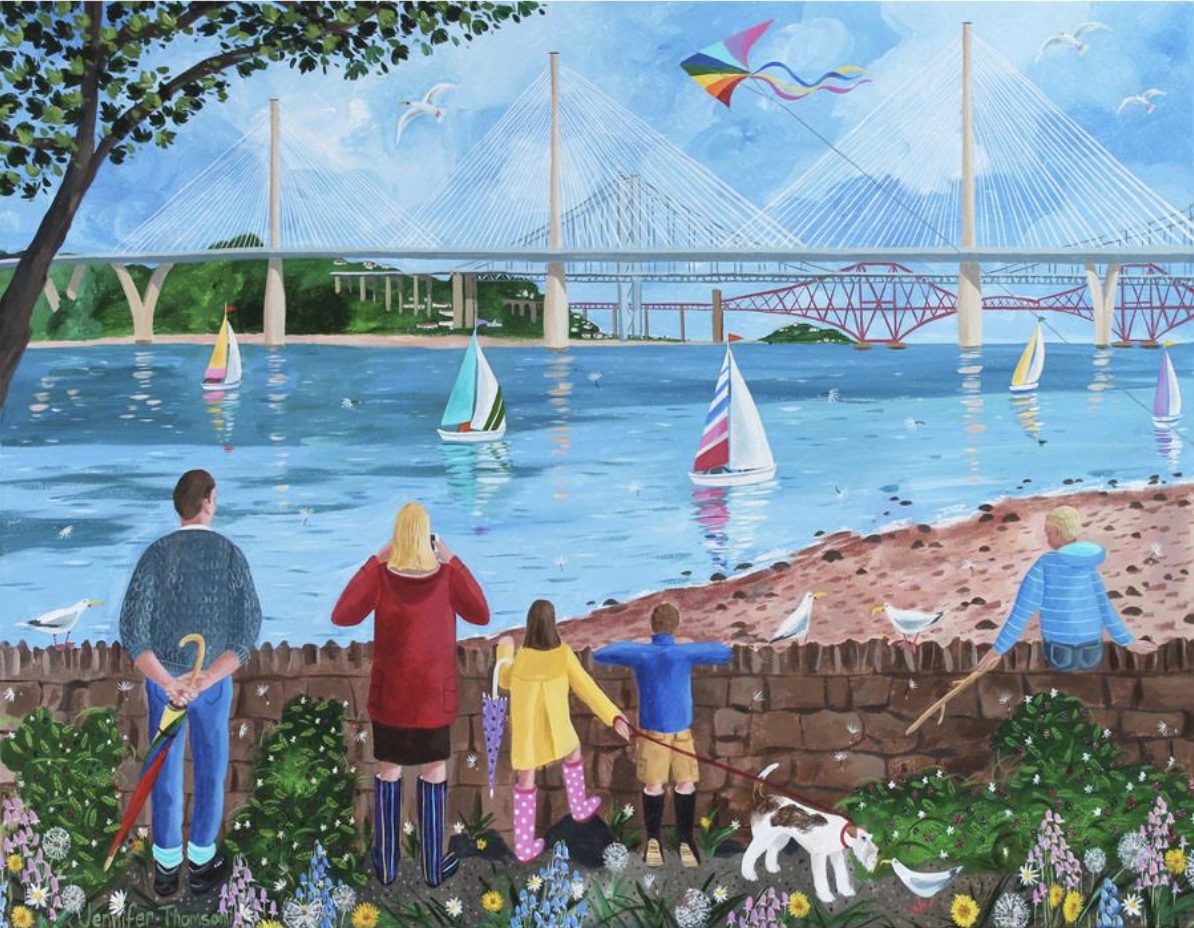 What did you want to be when you grew up?
I wanted to be an artist from a very young age, I was constantly drawing and making pictures. My Mum told me that when I was about four I ran out of drawing paper one day, so I started drawing on the wall of my bedroom instead. Apparently whilst my Mum was giving me a row for this, I had my hand behind my back scribbling on another wall with a pink felt tip pen. Unstoppable, I guess!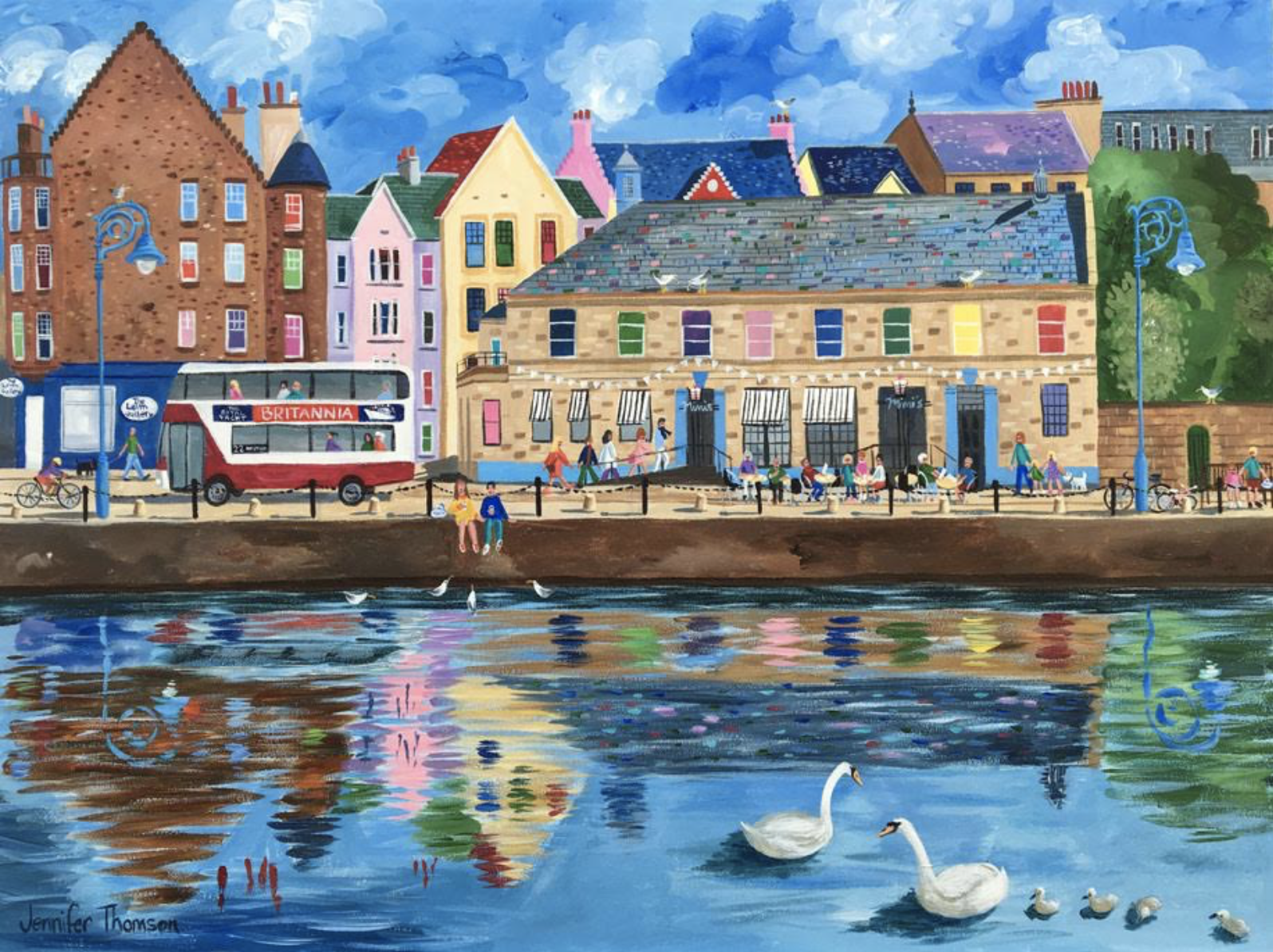 What is at the top of your bucket list?
I would like to see more corners of the world that I haven't explored yet. India intrigues me.
Your favourite city spots for a good coffee, good cocktail and good clothing in Edinburgh/Glasgow?
For coffee I often go to Artisan Roast in Stockbridge after walking the dog at Inverleith Park. Their flat whites are delicious and have quite a buzz. There is nothing nicer than sitting at one of their outside tables on a sunny day (not that we get these that often…). I people-watch while my dog, Brodie dog-watches. He has a good sniff at the huge variety of dogs that walk along Raeburn Place…all great subject matter for my work.
For cocktails I like Chaophraya. The cocktails are good and the views of Edinburgh are amazing.
For clothes I love Anthropologie plus I do like a good poke around a second-hand shop (or should I say a vintage store) whenever I have enough time.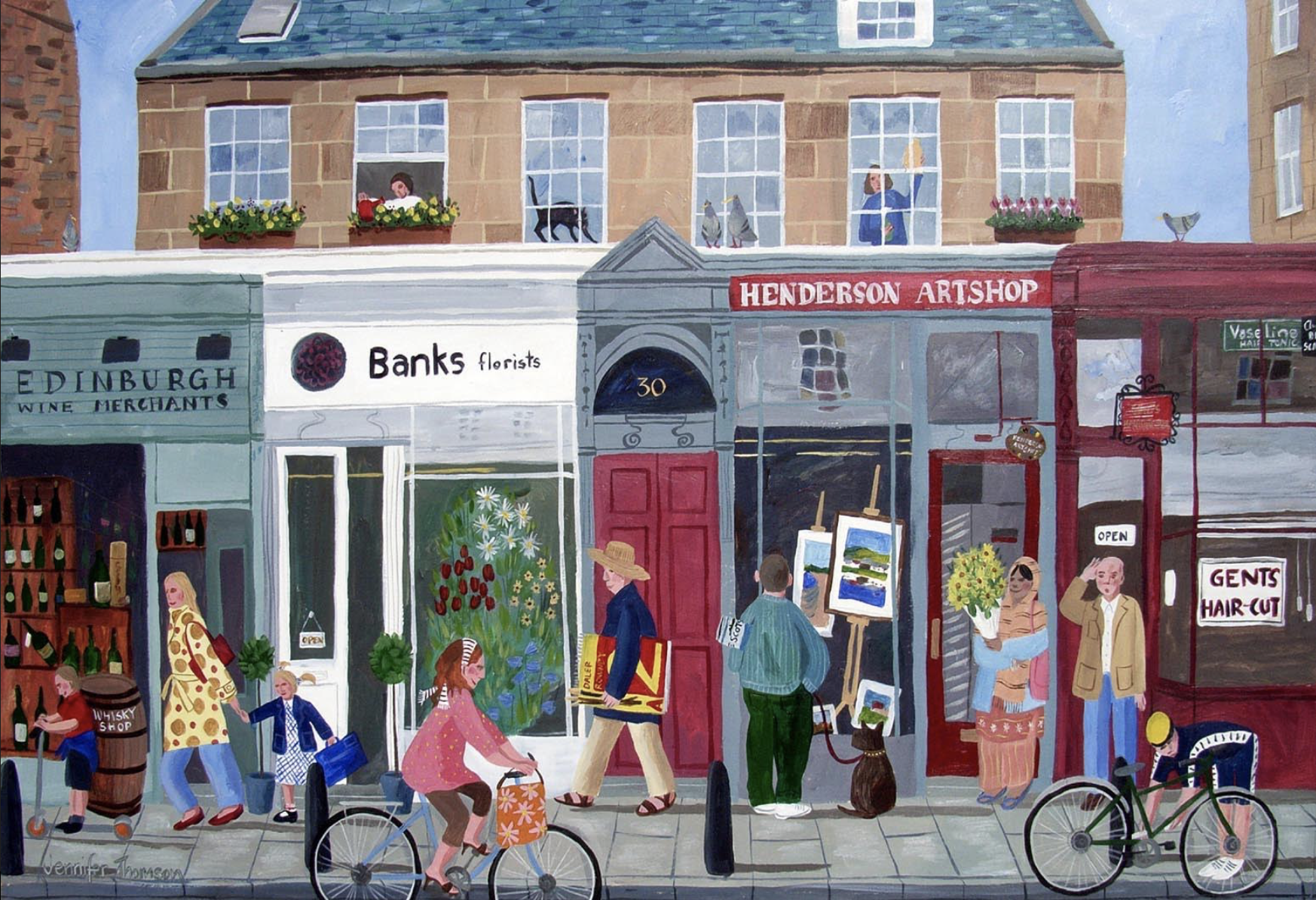 Your favourite book, or favourite podcast and why?
Without doubt, Sir Ken Robinsons Ted Talk – "Do Schools Kill Creativity". Spoken with such insight, humour and common sense this talk points out what many of us probably know deep down. Hopefully this talk sews a positive seed for future generations.
And lastly, Happiness to you is?
Standing at my easel on a bright, sunny morning with my dog watching sleepily from his basket in the corner of my studio. My favourite music is playing in the background and there is a nice cup of coffee and a Danish pastry on hand if I get peckish. I have a fresh palette of paint, some lovely clean brushes and a blank canvas. All ready to embark on a brand new painting … bliss!
EGG Membership Card Illustration
Join EGG Today
Become a member of EGG and enjoy a heap of exclusive benefits. You'll get access to Exclusive Offers, Events and your very own Digital Membership Card –  use it to discover great places in Edinburgh and connect with like-minded girls.
Pay Annually
---
£30
per year
Sign Up Now »