Spotlight
Womensday with Clare Brownlow 
The first thing I do when I wake…
I tend to get jumped upon by a small child- so a quick cuddle and then up and at the day. I check social media and see what orders have come in over night. I tend to not function without a whopper of a cup of tea. Then I light the fire in my studio and back to the chaos of the boys breakfast and the school run.
I get to work and…
Bring the boys rabbits in so they can have a run around the studio along with the cocker spaniel. I tackle paperwork and orders first off and then make sure my head is clear for the day of painting. I hate having emails etc over my head when I need to paint. I get the mood just right and get some music playing along with another mega cup of tea and get to the painting table. Every day is different. I love running my own company as I adore the variety it gives me however there never seems to be enough hours in the day!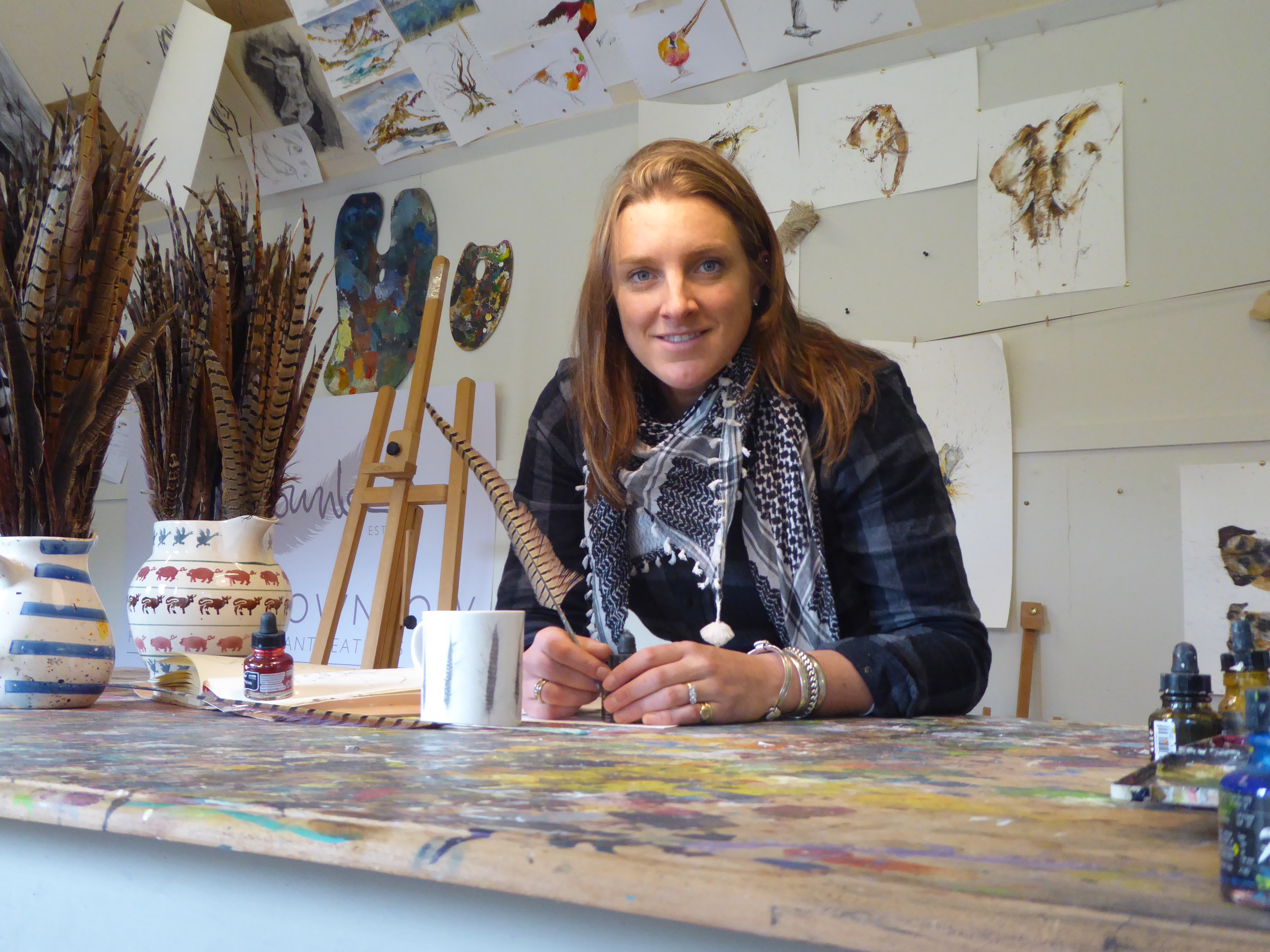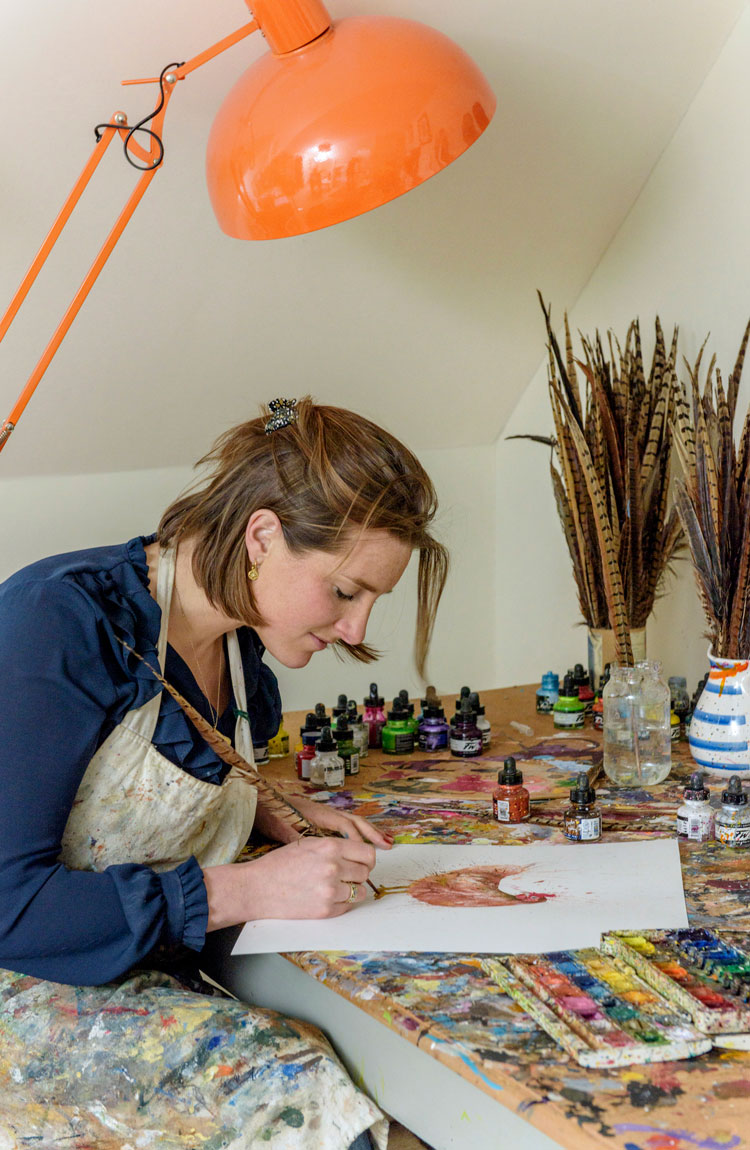 My working day can…
It can be anything from meetings with clients discussing commissions to running around like crazy between the printers, framers and the post office. I love the days when its just me in the studio and no interruptions. I take the dogs for long walks to get inspiration from the countryside around as it is stunning where we live. There is a little burn at the bottom of the garden and endless walks up and over hills. After school the boys sometimes come into the studio and do some painting or lego or den building for their rabbits! I also get to travel a lot with my work so I have commuting a lot between Berwick and London this past few months for events, exhibitions and exciting meetings.
At the end of the day I…
It really varies. If I am doing paper work and orders and general admin the day ends sharpish! However if I am into a painting it can go on until the wee small hours which I adore. I love painting when everyone is asleep it means I am most definitely off mummy duty and can just be on my own and fully emerge myself in my work. I do love to go to the gym after the boys are in bed. I would say I love it before and after but the classes are hell and I do feel like I am dying when I am doing it. The great thing is they are short and hard core so I can get them done and dusted as I always seem to be chasing my tail! So Time is key for me.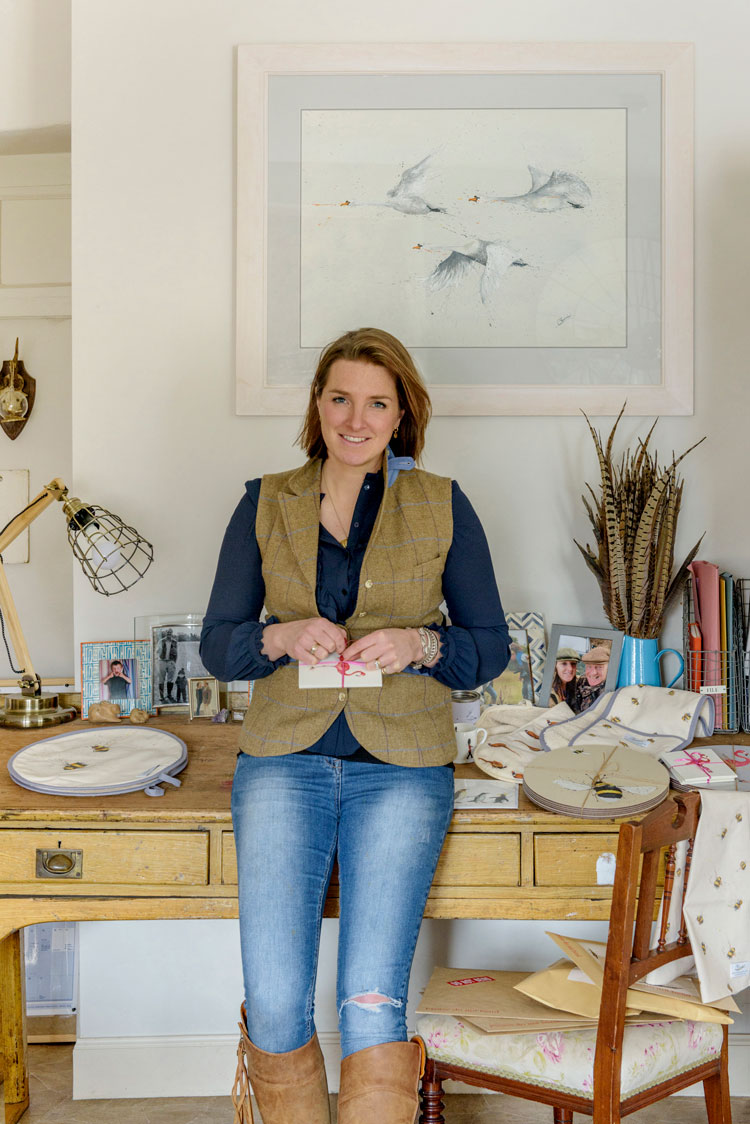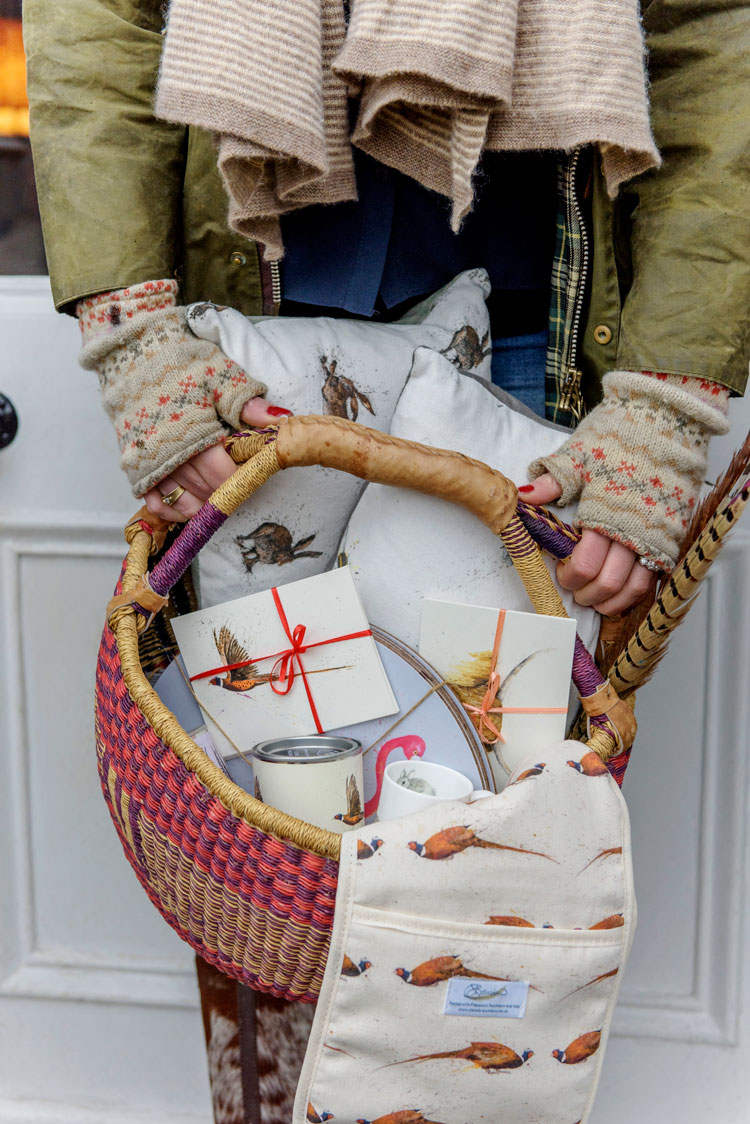 My night time routine involves…
The general Mummy role takes president so tea, homework, bath, nerf gun war, wrestling and story then bed. Pretty standard for any mother of boys! When the boys are in bed I head back to work. It has to be said that when its snowing and freezing in my studio (even with the fire on) its like a fridge so I tend to do more painting in the finer weather. If I'm not in the studio I would get on top of paper work or open a bottle of wine and wrap thousands of post cards, greeting cards and place mats! It's not the most exciting job but I do get to catch up on Netflix!
I usually switch of by… 
Um I don't really. I love what I do and always thinking about where I can go with my work and what pictures to paint next. I do adore doing anything with the boys outside. My favourite place is on the beach. I adore having friends over for dinner parties and silly games and I love a fancy dress theme.
Something you might not know about me…
I used to work for an investment management company in Edinburgh. Very different role to today's job spec.
I love being based in Edinburgh because…
It is the most awesome city with so much to offer. I love the history and the architecture and the way that the city has so many different layers. I love just not having a plan and walking around and seeing where it takes you. I love the fact that Arthurs seat is so close and such epic views of the city can be had from there.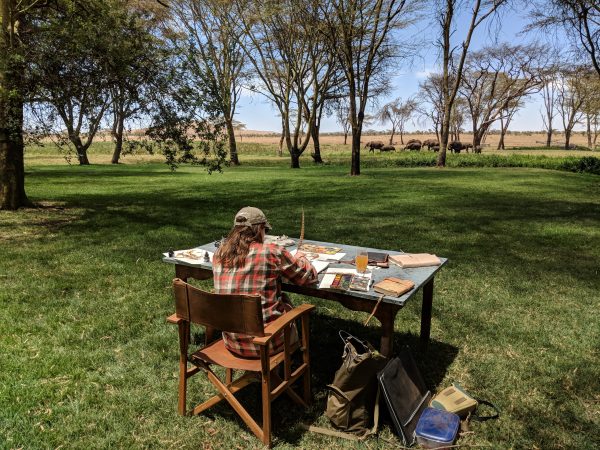 My favourite city spots & finds are…
I have lived in many places around Edinburgh and have favourite spots in them all. All for different reasons. I love ambling down Dundas street and popping into all the galleries. Its so inspiring to see. I love Victoria Street and Mellis cheese shop and my favourite beverage shop – Demijon. The national gallery is a must at any visit just to see the history of art right inform if you. I studied History of Art and Fine Art at Edinburgh so any gallery and museum is a very special place to me. Walking around Stockbridge is a favourite as I lived there for a while and had my first flat there. Lots of fab places for a good brunch and fab pubs to watch the rugby in. Huge atmosphere.
3 great women I connect to daily are…
I am in constant contact with my darling Mum. I message her a lot be it about the boys or how to hand wash a favourite jumper or a recipe she is a monumental cook and I am not! I honestly couldn't narrow it down to just three as I have such a fab group of girlfriends that I am in constant contact with but perhaps not every day! I am however constantly watching what they are all up to (not in a creepy way!) by social media. I am in awe of how some of these girlfriends do what they do. My friend Suzanne aka The Batch Lady blows my mind how she has created such an incredible business in only a year. Frippy Jameson is the most incredibly talented sculptor and has created a wonderful piece of the boys and her studio is envious! I wish I had half her talent. Also; Georgie Harding Newman who runs Fig Food blows my mind. She is the most talented cook who also happens to have 4 heavenly kiddies and she is constantly producing works of art in the kitchen.
I love chatting to my grandmother who has loved all over the world and has a fab look on life and cracks me up. She tells the boys amazing stories about when she was a little girl growing up in India with a pet mongoose and many more tales. I desperately want to write a book about her stories! Just need more time and have no idea where to start.
The greatest thing I've learnt about being a modern working woman is…
I have learnt that you need to be different. You need to be creative and you need to look after yourself. I find it hard to fit everything in and delegate. I have so many ideas running through my head and so many things I want to do. I have the most incredibly supportive husband who mans the fort when I am away for work and helps a huge amount with me day to day. The world is full of incredibly talented artists and creative people. You need to stand out.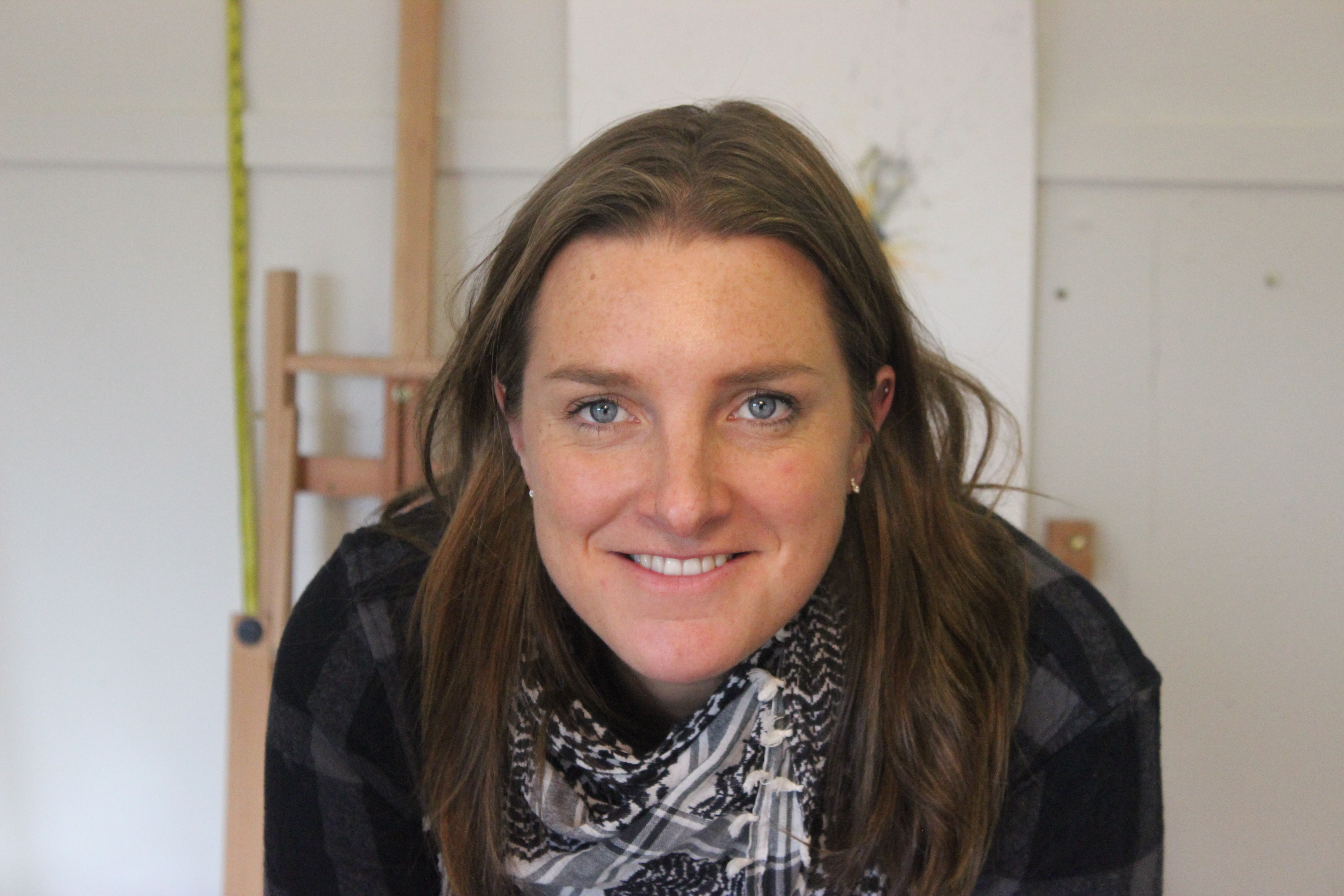 EGG Membership Card Illustration
Join EGG Today
Become a member of EGG and enjoy a heap of exclusive benefits. You'll get access to Exclusive Offers, Events and your very own Digital Membership Card –  use it to discover great places in Edinburgh and connect with like-minded girls.
Pay Annually
---
£30
per year
Sign Up Now »