Spotlight
Waste! Waste! Waste!
Do you struggle knowing which of your bins household waste should go in? Do you want to be better at recycling but don't know where to start? You are not alone!
Most people are trying their best to recycle at home – but the multiplicity of ways in which recycling is collected by councils across Scotland has left us all a bit perplexed over what can be recycled and what can't. 
As a country we generate a lot of waste. The SEPA figures show the amount of household waste produced in Scotland was 2.46 million tonnes in 2017. Things are moving in the right direction, there has been a decrease of 38,153 tonnes from 2016 and the amount of household waste sent to landfill was also down by 24,848 tonnes. Amazing, but there's still a long way to go!
How can I recycle properly? And how can I reduce my waste?  
One of the biggest issues is being able to understand the symbols on the packaging and whether your local authority accepts them in your kerbside collection, as they do differ. So here is a guide of the symbols…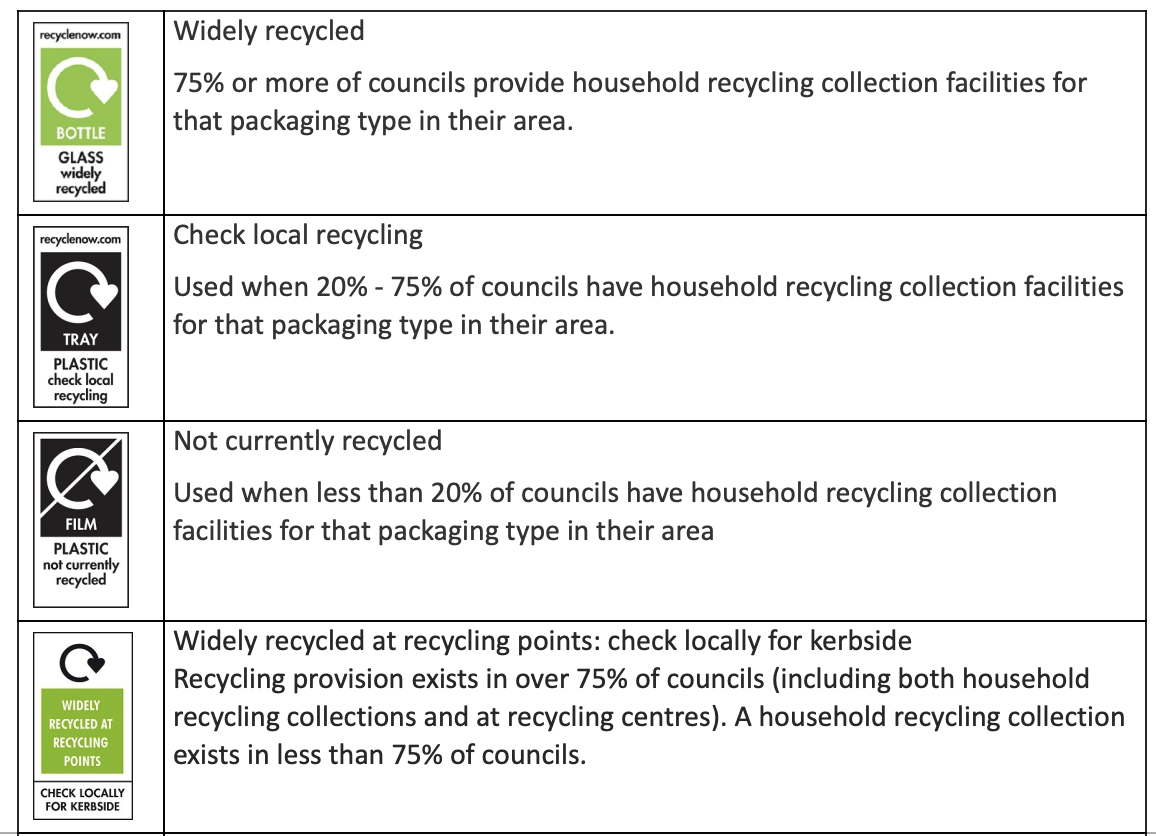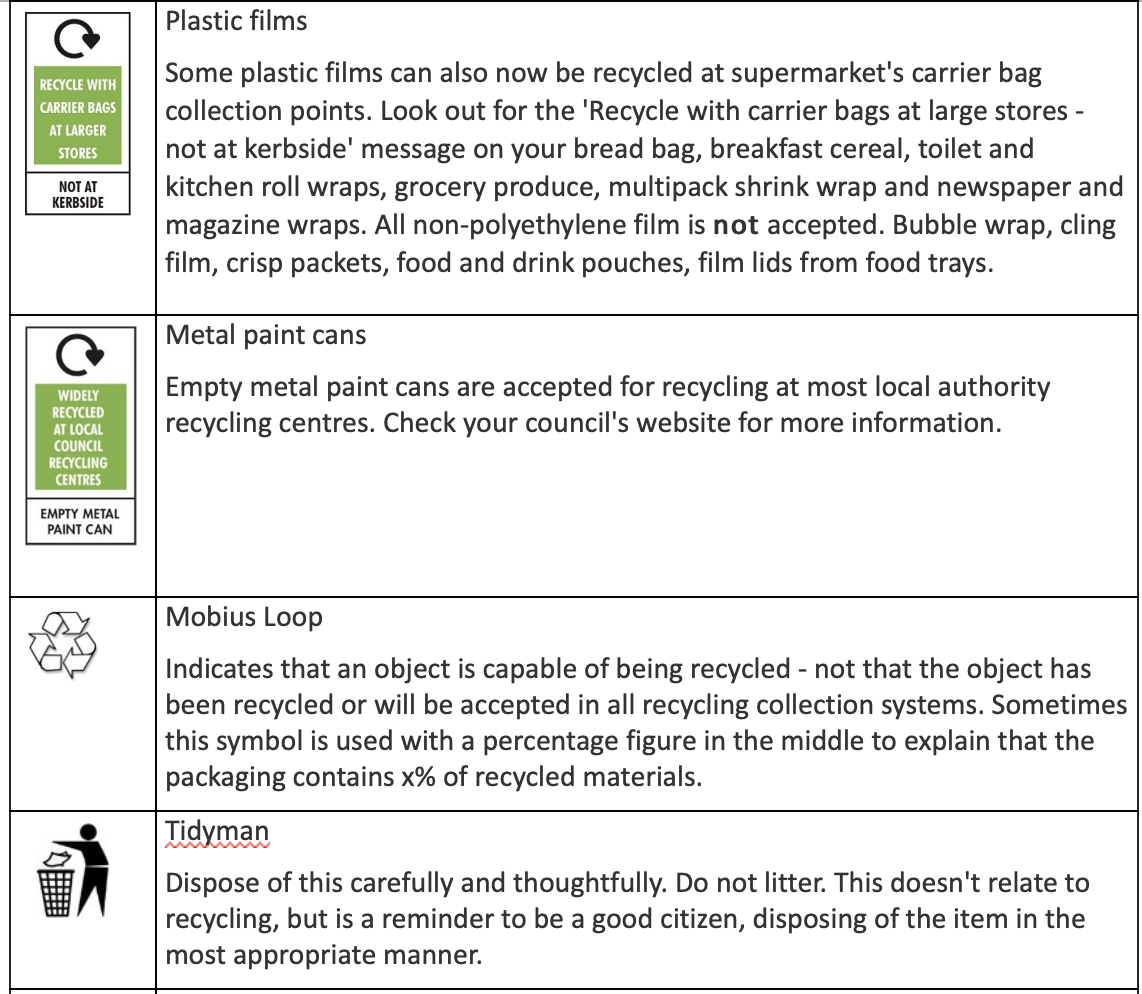 On the whole, recycling is not easy! Firstly, it's so complex, especially due to the lack of consistency in different council areas. There is some hope on the horizon with the Household Recycling Charter for Scotland, which will essentially aim to standardise recycling throughout Scotland. This project aims to increase recycling, make it easier for householders to improve the quality of recyclate and help industry by making recycling collections more economically viable. Unfortunately, it's not up and running yet as they are still waiting on two local authorities to sign up – one of them is Edinburgh. Come on Edinburgh PLEASE sign up!! 
Whilst the majority of us are recycling at home, it can feel sometimes to be a little pointless, we know that some of our recycling is still being sent to other countries to be processed. We are all too aware of the images of our waste populating Malaysia with disastrous effects.  This is certainly not great for the carbon footprint either! However, the Scottish government is looking at investing in more processing facilities locally. One of the most exciting initiatives is Project Beacon. This project combines existing and innovative mechanical and chemical recycling to create a world-first Advanced Plastics Reprocessing facility at Binn Eco Park, Perthshire. Beacon has been supported by Zero Waste Scotland, the Circular Economy Investment Fund (backed by Scottish Government and European Regional Development Funding) was awarded funding of £1.7million. By locating state-of-the-art recycling technologies together, significantly more plastic is kept in the economy and diverted from landfill and incineration, contributing towards Scotland's ambitious recycling targets.  
Ultimately, the manufacturers need to make it easier for consumers and take more responsibility, but that does not mean that we could give up completely. We should all recycle for good. Collectively, we would make a HUGE difference. 
 So here are a few tips… 
Black food trays cannot go in recycling – not

because they can't be recycled

but the technical processing equipment sensors cannot register the colour. So av

oid black plastic food trays and

complain to

retailers

that use them.

Pyrex and drinking glasses cannot go in the glass bins.

They can be recycled by Vision

Aid and made into spectacles. See their website for collection points.

For glass jars

–

the lids can go in with metal recycling and the

glass

jar

can go in with

the kerbside glass recycling

 

Edinburgh City Council does not accept plastic plant pots in recycling but

you can take these to

your local

Dobbies

 

Morrison's stores have recycling points for carrier bags, bread bags and cereal bags as well as other similar items. The majority of councils don't offer kerbside recycling of these items and if they're incorrectly placed in your recycling bin they will contaminate the recycling stream.

 

Wash glass, tins and plastic before putting it in recycling as dirty items contaminate the recycling stream too.

Even if we all just do this we will be making a HUGE difference.

 

Pizza boxes cannot be recycled. Whilst they are made from corrugated cardboard, the cardboard becomes soiled with grease, cheese, and other foods once the pizza has been placed in the box. Once soiled, the paper cannot be recycled because the paper fibres will not be able to be separated from the oils during the pulping process.

 
 Dates to look out for:- 
This year, from the 23 – 29 September

Zero Waste Scotland

be encouraging people to recycle as much food waste as they can

Recycle Week

. 

Food waste is dangerous to the planet as it creates greenhouse gases in landfill. When food waste is recycled, it is converted into clean energy to power our homes and businesses.

We will share the information with the EGG Community. 

 

We have spotted on the Green Buckstone F

acebook

page that Woodlands School is looking for pens this week under the

TerraCycle

writing instruments scheme. 

 
If you are still confused, the Recycle for Scotland website has an area on its site which lets you select from popular items and see how you can recycle them.
But then you need to cross-reference with your local councils guide to recycling. See the Edinburgh guide here.  
What about those hard to recycle items? Well 'Terracycle' provide recycling for these items, so worth checking out for things like contact lenses and contact lens cases (a lot of Boots stores have collection facilities), crisp packets, toothbrush/toothpaste tube recycling and many more items. Check Terracycle out here.
EGG Membership Card Illustration
Join EGG Today
Become a member of EGG and enjoy a heap of exclusive benefits. You'll get access to Exclusive Offers, Events and your very own Digital Membership Card –  use it to discover great places in Edinburgh and connect with like-minded girls.
Pay Annually
---
£30
per year
Sign Up Now »