Spotlight
One Year No Beer
One Year No Beer is a fun and inclusive behavioural change organisation, aiming to transform the world's relationship with alcohol. Despite our love for a pink gin or two, we completely understand that alcohol can have such a negative impact on both our body and out mind. OYNB offer a variety of alcohol-free challenges including 28 days, 90 days and 365 days, and were totally here for it!
If you find yourself drinking a little too much, or simply just want to be a little healthier, then claim 35% off any challenge with discount code 'EGG35'!
As part of the challenge, you'll receive the following;
– daily content delivered straight to your inbox with your habit hacks, behavioural change techniques and positive thought reinforcement
– access to our online communities… join our growing Tribe with thousands of members ready to welcome and support you on your journey.
– access to our members area with a plethora of resources such as podcasts, e-books and blogs
– expert advice from industry leaders
– daily accountability, because committing your change to someone else dramatically increases your chances of success!
Pretty amazing right?! And get this, statistics really do show the benefits. Thousands of OYNB members would agree. A total of 82% have dramatically improved sleep, 73% have lost weight, 92% felt much happier, 73% were more productive and a 74% had reduced anxiety. We can't forget that if the results of going booze-free were a pill, everyone would be taking it! So join in and sign up for an alcohol-free challenge today. I can guarantee that you won't regret it.
Testimonials 
Mai's OYNB Story:
"I am a widow and have been solo parenting three young kids for the last five years. At the same time, running my rapidly growing business in corporate health and chronic disease prevention. As a Public Speaker and Chronic Disease Specialist, I practice what I preach by eating right, prioritising sleep and exercising. However, like many women, I occasionally chose to relax with wine when socialising. I considered myself a light drinker because I only drank around 3 cocktails a week.
However, over the holidays I started to notice that after only two drinks, I would be a total wash out the next morning. I'd feel anxious, grumpy and my brain would be slower. My wakeup call came when I was too exhausted to play with my kids.
I had no expectations at the start of my alcohol-free journey with OYNB, except to keep an open mind. A respected friend of mine confessed to me that joining OYNB had been life changing. My only goal was to reach 90 days alcohol free and gain more clarity around my relationship with drinking.
To my surprise, not only did my energy increase but my overall anxiety decreased and I also lost 11lbs during this 90 Day Challenge. Before joining OYNB, I was having acne breakouts, which for someone who had naturally clear skin all my life, this was a shocker. At first, I chalked it up to ageing, but since joining OYNB, my skin completely cleared up.  
I thought I'd feel alienated by not joining my friends in their boozy revelry. To my delight, nobody cares what's in my glass so long as I don't judge them. Honestly, I'm having more fun now as I am sparking deeper conversations and more meaningful connections.
The best change I have experienced since starting OYNB is my entire energy shift. I'm less anxious and I feel calmer, more positive and engaged. It's been a holistic change in my overall mental, physical and spiritual health. I feel more confident in my skin, literally and figuratively.  
OYNB helps you to succeed thanks to the collective group of positive people from all over the world cheering you on. Andy, Ruari and the OYNB team give you daily emails, excellent service and access to so much evidence-based literature to help you reach your goal of clarity, positivity, health and allows you to visualise all your possibilities. I feel part of a special family committed to health and happiness. In retrospect, as a health professional, taking a pause from a massive sugar overload delivered in the form of a deadly neurotoxin is a no brainer, right? Most importantly, I'm a better mother, more productive business woman and I'm loving this new reality of a happier, younger-looking, younger-feeling me!
Thank you OYNB! You ARE life changing!!"
Mai's Before and After Photos: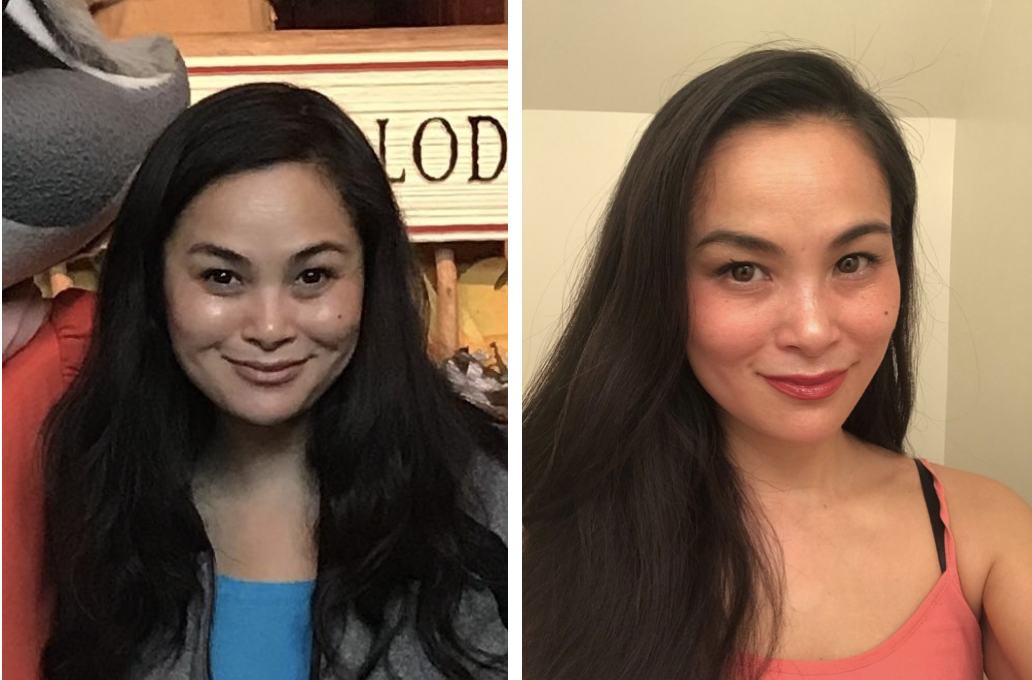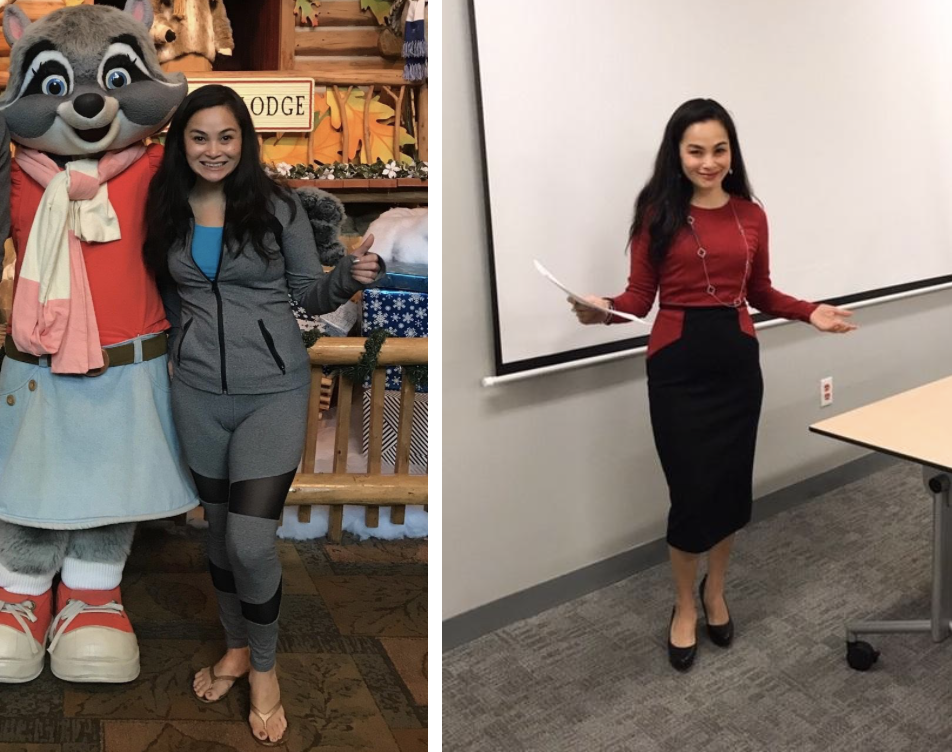 Sharon's OYNB Story:
"I found OYNB on Facebook one Saturday night after I'd had a few wines. I signed up and I haven't looked back!
I was a regular drinker – using wine to relax in the evenings and drinking more at the weekends. Dry rosé was my favourite tipple topped up with vodka & lemonade or red bull if I was feeling particularly tired. There was no single trigger to lead me to OYNB – basically a culmination of many years of drinking socially and at home led me to want to experience life without it. I'd done Sober October many times but was always looking towards the day I could drink again basically undoing a whole month of hard work usually over one weekend. I needed to try for longer.
OYNB has TOTALLY taken me by surprise. I didn't expect to be this far down the line so easily having signed up for 90 days with no view initially to continuing further. The Facebook group has and still is invaluable. To connect to so many people on the same journey across the world is just brilliant and to this day I've yet to see one negative comment posted in the group. It's supportive, friendly, funny and so helpful. I haven't reset once since I started, zero blips and no real desire to drink.
I've achieved so much since I started my journey with OYNB. I've started running, joined a new gym, have completed 3 x 10km road races, have climbed the UK's 3 highest mountains and got involved with Park Run which on occasion my children join me on. My face shape has changed and I've lost inches all over. Not so much weight but the dreaded wine belly bloat that seems to hit in your mid 40s! My skin is 1000 times better, energy levels are though the roof and productivity at home and work is vastly improved. My relationships with my family have improved immeasurably and I'm doing more with them than ever before instead of looking forward to wine o clock. As for the sleep – I've never experienced sleep like it! Unbroken bliss.
OYNB helped me to succeed by connecting me with a group of like minded people all on the same journey. The book and emails are great for the first 28 days or so – but as I get further on in my journey I use them less and less. There are zero negatives for me on this journey – only positives. I'm bored with people questioning my motives, wanting to know how much I drank, when am I going to start drinking again… this is my life, my family and my journey. If I wanted a drink I'd have one. But I don't – and that's thanks to OYNB – and me having the strength to do this. It's been an absolute revelation… here's to 365!"
Sharon's Before and After Photos: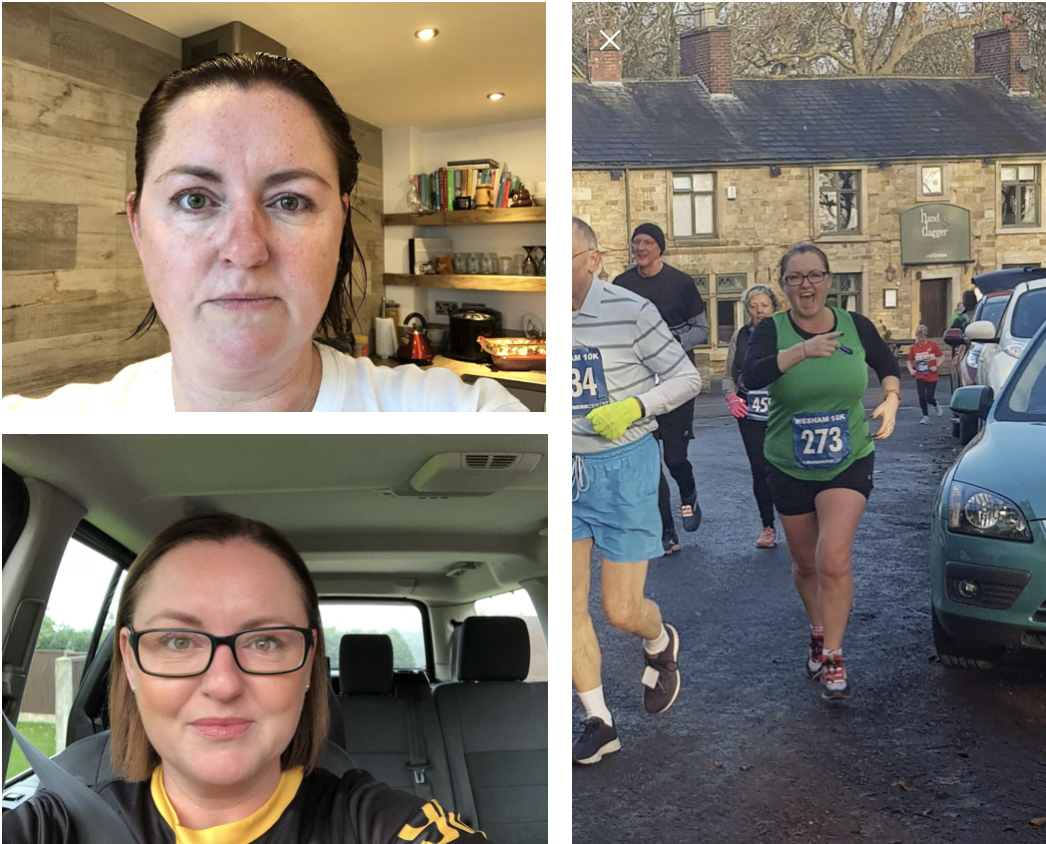 T&C's apply (Offer cannot be used in conjunction with any other offer. Only one use per person. Offer only applies to challenges.)
EGG Membership Card Illustration
Join EGG Today
Become a member of EGG and enjoy a heap of exclusive benefits. You'll get access to Exclusive Offers, Events and your very own Digital Membership Card –  use it to discover great places in Edinburgh and connect with like-minded girls.
Pay Annually
---
£30
per year
Sign Up Now »