Spotlight
"Couch to 10k changed my life!"
Lacing up your trainers and getting out the front door can be the hardest part of running. Maybe you think you'll look ridiculous, or you'll feel embarrassed because you can't go far without getting out of puff. Well, EGG knows how you feel, which is why we're cracking out the Couch to 10k programme again this year.
Don't just take our word for it on how beneficial following this programme can be to get you going on that healthy, running path, listen to your EGG Sisters…
"The Runny Egg literally changed my life in so many ways and I'd love it if other EGGs felt they could do it too, hearing my story.
I'd been having lots of problems with my lungs, I'm asthmatic and I kept getting chest infections which completely floored me. Illness was starting to take over my life. I'd always been quite fit, doing yoga and cycling, but each time I got ill I felt I'd fallen back to square one.
I'd never tried running before because my sister told me I look like a duck when I run (!), and I'd never been able to breathe properly when I tried. My wee girl wanted me to do Junior Park Run with her and OMG it was a wakeup call for me! I could barely run 50 metres without stopping and I felt so embarrassed. After I'd been to two Junior Park Runs I saw the launch of the Couch to 10k on the EGG group and I decided I'd give it a go.
My daughter was so delighted for me when I said I was going to do a 10k – even though I just had no idea whether I could ever do that – it felt like a thousand miles but I wanted to show her I could.
The training was so much more fun than I ever imagined it would be. Nicole is awesome, so positive and she worked very hard to make sure everyone felt they were making progress, and she gave us lots of fun stuff to do as well as running during the sessions. When the nights got darker we had head torches on – running around Arthur's Seat in the dark in a girl gang is more fun than you can imagine!
The group was such a fantastic mixture of people from all running backgrounds. I was really reassured I wasn't the only one to be starting from scratch.
As each session progressed I began to see I was getting better and running with other people meant I focused less on myself, we were chatting and having a laugh.
For me one of the nicest things was making new friends – in particular I met Pippa who lives really close and we started doing more training runs together. We egged each other on (see what I did there) and made sure we were both ready for the big day.
The 10k race day was really fun! Pippa and I got great times and came over the finish line together. I actually spent the whole run trying to catch up with her as I'd lost time taking my jersey off and trying to put my number back on, so it's my top tip to basically spend a whole 10k chasing someone if you want a good time!
After my 10k success I have kept up running as it's had a hugely positive impact on my health. I'm having so much less trouble with my lungs and I don't cough as much as I used to, not much at all, in fact. I ran the Inverness half marathon in March and raised money for Make Seconds Count after I was inspired by Lisa at the EGG Lunch. I was so happy to raise the money but to be totally honest, I was really happiest with my time – 2.02 which is pretty good for a first half marathon! I'm planning another half in the autumn as I've now got to try and get it under 2 hours, I've also entered the ballot for the London Marathon next year, and of course Pippa and I have signed up for Runny Egg 2019 and we're already training for it!"
– Kate, Couch to 10k'er 2018 
Kate crossing the Runny EGG finish line 2018 (below), followed by Couch to 10k pal, Pippa!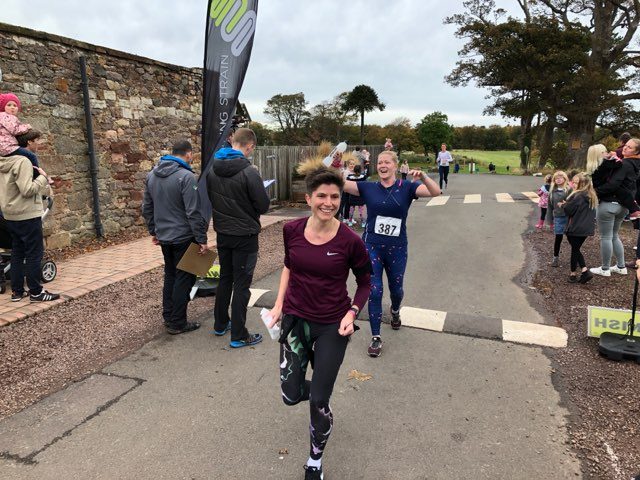 "I've always wanted to run a 10k but have struggled to get motivated to run that far.
The training plan was very helpful, but by far the best bit of the Couch to 10k programme was the running meet ups.  Running regularly around Arthur's Seat was quite the experience! Nicole was so supportive and encouraging, but at the same time tough enough to get us all ready for the 10k.  It was amazing running with lots of fab ladies. Despite having different fitness levels and goals we all had everyone's back.
I really enjoyed the day of the Runny EGG – it was a beautiful course, the end was tough but I finished in a good time and really can't thank Nicole and the other Runny EGGs for the support and journey.
I have kept running and still occasionally run with some of the ladies from the Couch to 10k team!"
– Maryann, Couch to 10k'er 2018
If you want to get motivated and feel ready to set yourself a physical goal of crossing that finish line at the Runny EGG 2019, sign up for the Couch to 10k here today, and we'll guide you there, along with some fellow EGGs in the same [running] shoes!
EGG Membership Card Illustration
Join EGG Today
Become a member of EGG and enjoy a heap of exclusive benefits. You'll get access to Exclusive Offers, Events and your very own Digital Membership Card –  use it to discover great places in Edinburgh and connect with like-minded girls.
Pay Annually
---
£30
per year
Sign Up Now »