Review
Bringing the best of Edinburgh's food scene to your door
After a long day, there's something undeniably appealing about getting into your cosies, sinking into the sofa and hearing the doorbell ring as your takeaway has arrived. It's the ultimate Friday and Saturday feels!
The once-humble takeaway itself has had a gourmet makeover too. Whilst a traditional chippy, Chinese or Dominos will always have its place, more and more of us are seeking mouth-watering choice along with inspiring menus and restaurant-quality cuisine, cooked to order. In fact, having someone else do all the cooking, and deliver it hot to our door, is now so popular that the UK restaurant takeaway market is worth £11.4bn.
Here in Edinburgh, there's always been only two meal delivery giants – Deliveroo and Just Eat. Well, not anymore. Tribe Kitchen, Scotland's freshest, new delivery service, launched in the capital last month, transforming the way we enjoy takeaways. It's an independent business too (with Egg links too – yay).
The best bit is that Tribe has finally solved the age-old takeaway debate. You see, when it comes to meal deliveries, the biggest challenge was undoubtedly which cuisine to order – and who out of the family (or friends!) would win. Mexican or Thai. Indian or Chinese. Pizza or burgers. The list goes on. Unless you wanted to wait until each takeaway had arrived, and pay individual delivery fees, compromise was needed and everyone had to stick to one type of cuisine.  Well, not any more.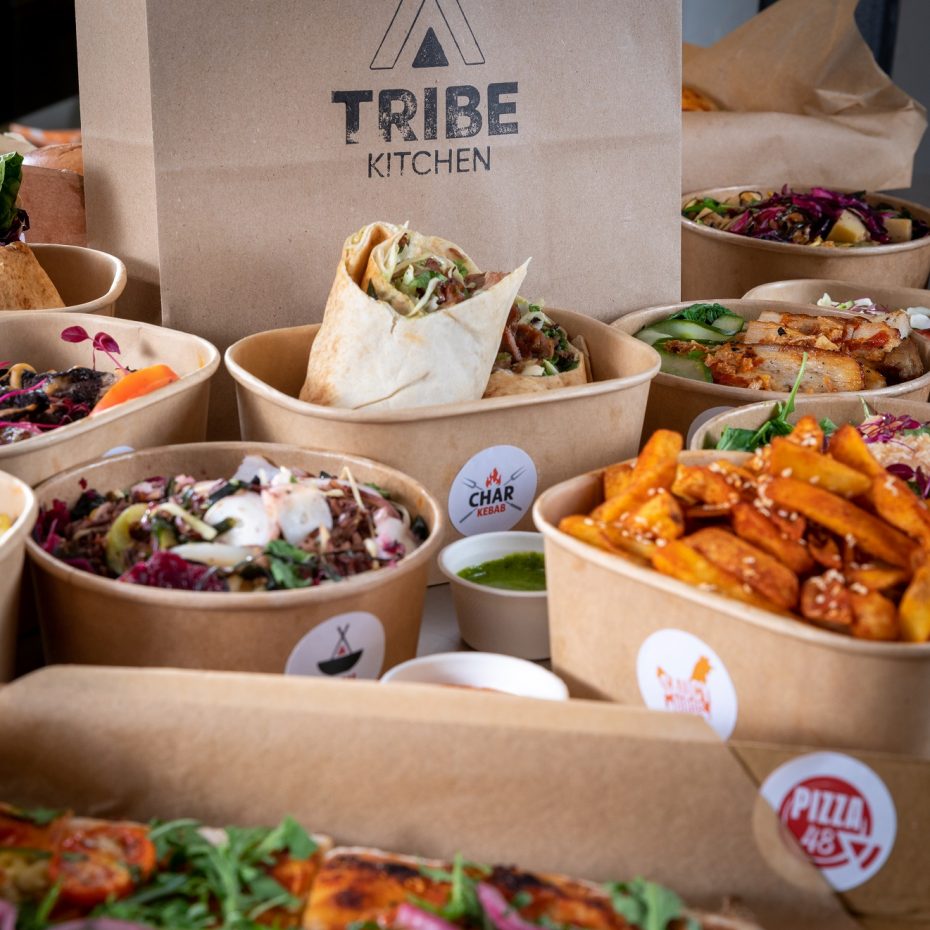 Tribe Kitchen brings together the best of Edinburgh's dining, overseen by executive chef, Duncan Adamson. With all food being cooked at a centrally-located smart kitchen, a food delivery concept big in the United States, unlike Deliveroo and other food delivery giants, Tribe Kitchen can control the entire customer journey from hob to house.
This also allows Tribe to ensure Edinburgh diners can now choose from a 'mixed basket ' of dishes – from a variety of carefully selected independent restaurants, including Edinburgh's No1 restaurant Pakora Bar and famed Mexican restaurant Bodega. Their menus will sit alongside Tribe Kitchen's own range of restaurant quality dishes inspired by cooking styles from around the world such as delicious sourdough pizzas from Pizza 48 (their goat's cheese pizza, with white garlic sauce base, mozzarella, goat's cheese, walnuts, rosemary, rocket, roasted garlic and honey is already a top seller); succulent buttermilk chicken burgers from Saucy Birds (everyone's already talking about the Kickin' Korean, a delectable taste sensation of crispy Korean style chicken breast with sriracha mayo, kimchi, pickles, sticky chilli pepper glaze); Asian fusion dishes from Soul Bowl and healthy delights from NAKA.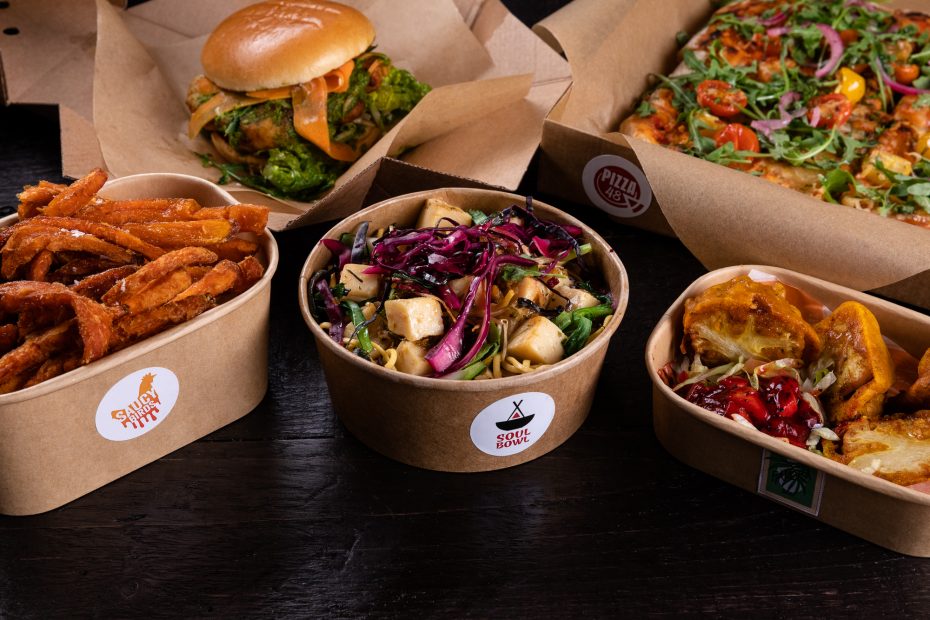 On the back of all the positive Egg reviews, Tribe has kindly offered Egg exclusive offer of 25% off food this weekend using EGG25!
Here, Alex shares a review of her Tribe deliver, prepare for your mouth to water!!!
JOINING THE TRIBE
As luck would have it, I found myself living in the right place at the right time when Tribe Kitchen were looking for an Egg in north Edinburgh to try out their tasty new delivery service – I couldn't have volunteered fast enough. I've heard so much about Tribe and couldn't wait to try it out.
The ordering process was so easy and speedy, if you're the kind of person who can make a quick decision when faced with a long list of delicious food items. Whilst you can make your order at any time, I opted to book my delivery a few days in advance and found this super handy to ensure I got the best time slot that worked for me on a busy Friday night. It also meant I was too excited to wait. When it comes to takeaways, my boyfriend Carl and I can never agree on what cuisine to go for. He loves an Indian and I go for Italian 90% of the time, so we are forever compromising…until now. Tribe's unique "mixed basket" offering allows us to choose whatever cuisine we want and have it all delivered at once.
To start we opted for the delicious haggis pakora with mango chutney from The Pakora Bar, which we shared and was the perfect amount. It certainly lived up to the hype! Then, for mains Carl had the black beauty buttermilk chicken burger from Saucy Birds. Was it good? Well, from the one bite I was allowed, it was incredibly tasty and succulent. And from his reluctance to share, it was clear it got the serious thumbs up from him.
I went for the peperoni pizza (of course) from Pizza 48 and added spinach and crispy shallots. The sourdough base was a game changer! Not that we needed any more food, but we also ordered a side of togarashi fries which are crispy fries dusted in Japanese 7 spice seasoning, with seaweed, chilli, sesame and citrus – who knew a potato could taste that good! We washed it all down with a lager and cider, but they also have a great selection of soft drinks, and wines.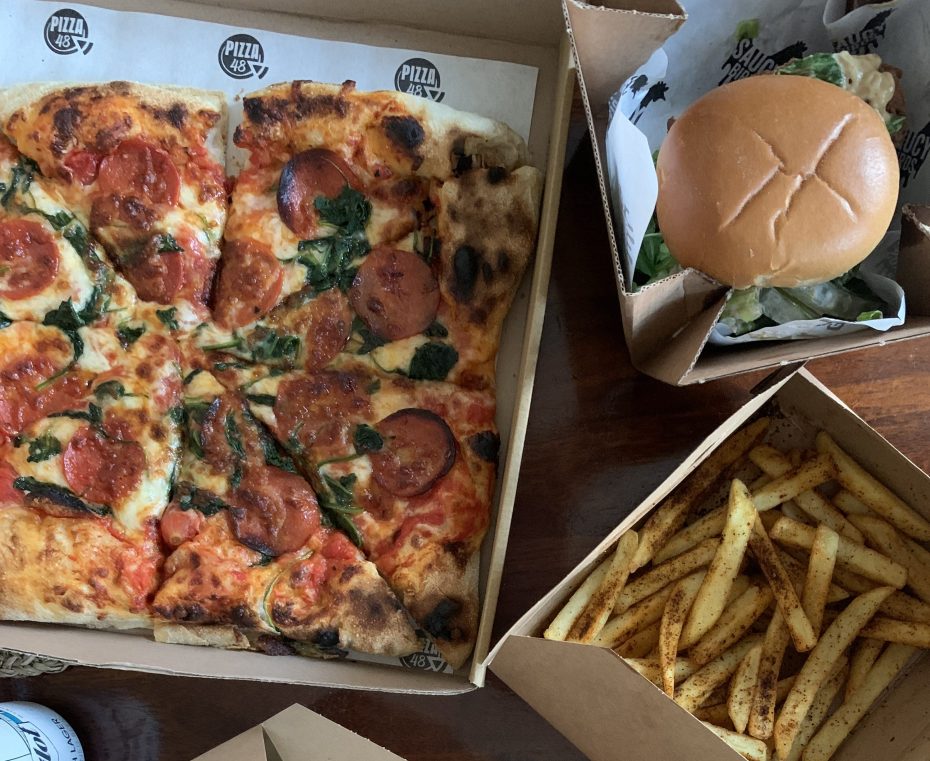 Every item was delicious and arrived hot, well-packaged and on time – even after a last-minute delivery time change from me. The team were so accommodating and so quick to respond. I can't recommend Tribe Kitchen enough and can't wait to try out more from the brands joining soon…especially Bodega!
To order with Tribe Kitchen, which is open Thursday until Sunday each week visit www.tribe-kitchen.com. For now they're only delivering to selected areas in North Edinburgh, Tribe is set to launch in other parts of Edinburgh and subsequently other cities. To see if they deliver to your address visit their website, click ORDER NOW and enter your postcode. To receive 25% off food orders from Thursday 2 until Sunday 5 September, use discount code EGG25
EGG Membership Card Illustration
Join EGG Today
Become a member of EGG and enjoy a heap of exclusive benefits. You'll get access to Exclusive Offers, Events and your very own Digital Membership Card –  use it to discover great places in Edinburgh and connect with like-minded girls.
Pay Annually
---
£30
per year
Sign Up Now »