Review
The Big Dalmahoy Sleepover
Heloooooo, it's me, mini-egg Emma!
Not long ago I was lucky enough to be invited to attend The Big Dalmahoy Sleepover, a press trip showcasing the incredible new refurbishment on the historic Dalmahoy Hotel & Country Club. For those who don't know, the four-star Hotel & Country Club is located just 7 miles from Edinburgh's city centre, set amidst 1,000 acres of parkland with spectacular views to Edinburgh Castle and the Forth Bridges. It truly is a celebration of Scottish heritage.
The hotel has 215 rooms and suites, contemporary meeting and event spaces, a range of restaurants and bars, and also features two 18-hole golf courses, luxurious leisure facilities and a state-of-the-art fitness centre.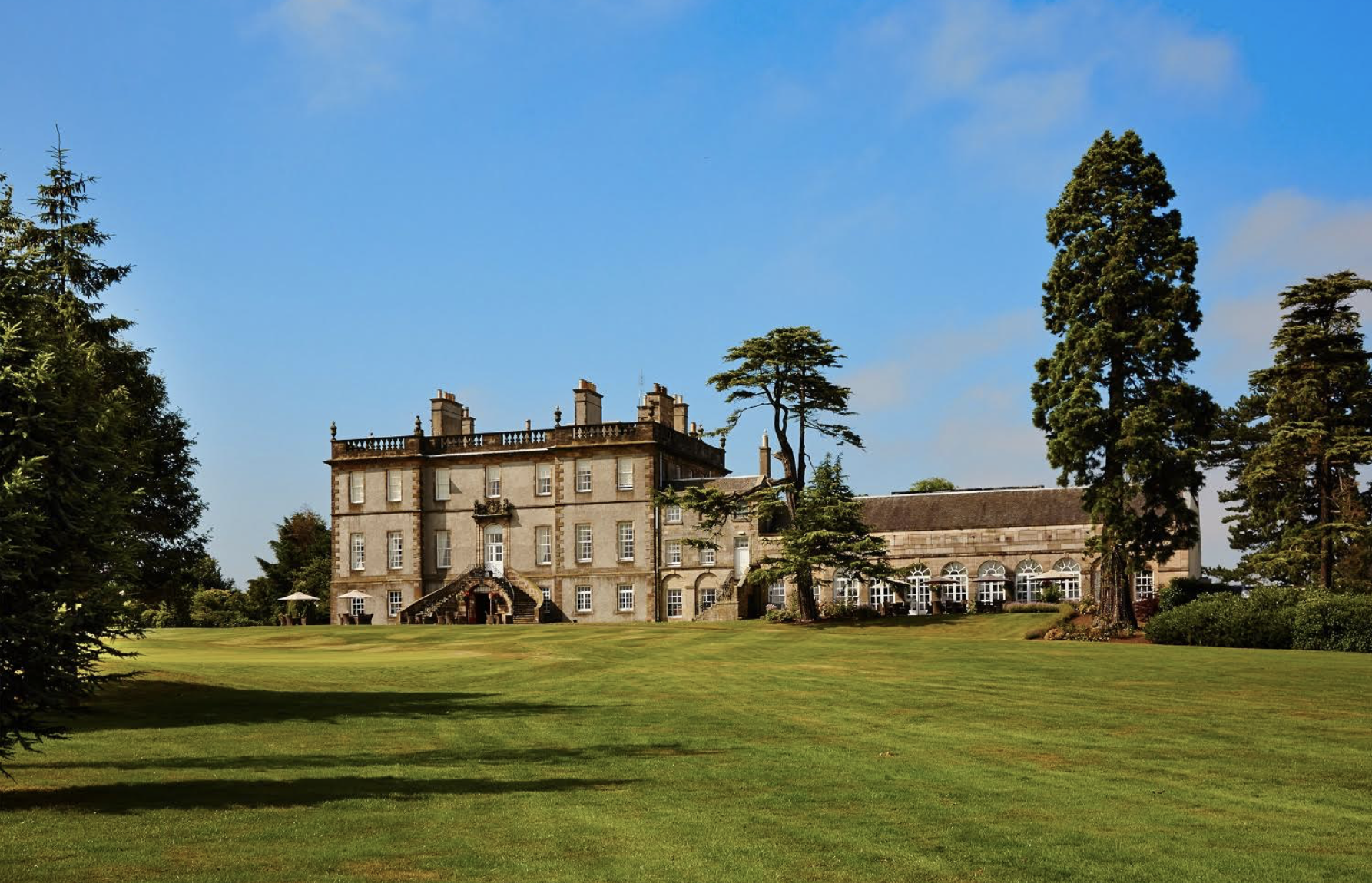 As my partner Logan and I arrived shortly after 5pm, we were greeted with freshly popped popcorn in the grand and very cosy reception area. We were quickly whisked away on a short whistle-stop-tour of the newly refurbished hotel on the way to our room. To my surprise, we arrived at one of the hotels bespoke Turret Suits. Modelled on Scotland's whisky distilleries, the hotels turret suits each have their own corner sitting rooms with windows framing views of the surrounding countryside, kitted out with one of the largest beds I have ever seen!
After settling in and unpacking, we changed into our glad rags and got ready for the evening ahead. Around 6pm a drinks trolly visited our room (VIP treatment or what??) and if you know me, you'll know that of course I ordered a large pink gin with rhubarb and ginger tonic – boujie I know!
After finishing our delicious drinks, we headed back towards reception and gathered in The Boardroom where we were welcomed by a short speech from Dalmahoy's hotel manager, Alistair Kinchin. He explained a little about the hotel, it's heritage and the multi-million pound remodel. 
Wine tasting with drinks connoisseur Richie Laing from Matthew Clark began around 6:30pm. This was so fun and allowed me to really tests my knowledge after actually studying wine pairing as one of my modules at University. The wine was paired with beautiful canapés which was such a nice touch and definitely fuelled my appetite before dinner.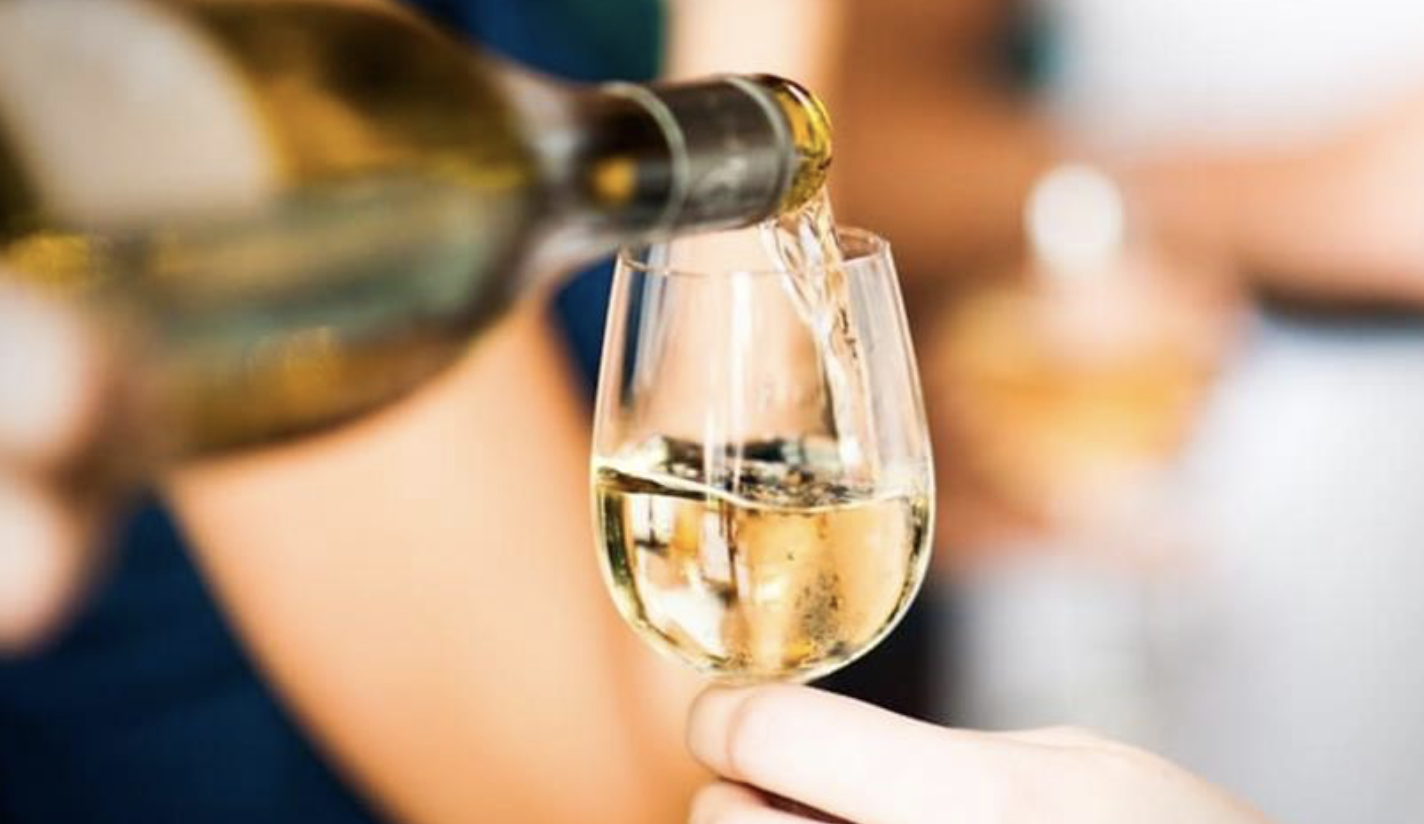 After one too many Pinot Grigio's, we relocated to the Pentland Restaurant for dinner – an authentically Scottish restaurant overlooking the golf course and acres of parkland with Edinburgh Castle just viable in the distance. Well, it would have been visible if it weren't for Scotland's predictable, and very miserable weather. We sat at a beautiful table next to the harpist who played the most magical music throughout our meal. A personal favourite had to be Caledonia!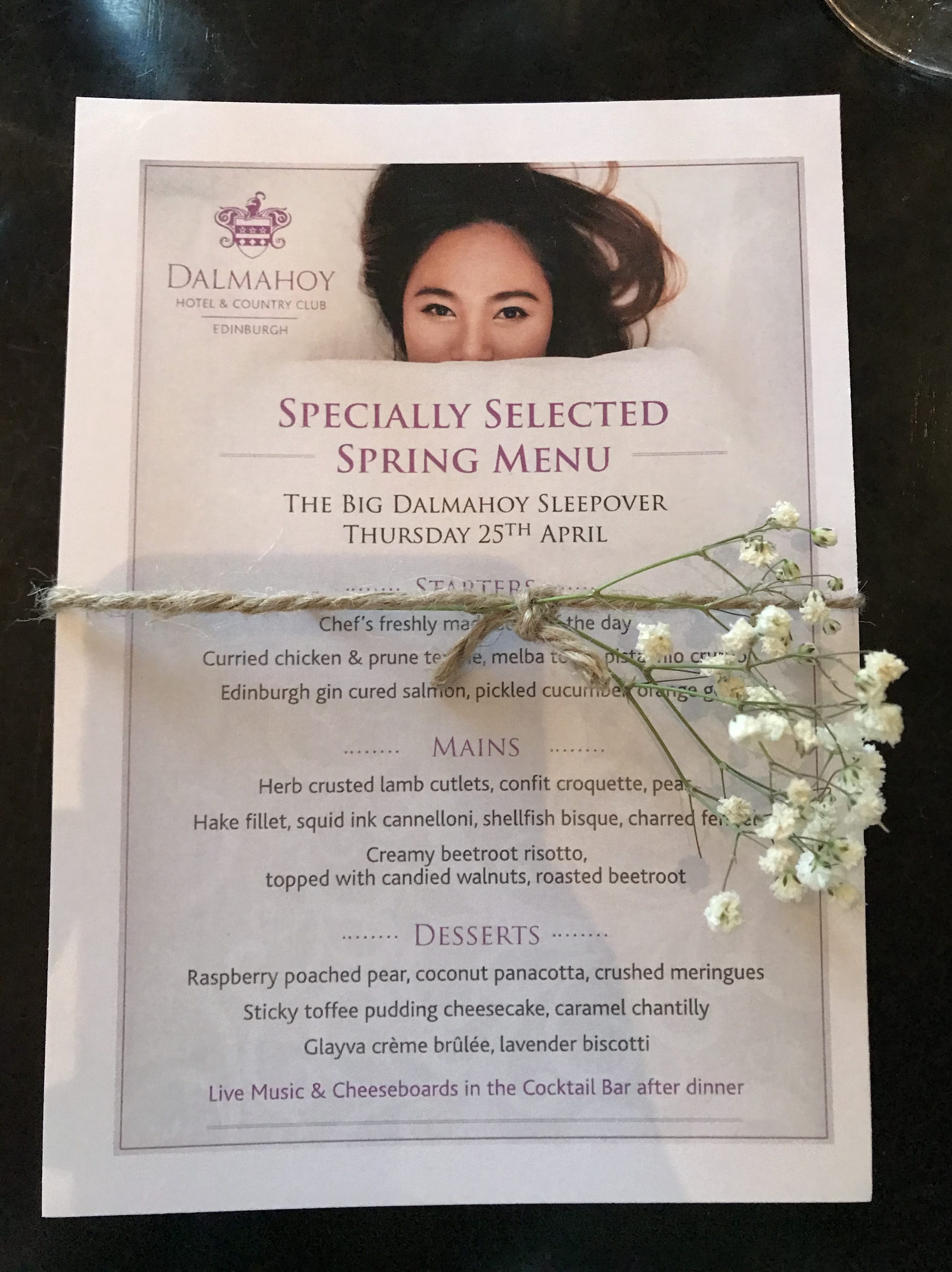 For the starter, I began with the Chef's special soup of the day, red pepper and tomato (I'm a sucker for soup). Logan opted for the curried chicken & prune terrine with melba toast and pistachio crumb. This was exactly like coronation chicken but with a very glamorous twist…
Next was the main. We couldn't choose so we decided to pick two and share. Opting for the herb crusted lamb cutlets, confer croquette with pureed peas was most certainly the right choice, starting off our Easter celebrations quite nicely. It was absolutely delicious! We also tried the rather exotic, but also delicious, creamy beetroot risotto topped with candied walnuts and roasted beetroot. This dish had the most incredible fluro fuchsia pink colour.
It is true what they say, you ALWAYS have room for dessert and quite frankly, we couldn't resist. I chose to have the sticky toffee pudding cheesecake with caramel Chantilly, while Logan went for the glayva creme brûlée with lavender biscotti.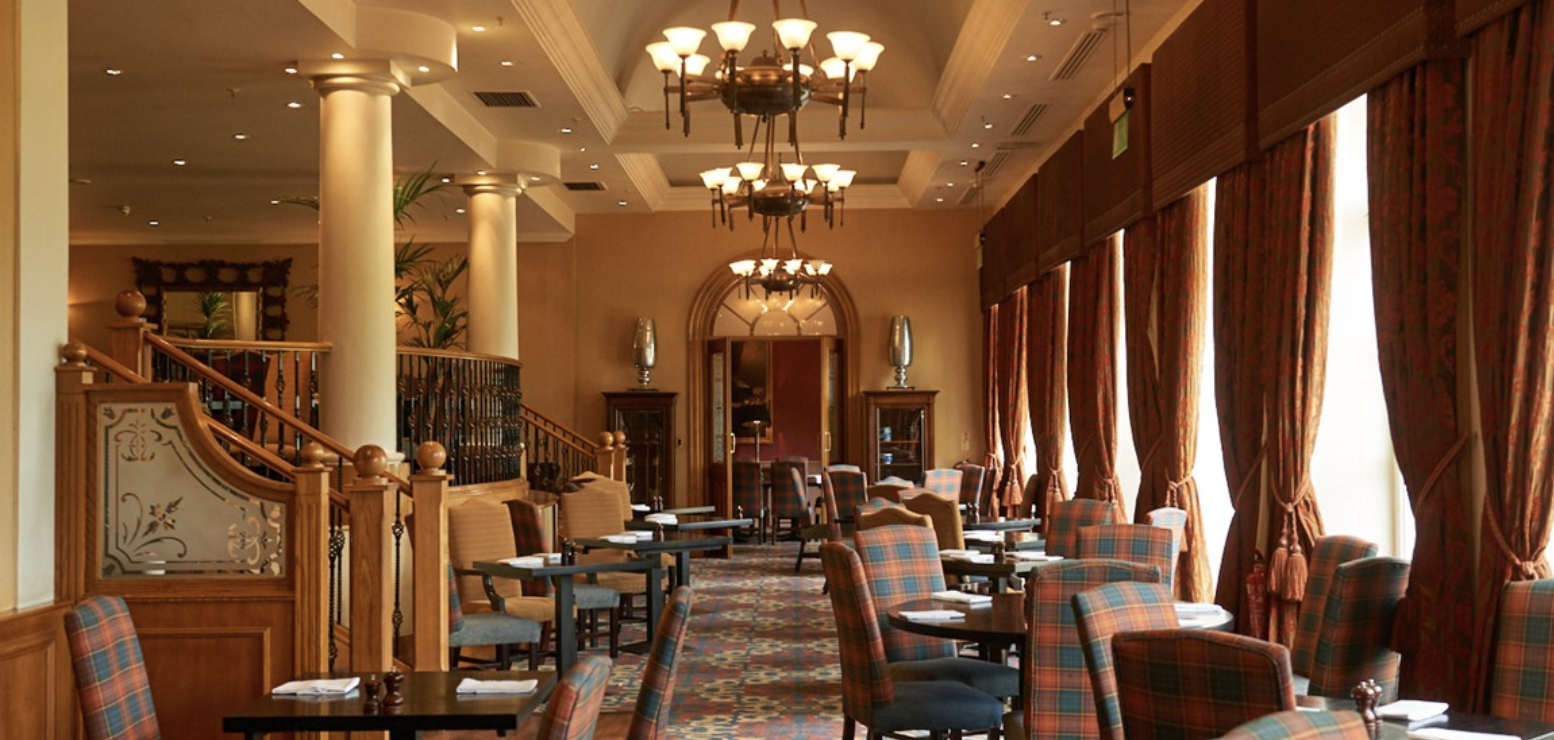 Whether you are starting the day with breakfast or enjoying dinner, The Pentatland restaurant menu celebrates Scotland's larder – and, indeed, even one very close to home – the hotel's own herb garden. When combined with the historic manor house setting, a meal at the Pentland Restaurant makes for a memorable experience.
Adjourning to the Cocktail Bar for live music and a delicious cheeseboard was the perfect ending to a fabulous evening. Located in the original Manor House building, the bar oozed history, heritage and tradition with comfortable leather sofas, a roaring wood fire and magnificent views. This is when we had the opportunity to mingle among the other people attending the press trip. I was so overwhelmed with the incredibly interesting people that I had the chance to meet.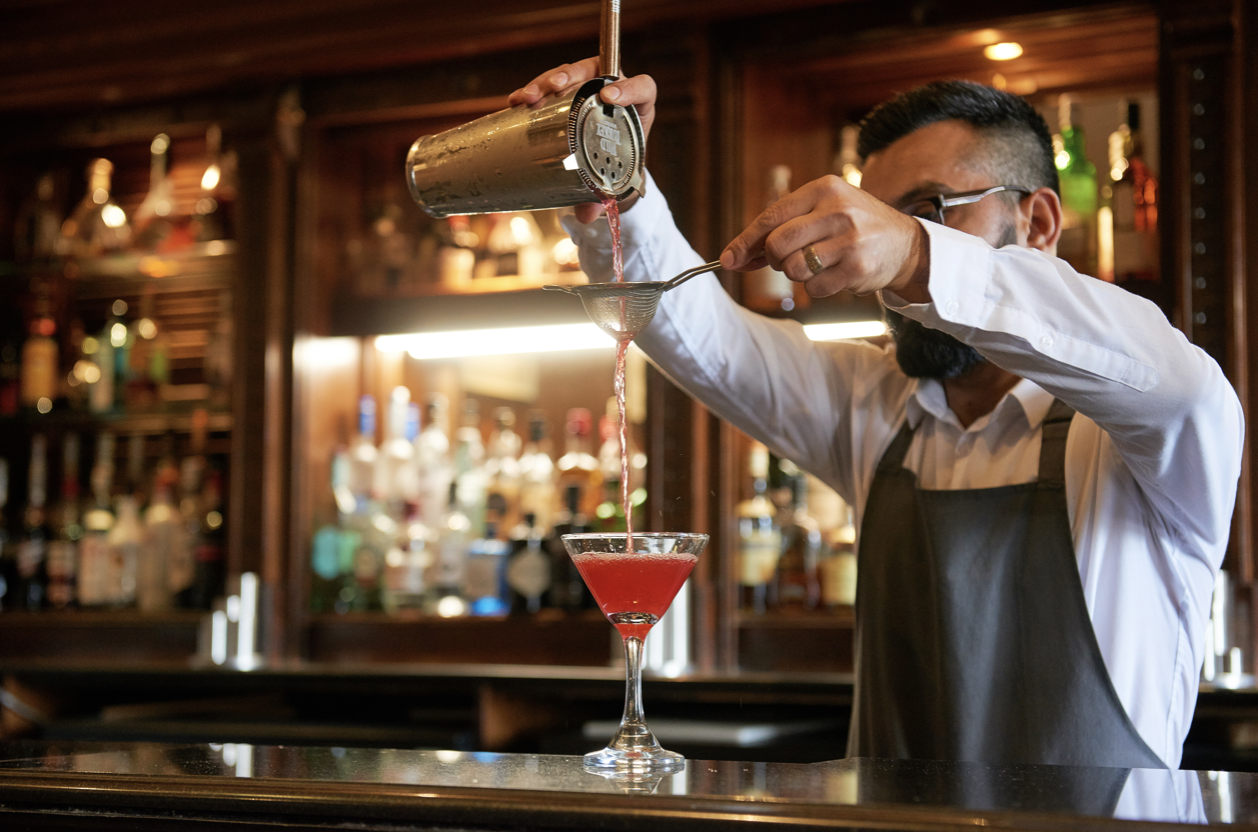 Overall, the experience was an absolute treat and something that I would most definitely do again. For more information on Dalmahoy, visit their website here.
EGG Membership Card Illustration
Join EGG Today
Become a member of EGG and enjoy a heap of exclusive benefits. You'll get access to Exclusive Offers, Events and your very own Digital Membership Card –  use it to discover great places in Edinburgh and connect with like-minded girls.
Pay Annually
---
£30
per year
Sign Up Now »