Review
On your bike with Just Eat bikes!
'Ride a bike' they said.
'Ok' I said.
'A Just Eat Bike' they said.
'Just eat a bike? I literally just said ok'.
'No, those bikes in Edinburgh that are sponsored by Just Eat".
"Ahhh, I know the ones."
You know the ones too, right? Found all over town, the well-known and spontaneous bike rental options which appear helpfully across the city beckoning us with promises of a touch of the Dutch life. A carefree holiday cycle feel, but not just for holiday goer-ers, "We're for you tooo" they call from their bike stations, "tryyyy us".  But I never had. Until now.
Ok, so, for me trying something new does not always give me the good feels. The last new thing I'd considered doing was rock climbing but I'd bowed out as the feeling of being a clutz in a nappy harness became too strong. However, cycling a rental bike couldn't be that bad. Clutzometer was reading low when I imagined it so I decided it was doable and I'd give it a go.
I needed the Just Cycle app which was free and easy to download. I needed to create a profile which I did standing at the bike station pretending I was being spontaneous but really down to disorganisation. Still, I imagined it gave me the same vibe as a city centre dweller needing to fire up Broughton street for a loaf of Sourdough Rye at short notice. Profile creation took two ticks.
Map on app showed me bike station and bikes available. Bikes had human names. Amusing. Chose Garry. Should have listened to inner voice which felt dubious over use of double 'r' but threw caution to wind. Friend with me chose Lucie. Lucie was a good egg. Garry tricky. Garry so tricky his alarm went off and I had to get in touch with Just Eat bikes help team via the app chat. Clutzometer was skyrocketing. Help team answered immediately, were very helpful and cancelled my trip with Garry (confirming he was damaged). Second try I went for reliable Lacey and we began our Dutch inspired promenade cycle. "Does Holland even have a beach?" I heard my friend call but I was too happy zipping along to consider the existence, or not, of the Dutch coastline.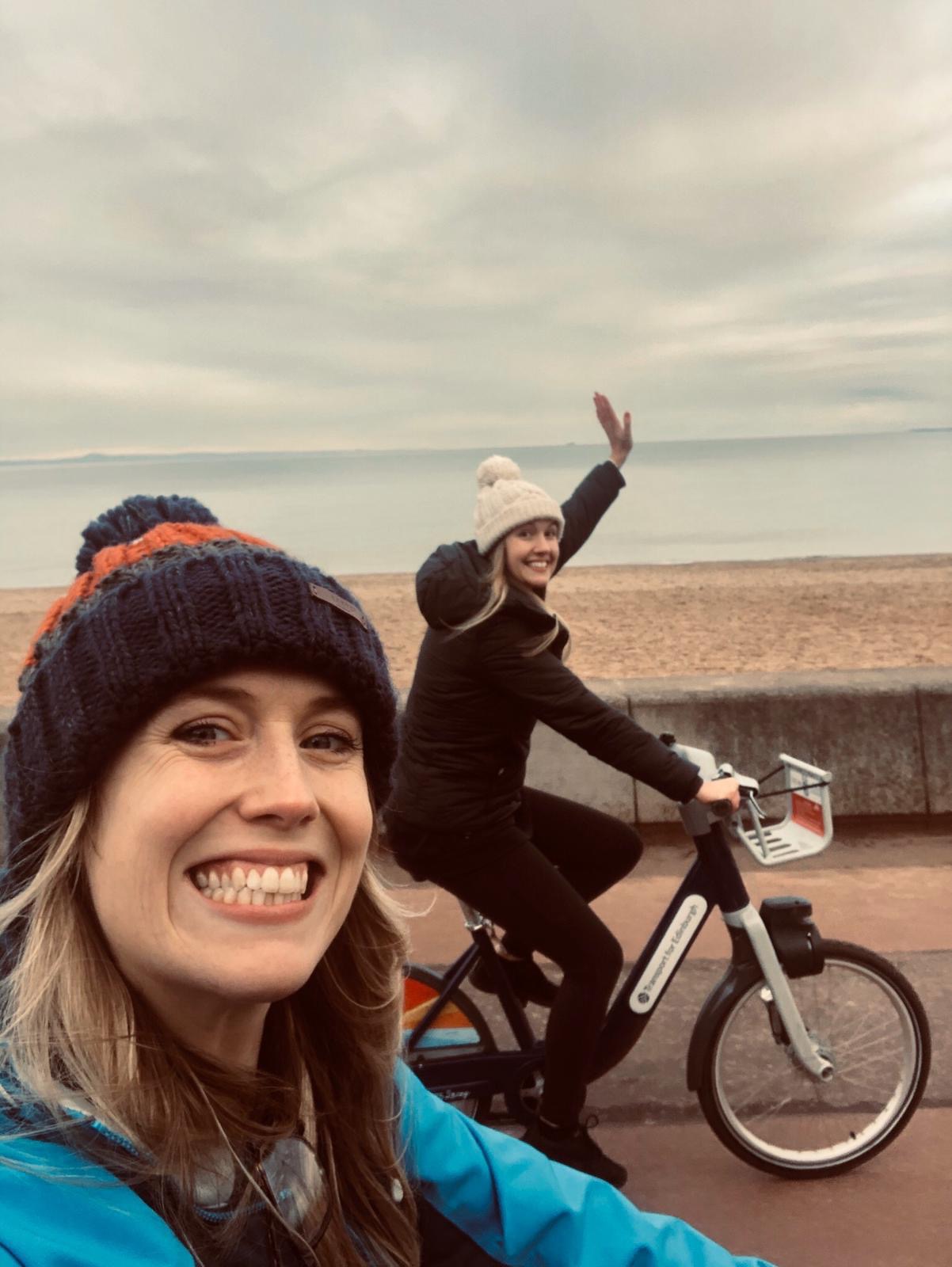 Bike handling was enjoyable. Was it heavier than a regular bicycle? Sure. Was it safe and sturdy as well? Yea. Would I use it to partake in a bike race? No. It's a good bike for bobbing along. We cycled to end of promenade and stopped for hot choccies at a hot-choc-van. This required standing in long queue and realised had no bike locks but was fine as had friend to act as bike defender. Noted may be problemo if one was on one's own.
Ended cycle by returning bike to bike station. This is done by selecting your return station from the map on the app then ending the trip. Problem was my phone died. Second note to self – do not take one thousand selfies in the cold and drain battery or, better still, bring battery charge pack. Managed to recharge phone and return bike and could see that it would have been a relatively simple hand back situation if battery mishap had not decided to smite me. Friend had small problem with Lucie when her lock wouldn't push down when prompted by the app. Once again we contacted the help team via the app chat and they sorted it.
Lucie and Lacey returned, we commended ourselves on a cycle well done and decided it had felt like a little a little holiday at home after all.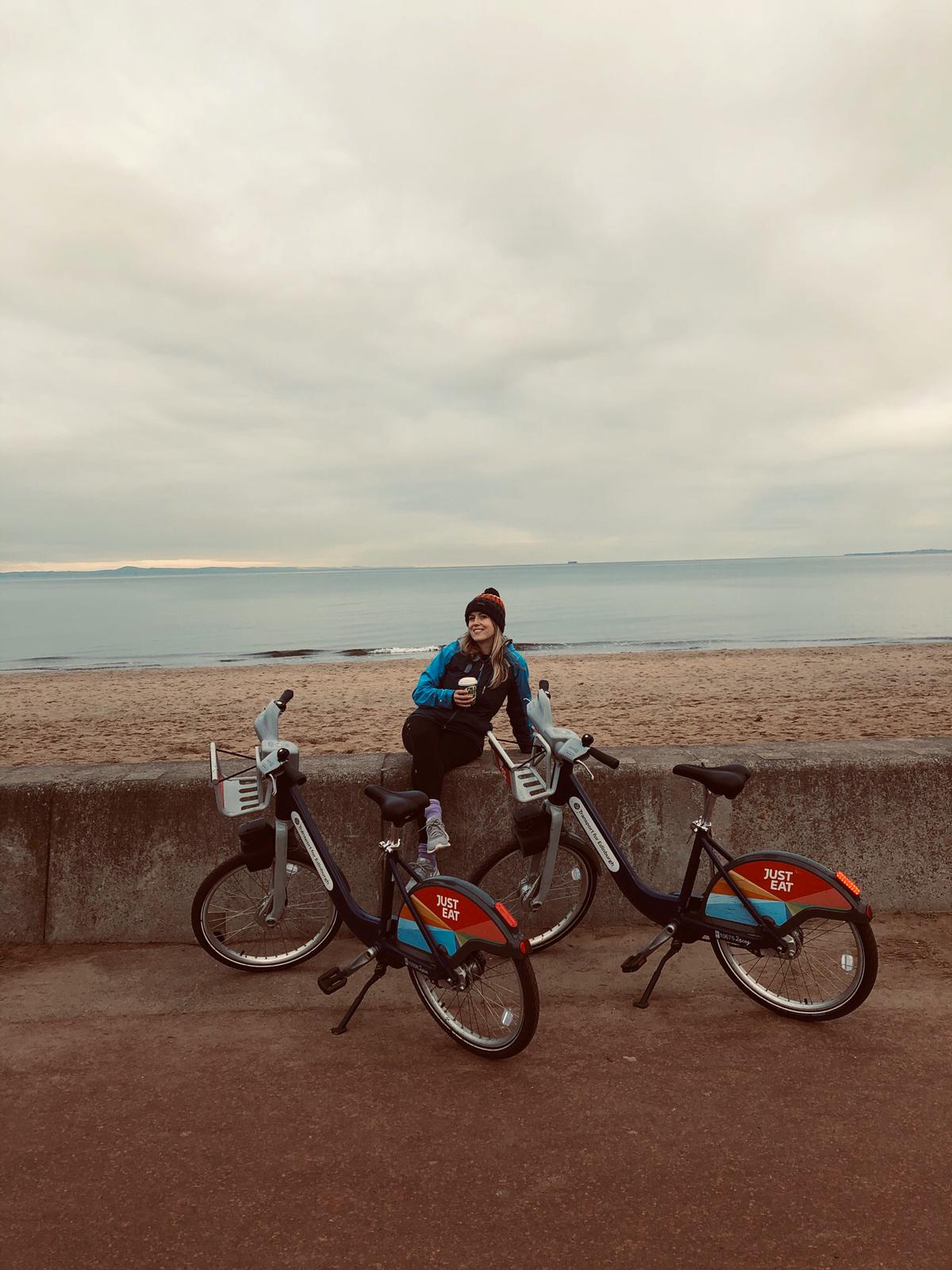 Highlights
Wind in hair, ringing bell, holiday vibes, fun thing to do with friends on a whim.
Things which could have been better
End trip option on the app was a bit fernickity to find so being more obvious would be good. Two out of the three bikes we experienced that day had a problem which made the start and end a bit sticky but the customer service team at Just Eat bikes were great and sorted it out really quickly.
Things to remember
Have a fully charged phone to use the app which will last duration of cycle.
Take a bike lock if you're planning on stopping somewhere.
Bike helmet.
Clutzometer
3.5/10
Bike joy experience
6.5/10
Would I use them again?
Yea, I'd give them another go.
We have an exclusive offer on a 4 month Just Eat Cycle pass for just £10, a saving of £40! You must redeem before the end of February but can use for 120 days thereafter. Limited number of passes, redeem here now.
EGG Membership Card Illustration
Join EGG Today
Become a member of EGG and enjoy a heap of exclusive benefits. You'll get access to Exclusive Offers, Events and your very own Digital Membership Card –  use it to discover great places in Edinburgh and connect with like-minded girls.
Pay Annually
---
£30
per year
Sign Up Now »