Review
Jenny and the Chocolate Factory
Just being back on the cobbled streets of Edinburgh's Old Town after so long was exciting enough, but to be there to enter chocolate heaven at 10.30am on a Wednesday was certainly a sweet, sweet treat!
Located just off the Royal Mile, on Cranston Street,  The Chocolatrium invites you in past their beautiful window displays that give you a hint of their extensive knowledge and collection of all things chocolate. The doors are then opened and you are welcomed in with the warmest of greetings by the staff (it is very easy to detect their wide smiles underneath their masks) who show you through to the 'Jungle Room' where the fun begins!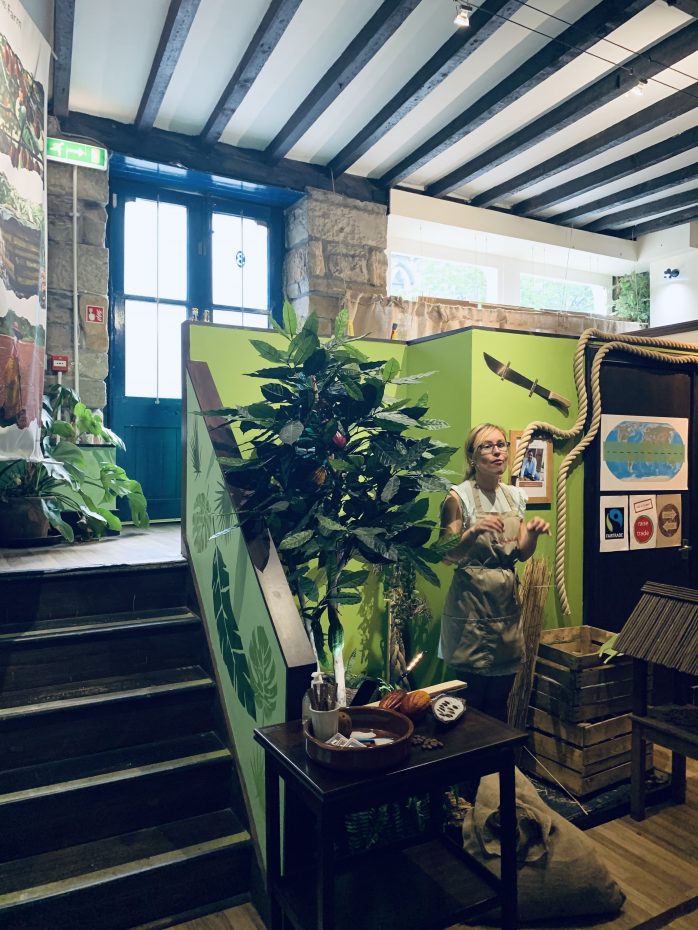 Within just a few minutes, during your introduction to the staff and tour, you are offered your first (of many!) chocolate tastings, this one in the form of a warm, dark chocolate drink. Served to you in an individual tasting cup, you can hear every member of the tour Ohmm and Ahhh as they happily drink and spoon out every drop of  their sample. It is here in the Jungle Room that you start to learn about the origin, the history, the process, and the world wide business surrounding chocolate. Your guide shares information in an interactive and fun way, making it very clear that this tour is designed for all ages. Some surprising and interesting facts are to be learned, amongst my favourites had to be the one involving drunk monkeys!
It is from here that you are invited into the 'Factory Kitchen' where the chocolate MAGIC happens, you not only learn about the process of making chocolate, you actually create your own bar! As you pour melted Belgium chocolate into a mould of your choice and add flavours and toppings of your choice it is hard not to wonder where Willy Wonka and the Oompa Loompas are hiding – yes I did burst out into song as I created my personal chocolate bar. This fun, active part of the tour has everyone excited as you all discuss what flavours to choose (there are a lot on offer). You can quickly get to know your tour buddies as the group is capped at a very comfortable number, this also gives you plenty of opportunity to ask your questions to your guide throughout.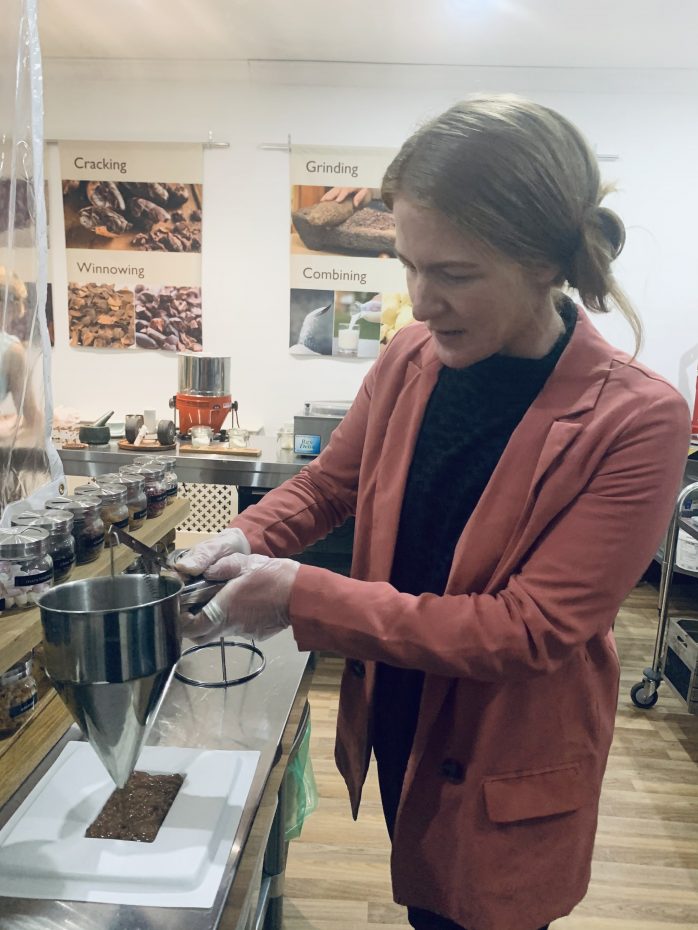 (me in action!)
Leaving your creations to set in the fridges you move on to part 3 of the tour which is held in the 'Chocolate Tasting Room' where you are guided to tuck into samples in a certain order as you learn more about each one, you learn about the ancient Aztec way of drinking Cacao, as your guide prepares the drink in the traditional way, and then, of course, you are offered to try this unique tasting beverage. I personally enjoyed the cool, gritty juice, while others were clearly not sold!
To take your taste buds back to that happy chocolate place you are then invited to help yourself to any chocolate sample on offer, and there is A LOT! Beautifully organised jars fill the shelves at the back of the tasting room and, in an organised fashion, you fill your tasting tray with samples and flavours of your choice. From Camel Milk, Haggis Spice, Lemon & Poppy Seed to Scottish Mint you really are spoiled. To accompany your tastings you are also offered a gorgeous, freshly made, palette cleansing cacao tea, full of beneficial goodness it goes down a treat.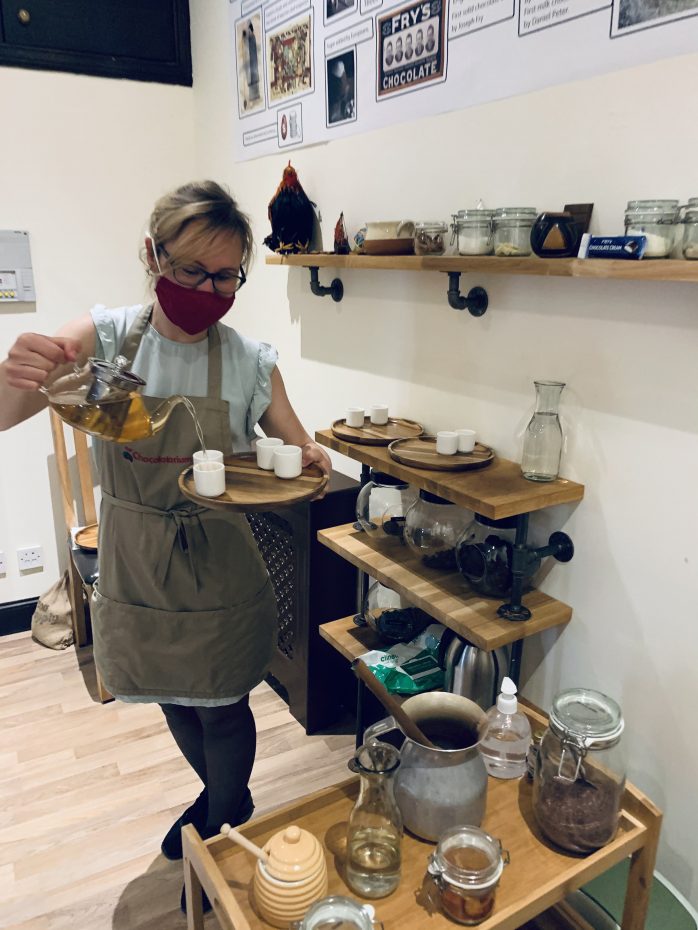 With happy, very satisfied tummies your 90 minute tour is then all wrapped up along with your own, now set, personal chocolate creation that is waiting for you to collect in the gift shop. You have plenty of time to browse the chocolate filled shelves and perhaps purchase your favourite, tried and tested bar, or bag a bag of that cacao tea – I did both!
A HUGE thank you to you and your staff Jenny, especially Eva our lovely guide, I shall certainly be sending my chocolate loving pals your way!
If you are looking for something a little different to do then this family friendly, fun and fascinating experience comes highly recommended, and owner Jenny offers us EGG Card members a generous 20% off ticket prices – can't recommend highly enough, book now!
EGG Membership Card Illustration
Join EGG Today
Become a member of EGG and enjoy a heap of exclusive benefits. You'll get access to Exclusive Offers, Events and your very own Digital Membership Card –  use it to discover great places in Edinburgh and connect with like-minded girls.
Pay Annually
---
£30
per year
Sign Up Now »