Review
EGG Recommends – Lockdown Cocktails!
Cocktail bars of Edinburgh, oh how we miss you. The music, the atmosphere, those dreamy drinks.
Thankfully, a host of our favourite city bars have got our cocktail needs covered with delivery
services offering innovative drinks for our very own quarantini cocktail hour. Perfect for a Zoom date with friends, date night with the other half or just to remember what it was like to have a proper drink, it's time to shake things up with lockdown cocktails…and support our bar owners.
After all, these delivery options are providing a vital lifeline to keep their businesses alive whilst lockdown measures remain in place. Here are some of the best locally made pre-mixed cocktails you need to try!
TONIC AT HOME
Bar Tonic on Castle Street is a bit of an institution for cocktail lovers and their Tonic at Home has
been creating quite the stir on social media since it launched last year. Now their perfect little
vacuum-sealed cocktail pockets of their best-selling drinks are available nationwide.
We were lucky enough to sample a selection of their best-selling cocktails (Pornstar Martini,
Espresso Martini, Starburst Martini, Puerto Rico Boat Trip and Strawberry Daiquiri), £6 each.
Simply pour over ice in a shaker (or empty jam jar if you don't have a shaker), shake for 30 seconds and then pour into a cocktail glass. They were so fresh and absolutely delicious – each cocktail packed a punch. Importantly, they tasted identical to having one made for you in the bar. You can tell they've been individually hand-made.
We loved them so much we've already put in a new order…Tonic@Home have a LockDown
Essentials pack for just £45 including delivery, featuring 11 cocktails of your choice. They can be kept in the fridge or frozen. Sold!
MONTPELIERS GROUP 
The iconic Montpeliers Group, which owns some of the city's (and EGGs') favourite cocktail haunts – think Tigerlily, Montpelier, Rabble and Indigo Yard, among others –  has created their very own At Home cocktail offering.
The aptly named In House Cocktail Club offers a range of seriously slick looking bottled cocktails, available for delivery every Friday to Sunday. Delivery is currently EH1-41 but we're told they plan to deliver nationwide from next month.
There's two types of cocktails on offer: a range of seasonal vibrant cocktails where you just add soda to enjoy; as well as Stirred Down Sippers – golden age cocktail classics, with Tigerlily's inimitable modern twist, where you simply pour over ice. Created using only premium spirits, all cocktails are beautifully presented in glass bottles, easy to make up at home and taste absolutely divine too. The Margarita Bonita with Don Julio Blanco and Velvet Falernum was a firm favourite of ours, closely followed by the Cream Tea Negroni and Electric Strawberry. Prices start at £12.50 for a bottle which contains two serves and we're already placing our next order.
DECANTER BRUNTSFIELD
Decanter Bruntsfield is an atmospheric independent winery and dinery in Bruntsfield, serving a
range of delicious sounding meals available for delivery or collection through their impressive-
looking hatch. But it's their cocktail range which caught our eye.
They are offering a range of Prohibition Boxes for real cocktail devotees. The Prohibition Box 1 (£55) contains a selection of Decanter's classic stir cocktails, including Old-fashion inspired Latest Fashion, Negroni-based Italian Medicinal Tonic and the Gentleman's Periodical, presented in glass bottles. Each bottle contains three serves.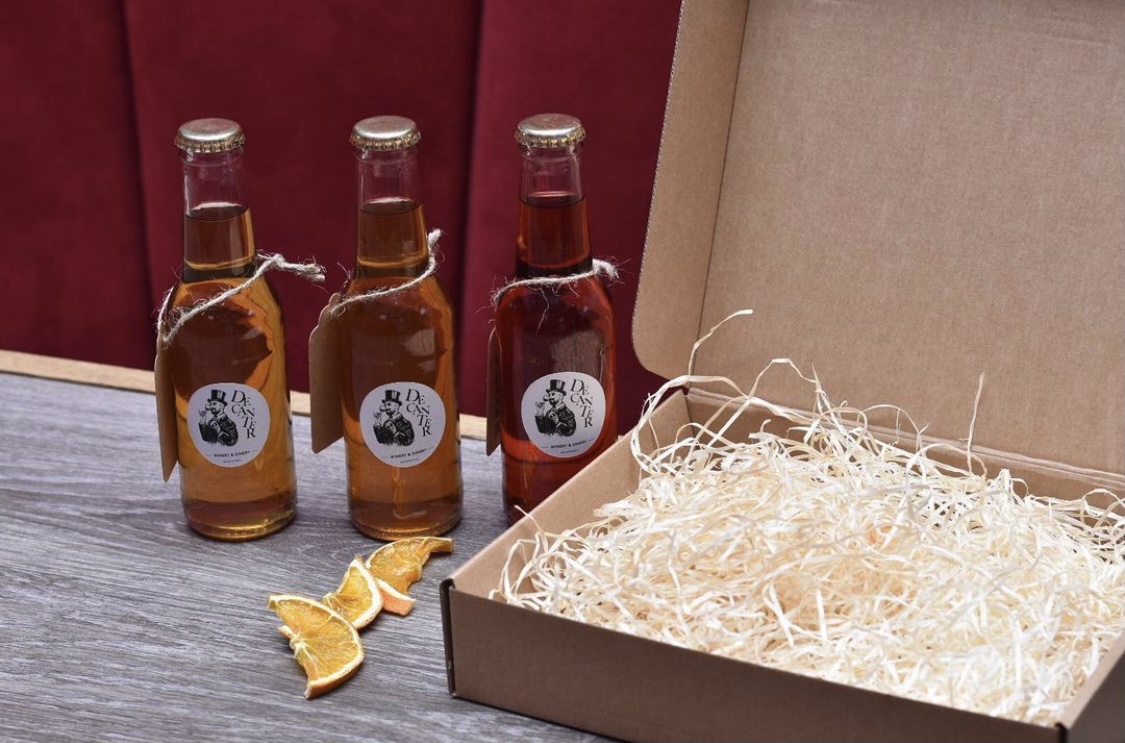 The Bath Tub Batch (£55 for three bottles of three serves) is a gin-based cocktail experience of
delicious, complex serves. Our favourite was the Bees Knees, a shaken cocktail of gin, honey and
lemon. Sublime. And then there's the French 75 Kit (£50) which comes complete with a bottle of
Laurent Perrier champagne and a bottle of 10 Gin, Lemon and Sugar to mix with the bubbles.
Other cocktails are available for collection, prices starting at £8.
EDINBURGH BOOZE DELIVERY
Edinburgh Booze Delivery (EBD) was setup last year by the owner of cocktail lounge, Panda & Sons.
The result is a 'drinks shopping mall' filled with serves from selected city bars, ideal for cocktail fans looking to recreate that cocktail bar experience at home.
Cocktails created by Panda & Sons, Hoot the Redeemer, Nauticus, Uno Mas Bar, Raging Bull, Hey
Palu and more are all available on the website, alongside a selection of beers from local breweries.
Delivery is local only right now.
There's a number of amazing-sounding cocktails available to order so be prepared to get lost in the
options available! Our top favourites include the Nauticus Pickled Martini cocktail (£15 for two
serves), Nauticus Skinny Dipper (£15 for two) and Hey Palu Black Manhattan (£15 for two serves).
MOTHERSHIP HQ EDINBURGH
Established in 2004 by two bartenders, Mike Aikman and Jason Scott, Mothership began operating as a cocktail events company, before running their own city bars: Bramble, The Last Word Saloon and Lucky Liquor Co. And if that's not enough the duo also create events and cocktail programmes.
Mothership HQ has a production space in the West End and produce bespoke wares such as Ready
to Drink cocktails, liqueurs, and syrups. Which comes in pretty handy for us all during lockdown.
Their website http://www.mothershipscotland.com/ contains a whole range of mouth-watering
handcrafted drinks available for delivery (minimum spend £25), from travel-sized drinks to
impressive gift boxes.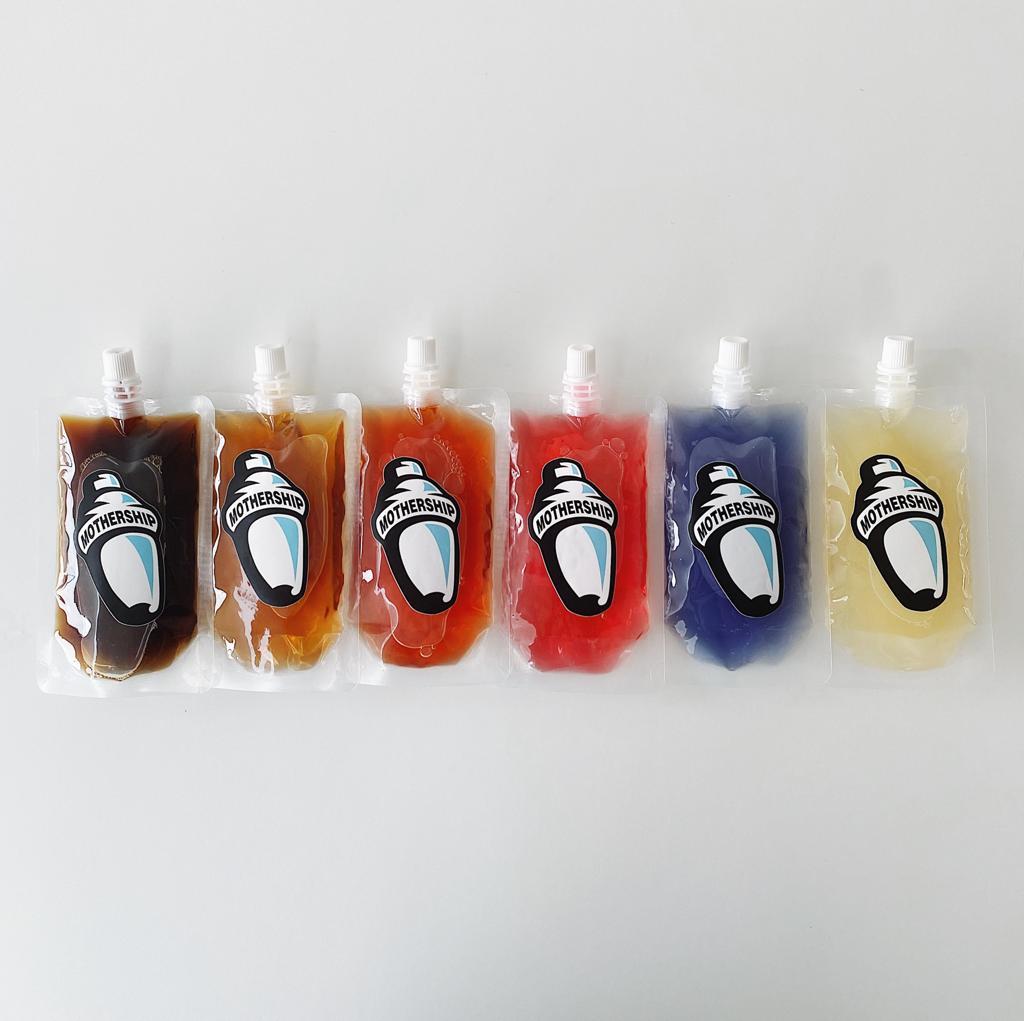 Our favourite is the Cocktail Selection Box (£30) which contains a carefully curated selection of their cocktails. Every week the box of six single serve cocktails is updated so there's something new to try.
No go support your local cocktail bars, truly a win win.
EGG Membership Card Illustration
Join EGG Today
Become a member of EGG and enjoy a heap of exclusive benefits. You'll get access to Exclusive Offers, Events and your very own Digital Membership Card –  use it to discover great places in Edinburgh and connect with like-minded girls.
Pay Annually
---
£30
per year
Sign Up Now »