Review
EGG Dundee – Foxlake Fun Day!
We love a day out of the office here at EGG HQ. So it's safe to say we were very excited to hit the M90 this week and make our way towards the sunny Dundee docks for a morning of bouncing and whizzing about the silvery Tay – even the very early start couldn't dampen our spirits. That's right folks, it was time for the big EGG Dundee event with the amazing Foxlake!
A company with an appetite for adventure, Foxlake Dundee is a watersports facility that offer Aqua park, Cable Wakeboarding, Ringo and Stand Up Paddle Boarding sessions. The site utilises Dundee's beautiful City Quay to create a mini-adventure for all the family to enjoy, and we were so thrilled to be collaborating with them for EGG's first ever child-friendly event. We even had some dads joining in; I know… shock, horror!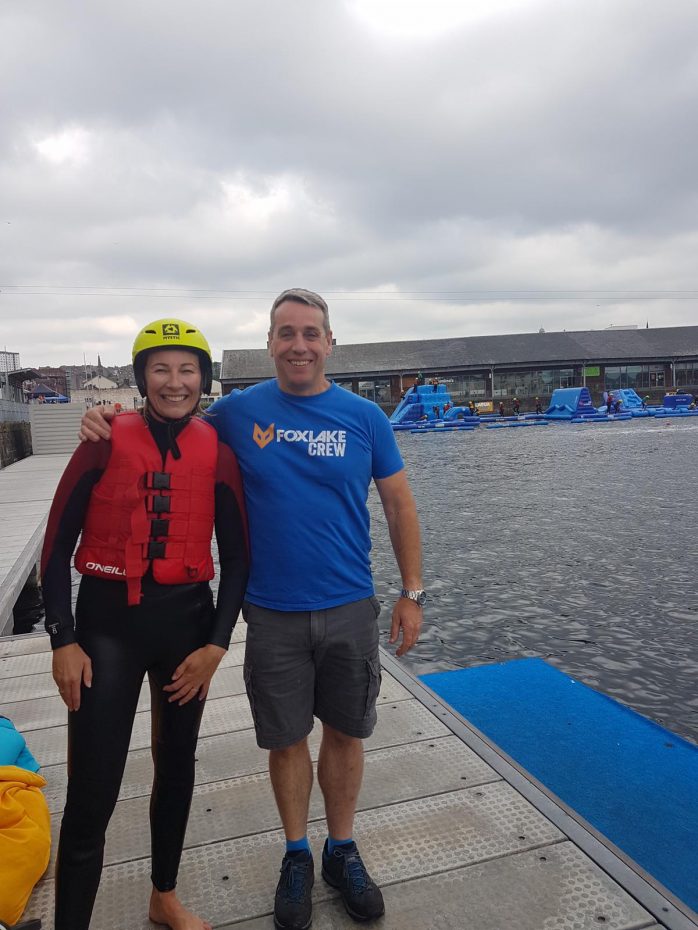 The morning started with an introduction to Foxlake with a welcome selection of pastries and hot drinks – we EGGs really love pastries and so were very grateful for that! Director of Foxlake Adventures, James Barbour, then gave us a run-down of what our morning was going to entail – including a closing comment of, "remember kids, it's okay to push your parents in the water!" Yikes! 
Coffee and chat over, it was time to suit up. All we'd been asked to bring along were swimsuits and towels; everything else was provided by the team in Dundee. We donned some very attractive wetsuits (I think Wetsuit Chic is definitely coming around for Autumn…no?) a buoyancy aid and a helmet. Time to hit the water.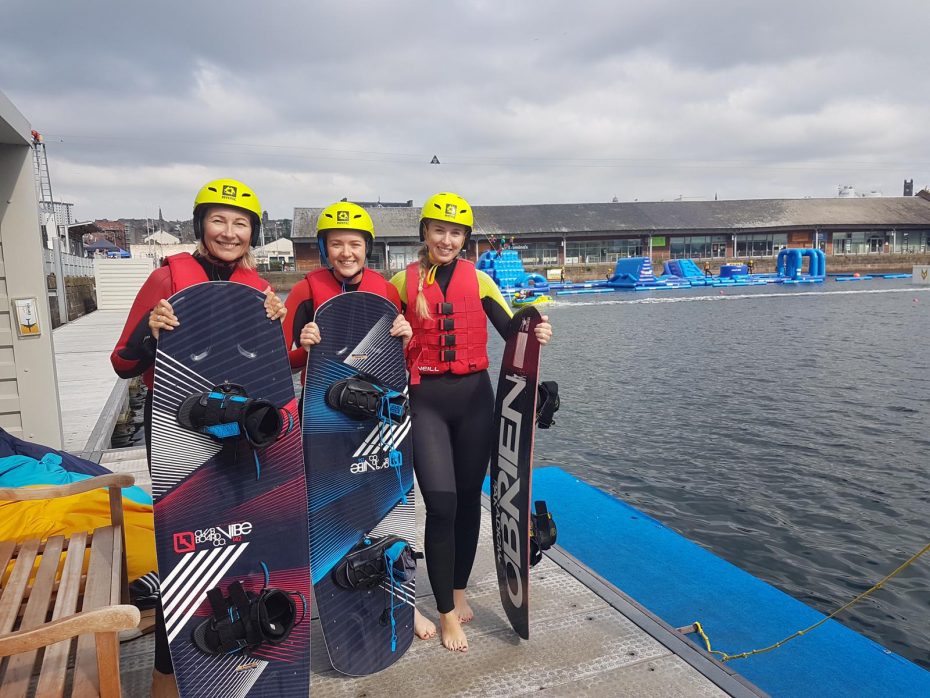 Kylie, Emma and I were taken down to the jetty by Foxlake instructor and watersports  guru, Craig, where it was time to try something that they were all doing for the very first time…wakeboarding! Craig was very patient and didn't laugh too much while we fell in the first few times, and with some expert tuition and encouragement we were up and zooming across the City Quay in no time – such a thrill! 
The thrills continued as the three of us jumped onto the ringo and Craig whizzed us along the water – all while screaming and laughing our eggheads off. We concluded our visit by taking on Foxlake Dundee's pride and joy…the inflatable assault course. It was much harder than it looks! Monkey bars, slip 'n' slides, climbing walls; we could've spent hours on there. It was a real team effort and we were pretty proud of ourselves by the end of it  – although the kids were definitely the best!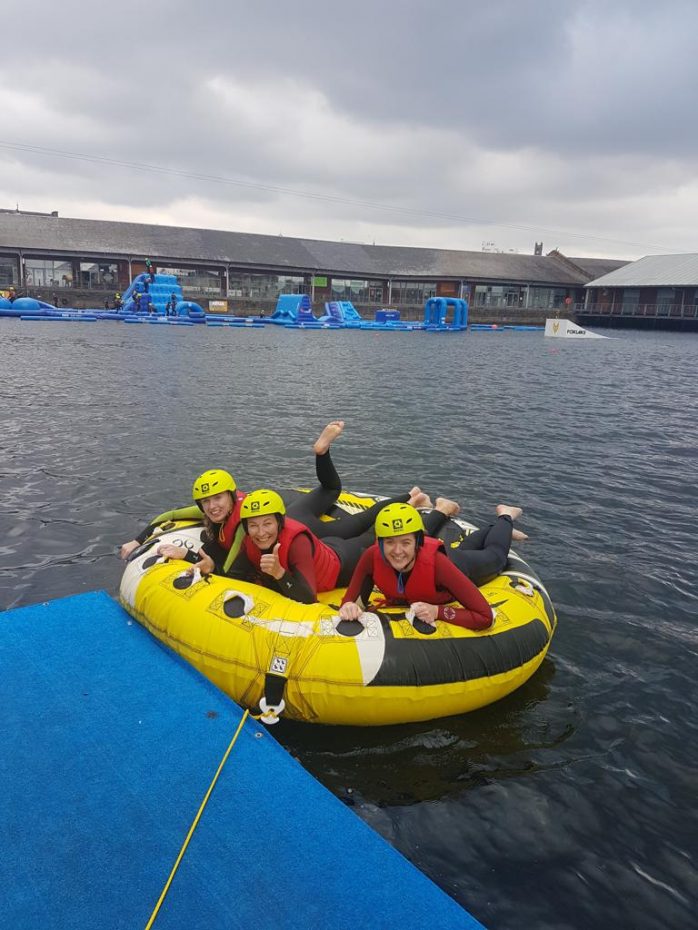 Foxlake have an incredible set up, and with so many activities to try you can keep going again and again. They also have a summer camp: four mornings of awesome water fun running every week of the summer holidays. Each day is packed full of excitement and adventure. Participants will have the opportunity to learn a mixture of water activity skills including; Wakeboarding, Paddleboarding, Ringo and Aqua Park, as well as taking part in a variety of wet and dryland games – all while making new friends! The camp has been very popular, but there may still be a couple of spaces left for the last few weeks of  the holidays. Give them a call to find out more.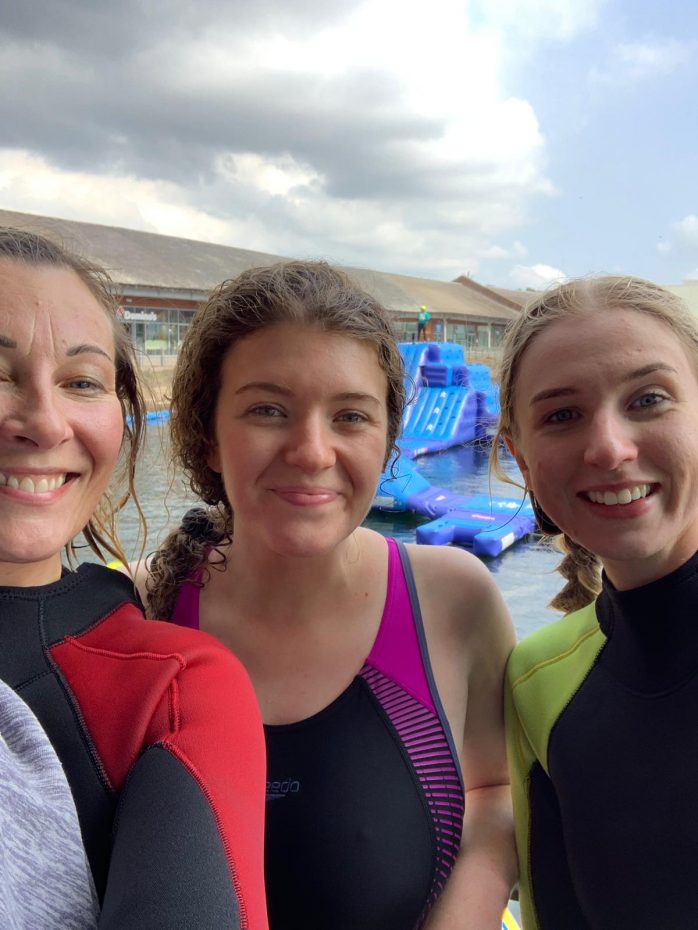 Team EGG loved our day on the water, and can't wait to go back. Watch this space for info on an event in the near future with Foxlake Dunbar…we just can't get enough!
Rachel, Team EGG x
EGG Membership Card Illustration
Join EGG Today
Become a member of EGG and enjoy a heap of exclusive benefits. You'll get access to Exclusive Offers, Events and your very own Digital Membership Card –  use it to discover great places in Edinburgh and connect with like-minded girls.
Pay Annually
---
£30
per year
Sign Up Now »