Review
Discovering the South of Scotland
Geography was never my strong point, so when I received an email asking if I fancied a couple of days in the South of Scotland my first reaction was "what's there?" and my second "two days seems an awful long time, will there be enough to do?". Shame on me on both fronts…
And even if I didn't know exactly where I was going (until I got the juicy jammed packed itinerary that is), there's something utterly joyful about the thought of going on an adventure a. in your homeland and b. without the need for passport nor pre-bought seat.
I've seen plenty of people talk about the beauty of northern Scotland (if you haven't been to Skye this summer can you even call yourself Scottish) but not so many talking about the other end of our glorious playground (sorry Gleneagles but I'm stealing your tagline) and never one for following the crowds, I had said yes to a two day away trip and packed my (small) overnight bag quicker than you could say "don't forget to feed the goldfish or our daughter".
So I talked about a jam packed itinerary, and it was, and I was delighted to share the whole journey with the Queen of itineraries and trip planning in Scotland, Kathi, owner of Watch Me See – that's her standing in the river, as you do when you're trying to get a good shot for the Gram!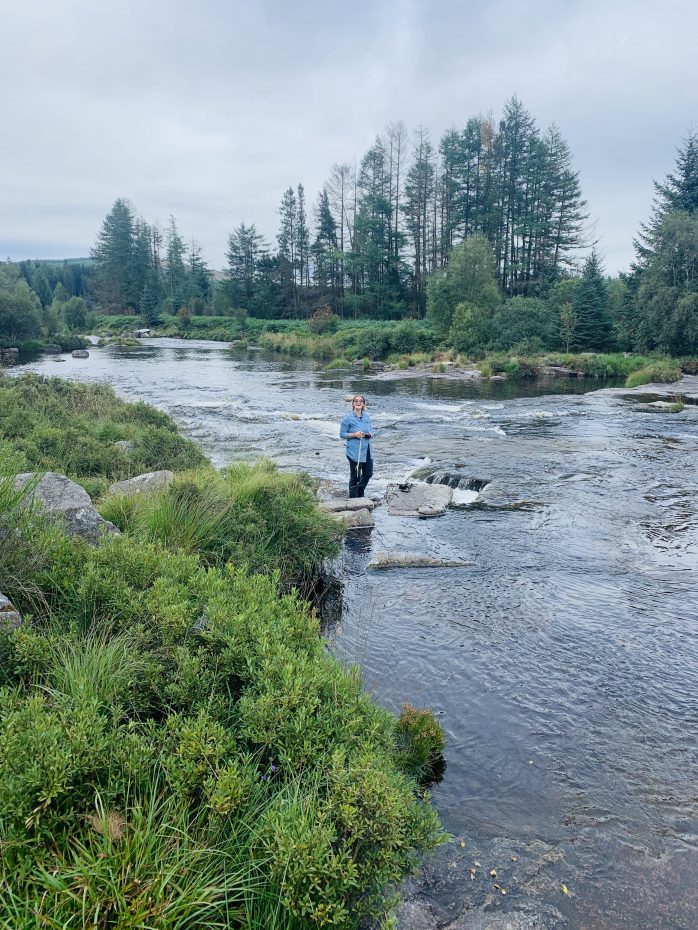 I have to say if you're going to do any form of touring in Scotland, one of the best ways to travel is  (now I've done it I'll never go back) private coach – particularly when you have the lovely Lesley from Solway Tours at the helm/steering wheel whose love and knowledge of Scottish history kept us entertained throughout. A very comfortable ride, she bought travel sweets too, whoop!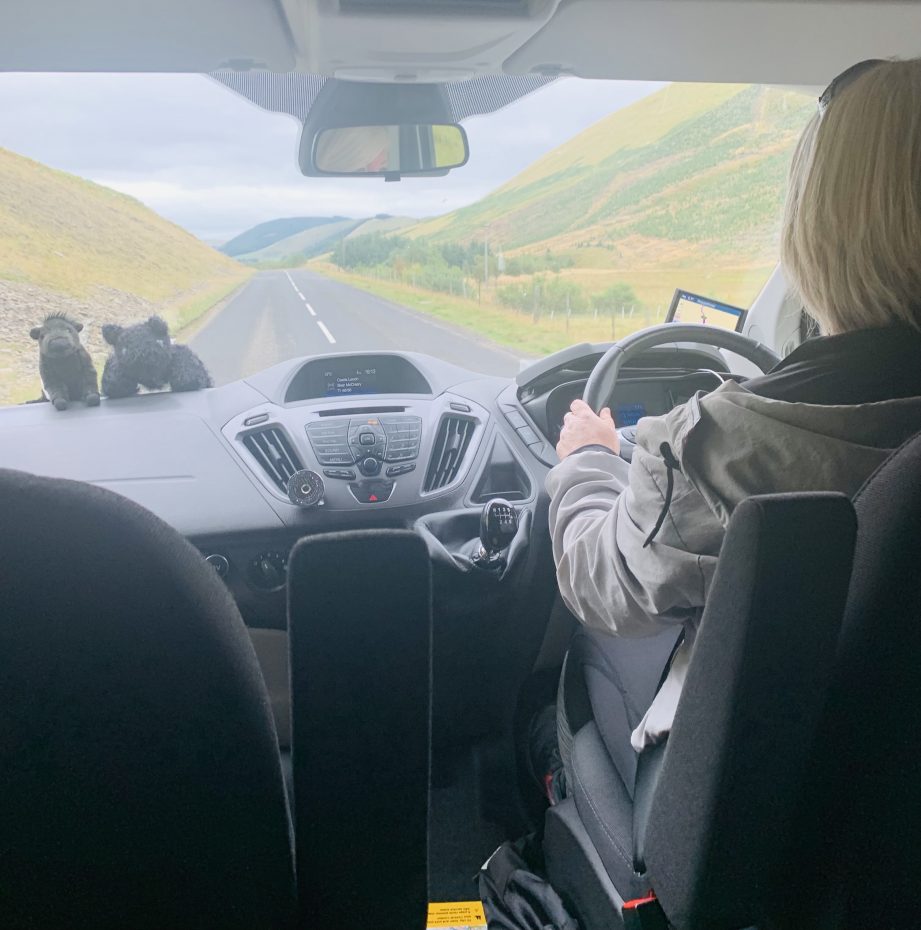 First stop – it's gravel biking with the dream team that is Esther and Warren of Galloway Cycling Holidays in the Galloway Forest Park! Pretending that it wasn't over 20 years since I'd ridden (thank god they gave me an E bike) we set off through the forest, hearing all about the Raiders Gravel – a 4 day gravel bike ride set up by Esther and Warren, attracting riders from all over the world, and taking place in 2022.
Warren asked if I'd like a photo of me on my bike – saying yes please I cycled slightly wobbly away from him and turned round to face him  "I've seen oil containers turn more tightly". I'll perhaps wait until next year before I enter the race…
Off the bike and posing by the River Dee for pictures, #scotlandstartshere people!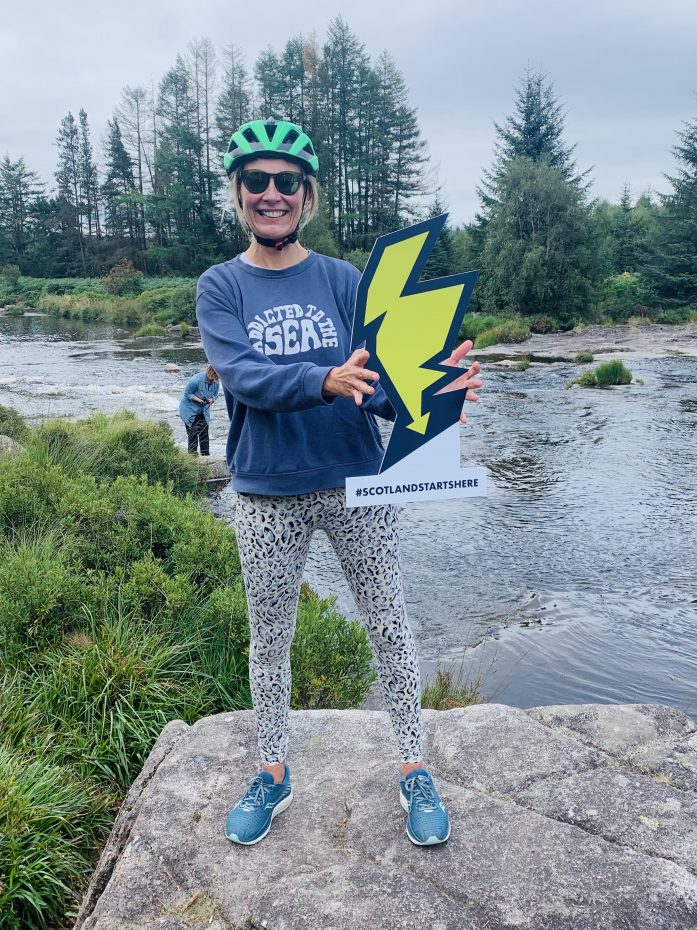 Next stop, the Scottish Borders and St Mary's Loch to be precise – paddle boarding, yes I know how to do this! We were met by the lovely (can I just say how LOVELY every single person was on this tour, we couldn't have asked for better welcomes) Lesley who rents SUPS and kayaks on St Mary's – just the most perfect spot for a paddle board, so tranquil – I donned my swimsuit for a dip afterwards, the water was warm!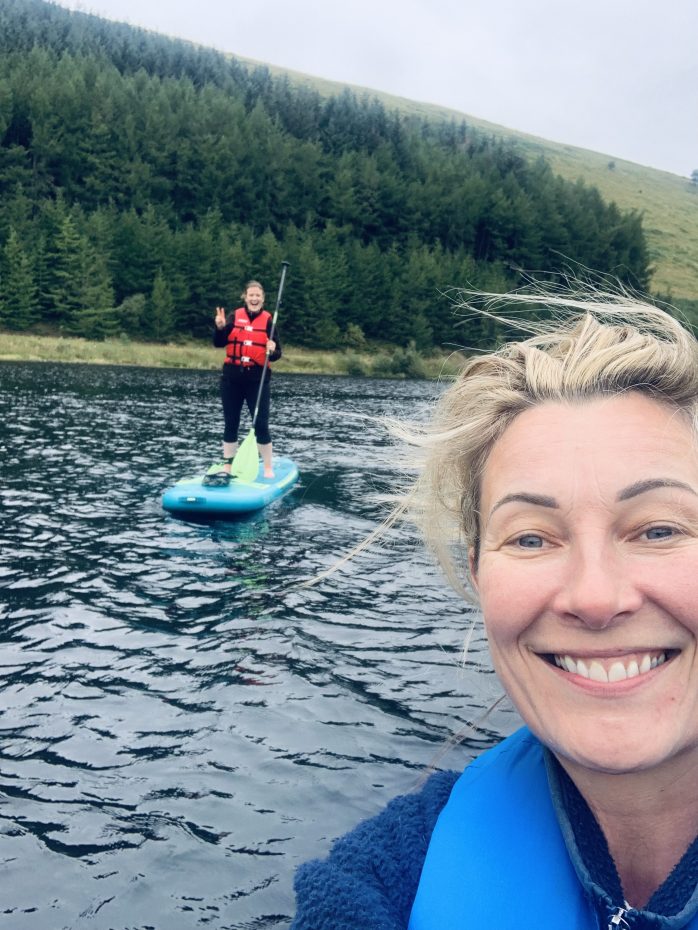 End of Day 1 and it was off to Peebles for a stay at the Tontine Hotel, a wonderful welcome from owner Kate, followed by delicious food and cocktails – and early bed!
Day 2 and we were up bright and early for brekkie, I then had a walk along Peebles High St – it's been a wee while since I've been in Peebles and have to say I was struck by just how colourful, diverse and independent-heavy the shops are, it's utterly brilliant. Popped in to see my pal Kerry Guiney owner of The Perfect Fit kids' shop and now also owner of the beautiful The Perfect Style ladies wear shop next door! Me oh my WHY did I not bring a bigger bag, there was SO much I wanted to buy, I will be back. Here's a pic of Kerry on her bike, see everyone loves a bike in the Borders!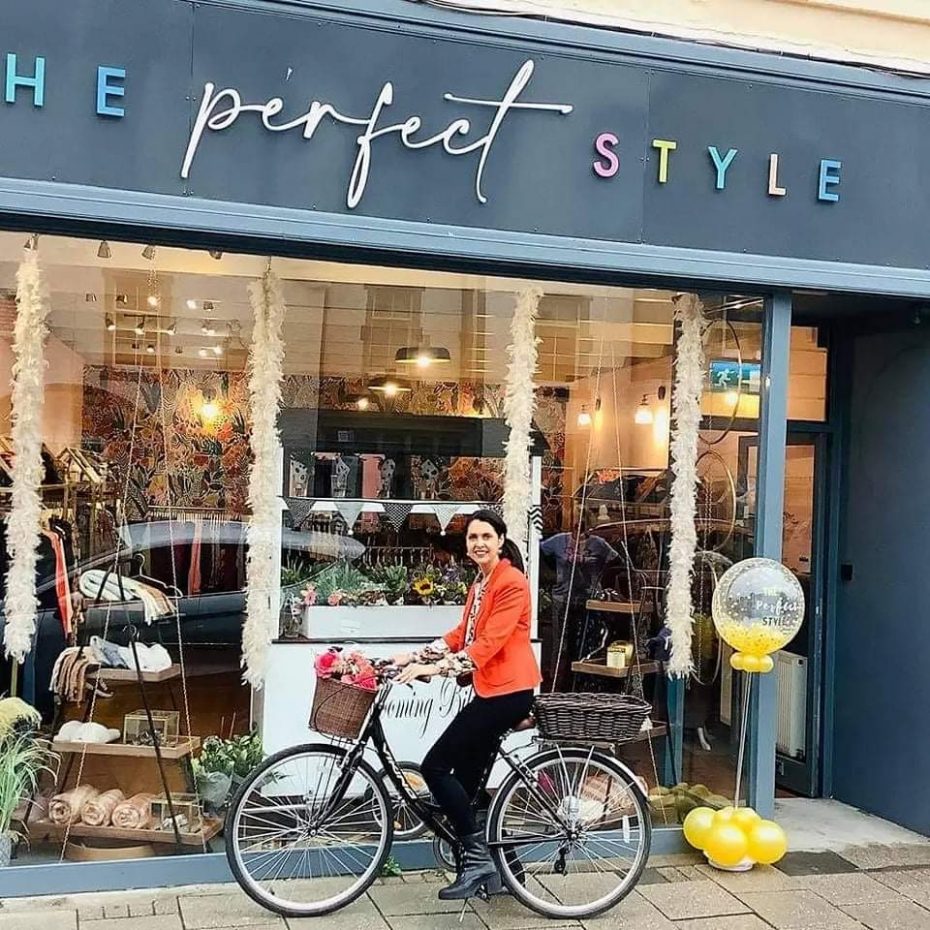 From Peebles we headed to Innerleithen, another great High St and home to the Tweed Valley Bikes where we heard all about the forthcoming Enduro World Series, the biggest celebration of international mountain biking in the UK, taking place 30th September – 3rd October.
We headed into the hills to watch some of the pros in action –  it was emotional to see Callum, one of my stepson Campbell's friends, taking part. I hadn't seen Callum since Cam's funeral in December so it caught me for six. Once I'd managed to compose myself I had a lovely chat with Callum who's looking forward to the competition, I know he will smash it. He didn't ask if I was competing which I thought a little strange..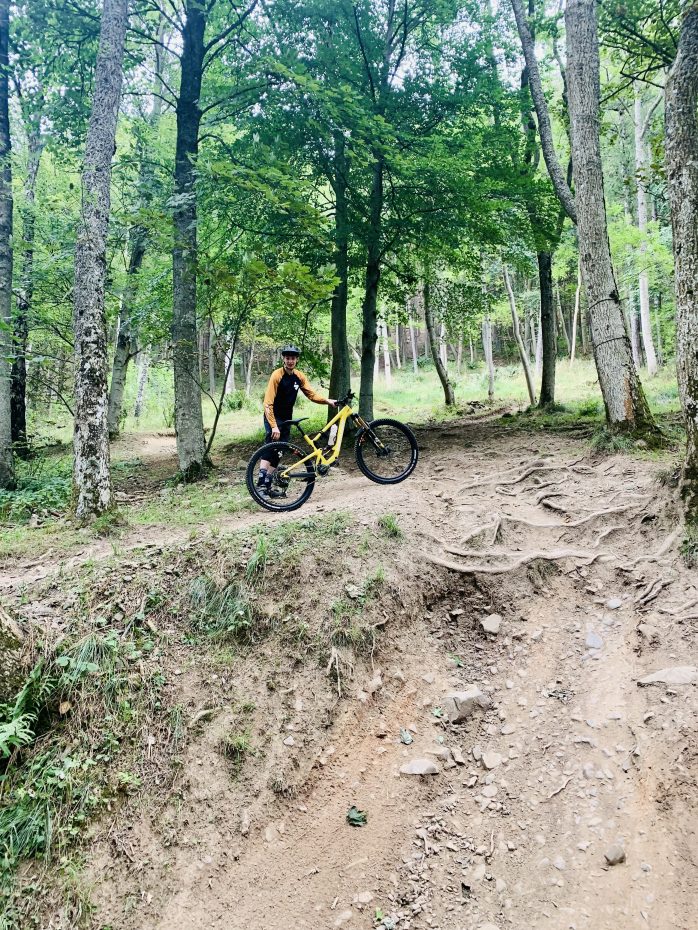 After another delicious lunch we were on our way to our final destination – Go Ape Glentress! Full disclosure, I had missed this on the itinerary, had I seen it I'm not sure I would have accepted the invite so quickly..or perhaps at all! As I discovered a few weeks ago at the opening of Go Ape at Dalkeith Country Park, my vertigo is alive and kicking…and can make me cry.
I explained this to Lesley, Kathi and the lovely Go Ape safety man several times, hoping they would agree to me taking photos from the gorgeously flat and safe ground – however they weren't having any of it, so up I went. And up. And up. And then the tears came. And then they went. And then I smiled and took a photo of Kathi who smiled throughout and is clearly made of sterner stuff (nice Go Ape man revealed that most women who cry have young kids, make of that what you will).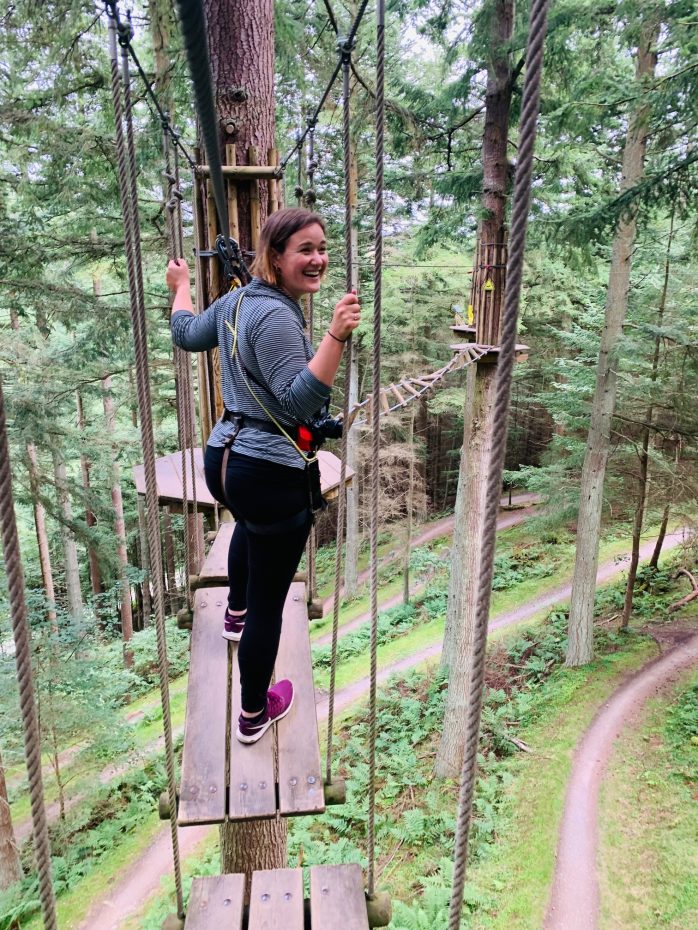 (look how far down that is!)
Never happier than when I see the Go Ape Ape (whose feet are always, sensibly, on the ground).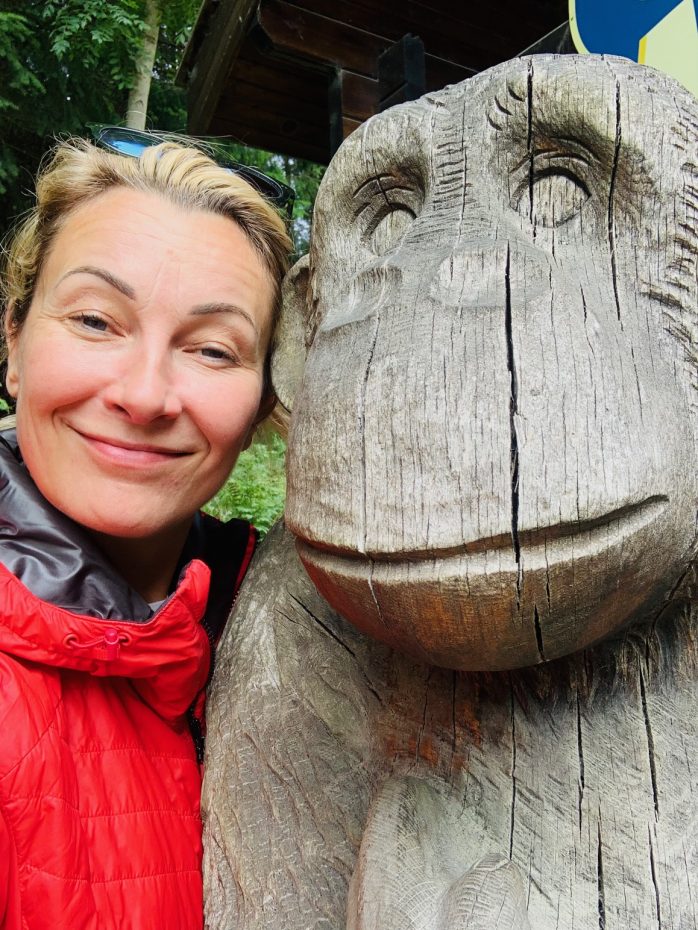 So would I recommend a trip to the South of Scotland? Absolutely! Was two days enough to see it all? Absolutely not. But what this short trip did reinforce was just how many hidden gems we have on our doorstep, and how many wonderful people are working hard to help create awesome adventures just for us. It it really was an amazing trip; so please, go see, see more of Scotland, go South.
For more inspiration on where to visit on your South of Scotland tour, as well as many forthcoming events, head to Scotland Starts Here.
Huge thanks to everyone I met along the way on our two day tour, and to Beeline PR for the invite.
EGG Membership Card Illustration
Join EGG Today
Become a member of EGG and enjoy a heap of exclusive benefits. You'll get access to Exclusive Offers, Events and your very own Digital Membership Card –  use it to discover great places in Edinburgh and connect with like-minded girls.
Pay Annually
---
£30
per year
Sign Up Now »