Interview
Womensday 2020 with Fi Munro
Who better to hear from in a Crisis than a Warrior Woman? If there is someone to help see the positives in even the grimmest of situations, then Fi Munro is that woman. Despite being terrified of her diagnosis of stage four terminal cancer, she also describes it as being one of her greatest gifts.  We caught up with Fi to hear her story and what lockdown has meant for her.
"When I was 18 months old, before I was able to develop the easily recognisable Glaswegian accent, we left Scotland behind and moved to Guernsey. When I was 12 we  returned to Scotland, this time to the small village of Dunkeld, nestled on the banks of the River Tay.
I competed my PhD aged just 25 with awards in recognition of my findings. I secured research jobs in various NHS health boards, working my way up to a senior research management role in the Scottish Government at just 30. I worked out, trained for London Marathon, weight lifted and saw a personal trainer a few times a week. I hosted regular parties in our home and I always had a diary jam packed with social activities.
But, while, on the outside I 'portrayed' the external image of a capable and driven woman that wasn't the reality. The reality was much darker. I felt so numb to the world around me.
I. Was. Fucking. Miserable.
On the outside I had it all. But, on the inside I was dying, literally. Not only was I emotionally broken but, that same year, I was diagnosed with stage four, terminal cancer. My body, and my soul, just couldn't take it anymore. Something had to give, had to break. That something was my health.
Being diagnosed with late stage cancer was terrifying, yes, however it was also one of the greatest gifts. Once I heard that I was going to die I knew that I had only one thing left to do. I had to live for as long as I could. I realised that if my time was to be cut short, that if I was no longer guaranteed my 90s (something we are, of course, never guaranteed but I had foolishly thought was a sure thing), then I needed to make some urgent changes because the life I was living was making me miserable.
I finally gave myself permission to stop pushing, to start breathing and to start healing, truly healing, the layers of trauma I was carrying in my body and in my soul.
I can now say, without a shadow of doubt, that I am happier now than I have ever been before and that if I were to die tomorrow, I would die knowing that I lived the best life possible for me. What I hope is that, through my words and insight, that you will be able to live your best life too. Not the life you think the outside world wants to see, not the orchestrated social media, picture perfect life, but the messy, real, laugh out loud until you snort, joy filled life. That life is what I hope for you. That is where the magic is found.
It took a lot of highs and lows and ups and downs in my 34 years to get me to this point, but I'm grateful for it all because without it I wouldn't have discovered how beautiful life could be when you realise how precious and fleeting it is.
My diagnosis gave me a way out and I used this to start living a completely different life. I retrained as a yoga teacher and I am now training to become a shaman. It's amazing. Every day I can't believe how lucky I am to be doing such incredible and meaningful work.
I have found a real passion in writing and I love that I get to merge my academic and research background with my spiritual work through my books and public speaking. I often think back to my 6-year-old self who was an extrovert who loved to perform. She knew what she wanted, it was my adult self that didn't have a clue.
Even before Lockdown, my morning rituals involved opening the space shamanically by calling in the four directions and setting an intention for the day, next I do yoga or dance for 20-30 minutes and then meditation or breath work for 10 minutes. I complete my morning routine with about 15 minutes of journaling, using Julia Cameron's 'Morning Pages' method.
In about an hour I have started the day by serving my spiritual, physical, emotional and mental health. It's been life changing.
I am now 14 days into the 'official lock down' but 21 days into 'social shielding' – as I have a suppressed immune system I was encouraged/advised to start early. Social Shielding means neither my hubby or I can go to shops or interact with anyone from outside our household. I got a letter today that says we are advised to continue with this for another 12 weeks. I've never been more thankful for my meditation practice that helps me to stay focused on one day at a time – otherwise I think I would go crazy…but there is still time!
I am self-employed. I am an author and I also run yoga retreats. I recently qualified as a shaman. I've also recently launched online yoga classes for free, specifically for people with health conditions and/or physical limitations.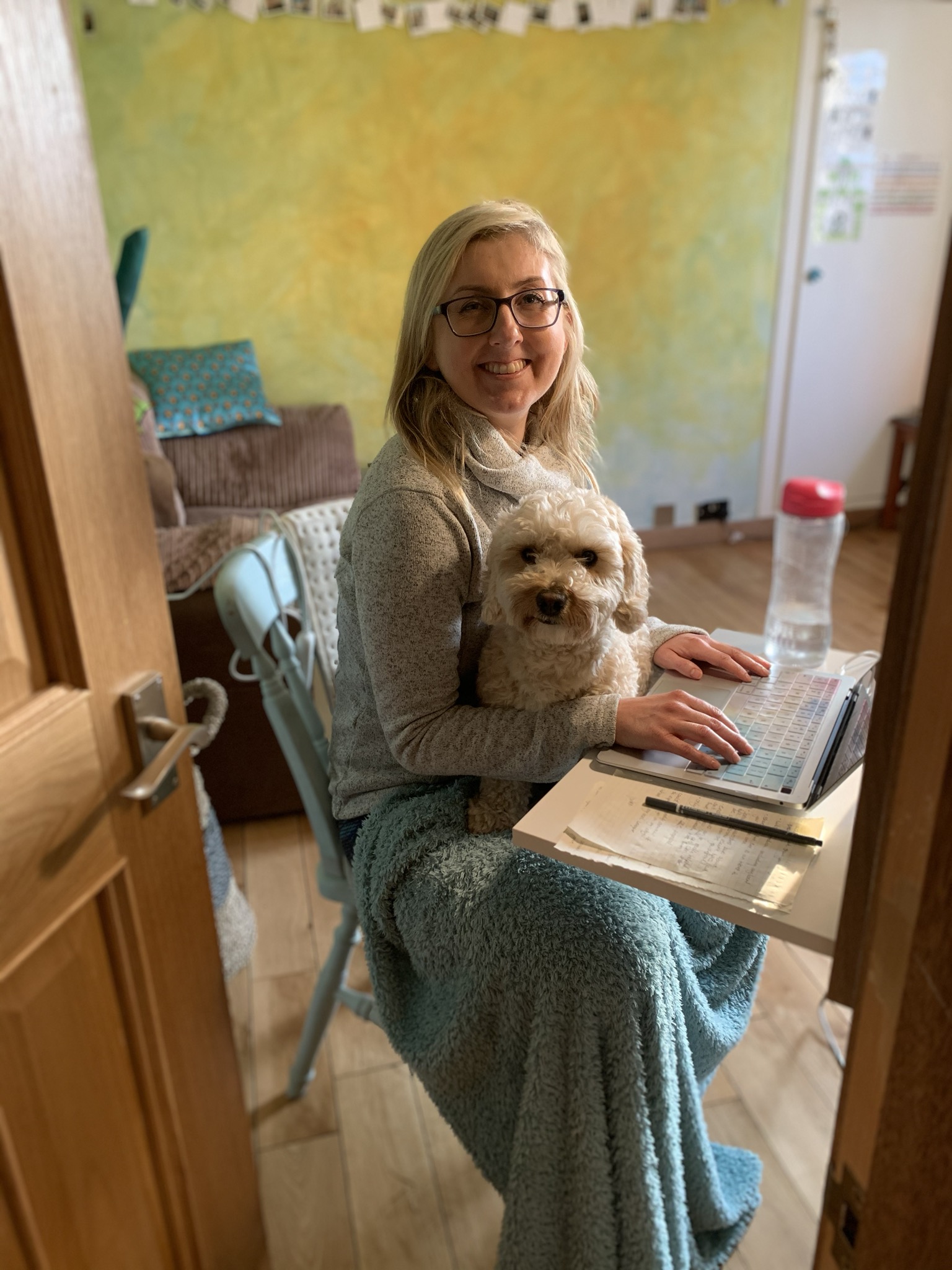 How is COVID-19 affecting you?
I have four health factors that place me in the 'high risk' category – I have stage four cancer, I don't have a spleen, I'm currently receiving chemotherapy and I am on high dose steroids for colitis. BUT I remain positive and focus on how lucky I am (we all are) to have such an incredible (and free!) health service. I am enjoying the time to focus on mediation, yoga, journaling and time in nature. However, I am deeply missing my family and loved ones. The reality of not being able to see any of them until July is very hard to face.
Three words that describe how you are feeling right now?
Grateful, Loved and Sad.
What are you most fearful of?
Honestly, not seeing my loved ones again.
We're currently under Lockdown, what are you doing more of?
Slowing down.
And less of?
Trying to please other people.
How would you envisage your life in 6 months time?
I would love to be able to go and see my family, hold them close and tell them how much I love them.
I'd also like to be able to go and get fish and chips or go to St Andrew's beach whenever I want…who knew that was something that could be taken for granted?
One positive you think will come from this situation?
I hope we will all appreciate the little things more.
Favourite book…
 The Alchemist by Paulo Coelho. I read it every January.
Book you are reading right now?
The woman in the window and Untamed.
Favourite online video?
Best advice you've ever been given? 
When I was first diagnosed with cancer it had spread to my right lung. At the time I had been training for London Marathon. It wasn't so much the 'cancer' news that hurt but the news that a part of my body, that I very much valued above most other parts, was now damaged. I felt like part of my identity was being stripped away from me.
However, life works in mysterious ways and, as a result, all of that changed when I had an inspirational conversation with a near stranger, and equally passionate exerciser, just two weeks later.
He gave the best piece of advice I'd heard since my diagnosis. 'If you walk in your running clothes every day, one day you may manage a 30 second run or one day you may even manage longer. But you know what? You won't ever manage to run sitting in your house.'
So, from then on, every morning I would put on my running shoes and I go for a walk round the block and, although it was tiring at first, it became the highlight of my day. It was precious time I had carved into my day just for me that enabled me to reclaim my sense of self, connect with nature and, above all, feel alive.
Now, four years later, I go for at least a three-mile walk every morning.
This advice, literally, saved my life.
What does Sisterhood mean to you?
It is about finding you tribe. It is about lifting up others and recognising and celebrating their strengths. It is about a deep connection with like minded people. Above all it is above love, authenticity and kindness.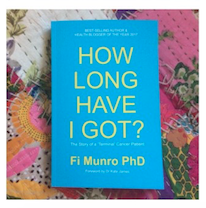 How Long Have I Got? is available on Amazon.
And you can listen to my conversation with Fi on EGG TALKS TO podcast, one of my favourite guests ever, her words will stay with me forever.
EGG Membership Card Illustration
Join EGG Today
Become a member of EGG and enjoy a heap of exclusive benefits. You'll get access to Exclusive Offers, Events and your very own Digital Membership Card –  use it to discover great places in Edinburgh and connect with like-minded girls.
Pay Annually
---
£30
per year
Sign Up Now »