Interview
Around the world on two wheels
To say that Sarah Fisher, 28, is inspiring is an understatement. Her positivity, her outlook on life and her sheer determination is infectious.
Born without her left arm, you'd be forgiven for assuming Sarah, who is design manager for award-winning solicitors and estate agency Coulters, would feel frustration at the card she was dealt. But instead, it's become the biggest driver in her life.
A keen cyclist, when her current NHS prosthetics could no longer withstand her journeys, and the private products on the market fell short of her expectations, Sarah took to her carpenter dad's shed and designed her own. Then, she approached Koalaa, an innovative UK start-up company making upper limb prosthetics with her model. Together, they are building the next generation of cycling prosthetics.
But Sarah hasn't stopped there. Now, she is planning to raise much needed awareness and funds, by taking to the saddle and cycling around the world in 2023. With her dog Woody, of course.
Here, Sarah shares her story in an article kindly sponsored by Coulters.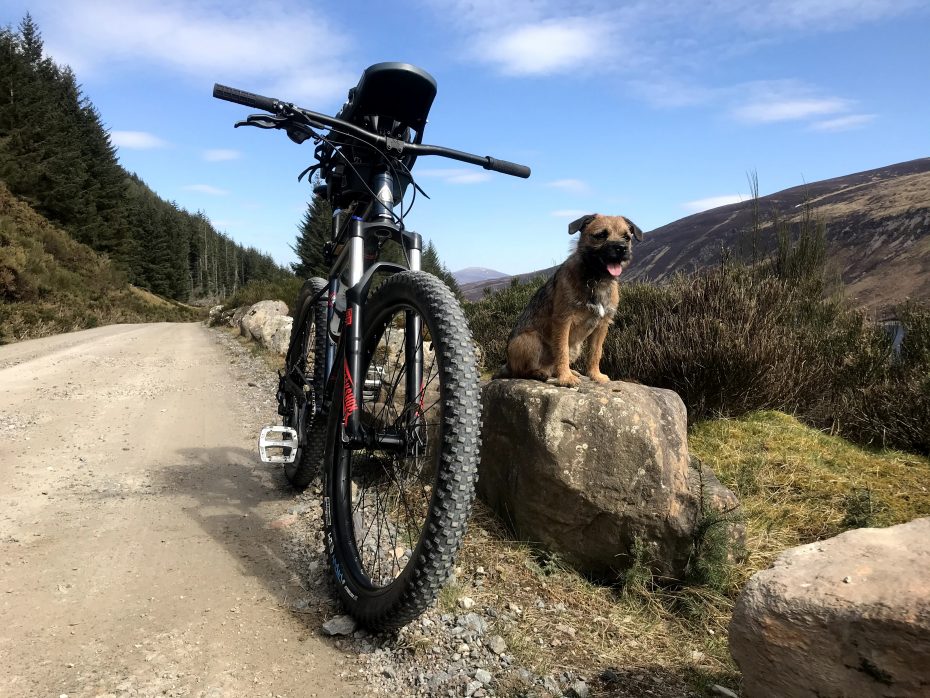 Most people would choose a charity run or walk, but you're planning to cycle around THE WORLD! What has inspired you to do this challenge?
I was born without my left arm from below the elbow, a totally random occurrence that is unexplained and can happen to anyone. However, I don't see this as a bad thing – it is actually the biggest driver in my life. I always want to challenge myself and push my boundaries to the limit, hence this ultimate challenge!
My inspiration for this personal challenge came about a few years ago when I got into cycling and started to push the boundaries of longer distances and durations on the bike. I found that my current NHS prosthetics couldn't withstand this and it caused more damage than good to my arm. The prosthetic is heavy, sweaty and uncomfortable which is the last thing you want when your legs are already screaming or you have stopped for a tea break and can't get your arm back on because it has swollen up.
This is all that I had come to know and felt like all that was available to me. I started researching into whether there were more modern and innovative options available but was disappointed to find that the current products on the market fell short of my expectations. I also learned that the lack of these cutting edge products was causing others to avoid cycling. This left me wanting more.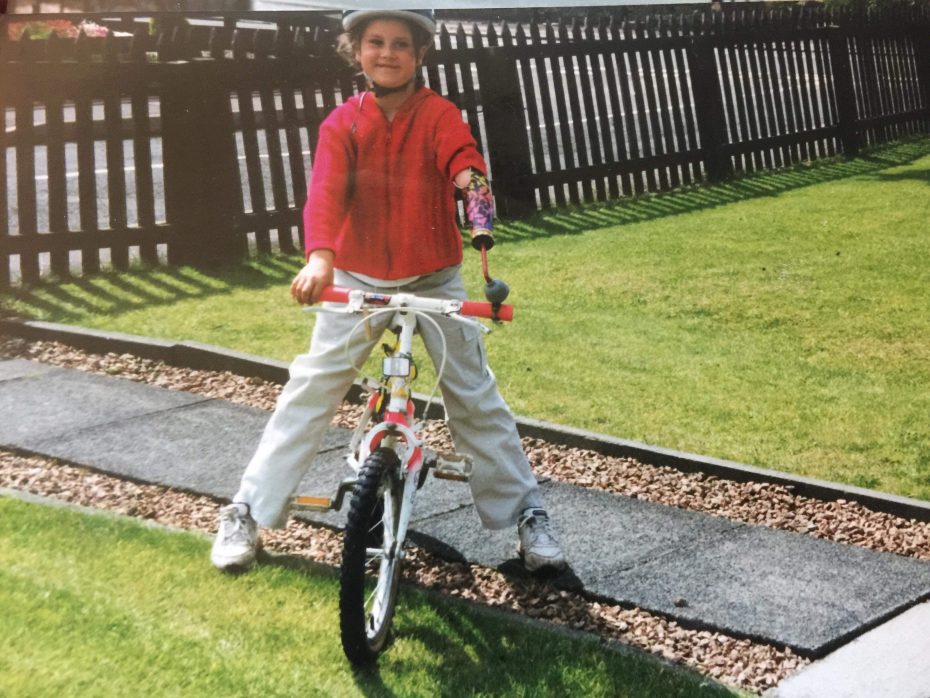 You're raising money for prosthetics – can you tell us a bit more about this?
The current NHS prosthetics biggest draw backs are that the cast that you put your arm into is SOLID, made from plaster cast and feels like bricks. Also, the prosthetic attachment that clips onto the bike like a ridiculous telly tubby pole and isn't that safe.
My research into finding a new solution to these two problems firstly started in my dad's shed, making a cardboard version of what we thought would work. My dad is a carpenter and has always been so excited about creating new stuff with me and thinks of all these solutions to problems I've had growing up.
I then found Koalaa, an independent, innovative start up in the UK making waves in upper limb prosthetics. Their biggest USP is that the sleeves are made from fabric and can 3D print any end attachment for the end of the sleeve. They also send out free prosthetics to all kids in the UK on their ProjectLimitless program, which is amazing.
I approached Koalaa with my cardboard model which is geared towards cycling and am now helping them adapt their soft fabric sleeve design for cycling and sports. It is this product which will propel me around the world on my cycle challenge and open the floodgates for other one armed cyclists to achieve their dreams in the future!
What are the plans for your cycle around the world?
The plan is to do it within 320 days, head in an easterly direction and cover 18,000+ miles – this is the maximum amount of days and distance to get the Guinness World Record. It's not my main goal to do it within this time and get the record, but it is a good way to set a timeframe to work towards. Plans are underway on the route but there are a lot of logistics to consider, so it's definitely a work in progress!
I will be doing this mainly unsupported, meaning I will have to arrange all my gear, food, accommodations (tent), flights and route every day, myself. But I will have my family at home who will support me when I need it – and my wee dog Woody will be coming along with me. He is a Border Terrier who quite happily sits on my bike or runs alongside me.
Kit wise, I am not an elite cyclist so I have no specialist equipment nor do I have any funding from high places. I get where I am going with hard work and using what I have wisely. I need to start investing in some gear I can actually rely on to make it around the world but I would also like to collaborate with companies I really believe in and proud to show off while on my way round! Edinburgh is a hub for bike and gear shops and looking forward to connecting with them and seeing if we could work together!
The bike itself I have to adapt. The set up I have used my whole life has been a flat bar with both gears and brakes leavers fitted to the right hand side. This has proven problematic over the years but with the help of my dad and a bike mechanic we are in the process of getting something that works for me.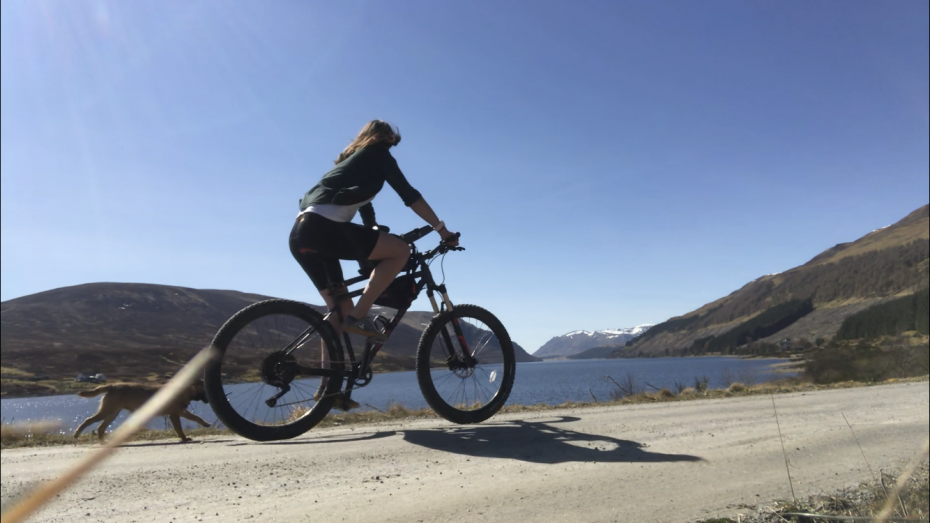 How do you prepare for such a challenge mentally and physically? 
I came up with this idea all by myself so mentally…I think I must be a little mad! But this kind of thing excites me. I don't see it as this huge world that I need to cycle around. Instead, I think of all the amazing adventures I will have each day and all the new people I will meet.
Physically, I am training and working to keep my fitness up to achieve this goal without fatigue or injury. I train in lots of different ways not just cycling, such as running, hiking, swimming and recently CrossFit which in itself is a feat trying to do with one hand. But all of these things are adding up to keep me healthy and strong for the big hills ahead!
How much money are you hoping to raise?
The trip isn't just about raising money, it's so important to me to raise awareness for limb difference.
I'll be visiting charities and families around the world whilst I'm away and any money I can raise will go to these charities, as well as Koalaa so they can continue their amazing work in creating a new generation of prosthetics.
To complete the trip I need to raise around £20,000 which will pay for gear, food, accommodation, flights. So anything in the run up [to my departure] will go towards this. Then, the rest will go to charity and Koalaa.
You can follow Sarah's cycle around the world here: https://www.instagram.com/singlehandedlyntw/ and to donate visit: https://www.gofundme.com/f/single-handedly-navigating-the-world?utm_campaign=p_cf+share-flow-1&utm_medium=copy_link&utm_source=customer
Huge thanks to Coulters for sponsoring this article. Coulters are EGG card partner offering card holders £500 off and non card holders £250 off conveyancing when you sell with them. To arrange a valuation just call 0131-603-7333!
EGG Membership Card Illustration
Join EGG Today
Become a member of EGG and enjoy a heap of exclusive benefits. You'll get access to Exclusive Offers, Events and your very own Digital Membership Card –  use it to discover great places in Edinburgh and connect with like-minded girls.
Pay Annually
---
£30
per year
Sign Up Now »