Feature
Your home: decluttering
When it comes to the contents of your home and selling, it seems less is more. More appeal, more perceived space, more value. And so, decluttering is number one on the To Do list…even above repairs.
According to Coulters, if you want to get a good price and sell your property fast, some selective decluttering is a must for a simplified look.
"Decluttering before selling your home is so important and always recommended," says Sean of Coulters. "A cluttered home doesn't photograph or video well and it's the images and videography from the schedule which will drive initial appeal.
"Clutter can make a home look smaller, it creates the impression that there's not enough storage space or that the home requires work when actually it may not. It also makes it more difficult for potential buyers to see past the clutter and visualise it as their own – or see the potential."
Zoë Berry of Edinburgh-based home organisation and decluttering business, Life/Edit Home Organisation, agrees.
She explains: "Selling your house is known to be one of life's most stressful experiences so anything you can do to ease the process is a good thing. Home staging is something which is a standard part of the home selling process in some places (like north America) but here in the UK we are only just learning what a difference it can make both in terms of the speed of sale and profit you can make from your home. And decluttering forms a key part of staging a home to sell.
"It's amazing to think that buyers form an opinion in your home in around 10 seconds of walking through the door, so with that in context it's incredibly important to make the right first impression."
But decluttering is more than the removal of 'stuff'. Zoë believes that too much clutter impacts the mood and even the energy of the home – whether you are selling or not.
"Clutter has a heavy energy and 'noise' which has a negative effect on mental health. Each room carries visual reminders of all the work that needs to be done, and it can be stressful just trying to leave the house in a rummage for keys, coats and shoes. Having guests over becomes an embarrassment or an event that takes all-day preparation."
When it comes to maximising sale price or sale speed, negative energy is something no one wants. And so, de-personalising spaces to create a simplified lifestyle buyers will like, is key. But, let's face it, de-cluttering is often easier said than done and years of accumulated clothes, accessories, shoes, furniture pieces, books, paraphernalia and even paperwork can seem overwhelming.
Zoë agrees. "Like anything which becomes familiar, it's easy to stop seeing your home and its associated clutter when you are faced with it every day," says Zoe. "This is why getting someone in to help you declutter is so important – we can see things in the same way a potential buyer will."
FIRST IMPRESSIONS
All home organisation experts agree that tackling the entrance way is crucial to ensure a good first impression. Remove letters and paperwork, put as many coats and shoes away as you can as they all don't need to be out at once, and tidy away any paraphernalia into a storage box.
According to Zoë, a decluttered entrance way is a 'quick win' that will provide an immediate sense of achievement…and the motivation to continue. "The positive benefits of decluttering are immediate on opening the front door."
Purchasing some hallway storage, or even under-stair storage, to smarten up the space will help buyers see the space better. And if space permits, a console table with fresh flowers, a mirror above and smart storage boxes underneath always creates appeal.
THE KITCHEN
Zoë also advocates a room by room approach so as not to overwhelm. And one room that can quickly transform a home is the kitchen.
"It's rare that people don't have enough space in their kitchen." admits Zoë. "It's often a case of needing a change to the layout and where things are kept. When tackling a kitchen, we take everything out of the cupboards and drawers, put like with like then see what the client wants to part with. Often it's only at this point they realise just how much Tupperware, drinks bottles and mugs they have!
"When reorganising kitchens, we think about functionality – for example we put the mugs near the kettle. We also try to keep the worktops and space above the kitchen units as clutter-free as possible. We also have a few favourite organising products we use in kitchens such as lazy Susans, caddies for cleaning products under the sink, drawer dividers and divider racks for oven trays and chopping boards."
And don't forget to declutter work surfaces, including appliances. Just keep the necessities out there, such as a kettle. Fridge doors should be decluttered too, along with windowsills.
THE LIVING ROOM
The living room needs to look welcoming and feel a space that potential buyers could imagine themselves in. So this room often needs a lot of attention.
Remove any excess furniture, especially over-sized pieces, to create the illusion of more space. Sentimental items should also be put away so the room is simple and buyers can envision themselves in it.
Zoë adds: "Try to keep accessories to a minimum, and if you do have ornaments make sure they are well chosen and fit with the colour scheme of the room. Have baskets beside the sofa for magazines and newspapers.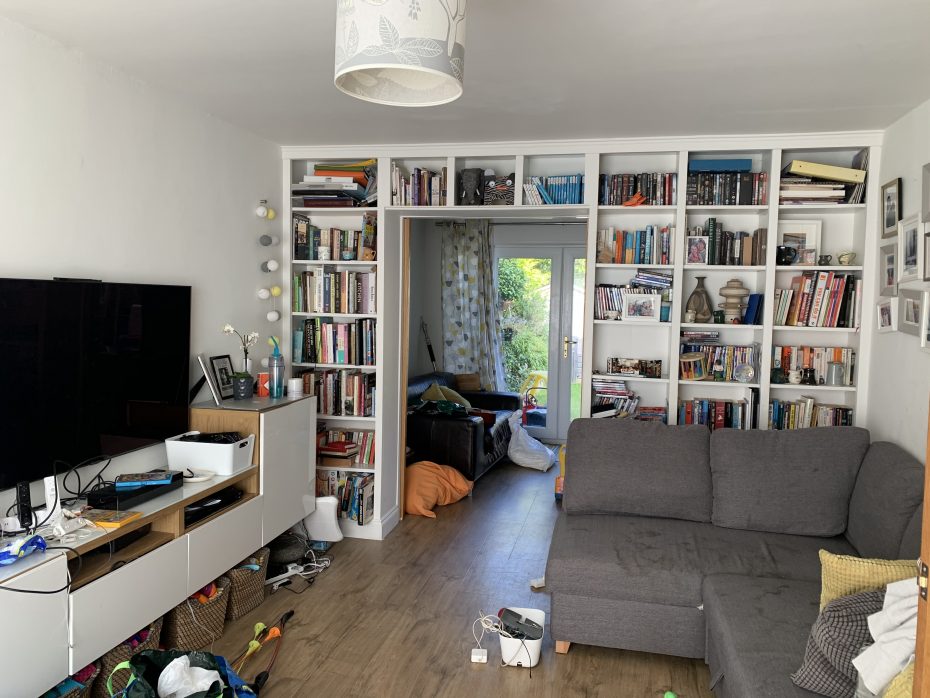 "Remember if you have open shelving, it needs to look tidy and not over-filled otherwise it will create a feeling of clutter and stress. Use cupboards with doors on to keep things tidy. Get into the habit of having a 10-minute tidy at the end of the day, plump cushions and tidy any side tables. Cast your eye around as you might expect someone new into your home to do – this will give you a perspective on the room."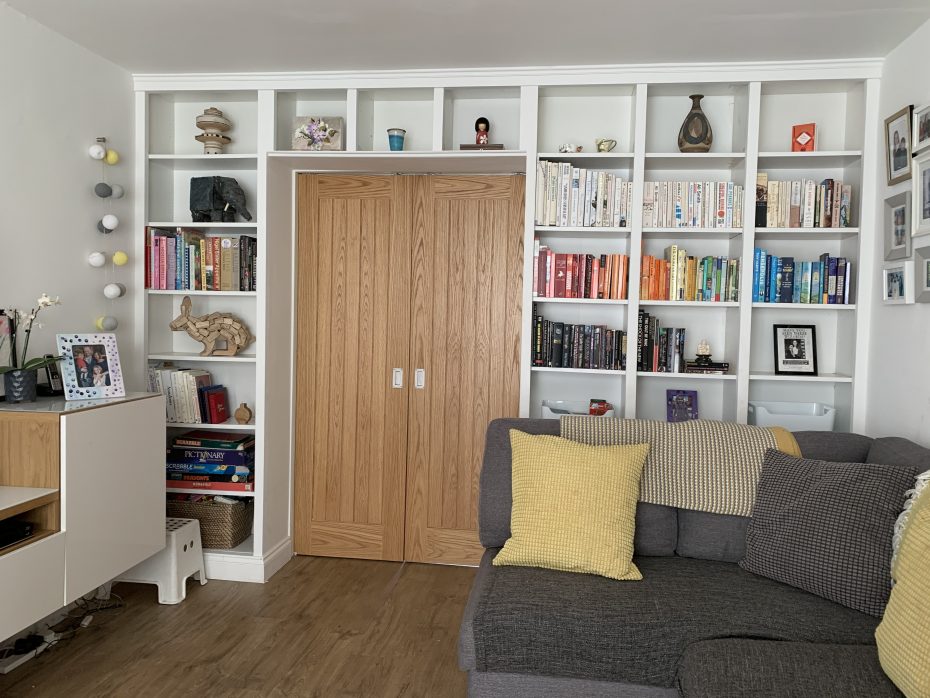 SMALL SPACES
Bathrooms, kids' rooms, offices…small spaces need to feel as spacious and serene as possible.
"Small spaces can get cluttered very quickly so it's really important to try and keep on top of them," agrees Zoë. "Containment is key! Storage baskets and boxes mean that it's easy to see where everything lives, otherwise things pile up quickly in a small space. Another good tip is to buy furniture which has built-in storage: ottomans, beds with drawers underneath and bedside tables with as much storage as possible. In small spaces, little and often works for decluttering. Try to do 10-15 minutes a day so that you stay in control of your home.
In the bathroom, create a relaxing space by removing old toiletries and only displaying a selected few of your very best items. If towels are on show, ensure they are dry on viewings and neatly folded. In bedrooms, declutter wardrobes (buyers will look at space!) and tidy drawers. If you store items under the best invest in nice storage to disguise it. And in the office (room or area), ensure all paperwork is hidden from view. Investing in files will bring order to chaos.
Many family homes are overrun with toys so, where possible, store them out the way – or even better, get the kids to agree which toys they no longer play with and give them to charity. By decluttering toys, it will create a lot more space and allow the little ones to see and play with the toys they do love. Stylish storage baskets are also a great way to organise toys.
And don't forget the garage. Buyers will look at the garage space and if it's a mass dumping ground of unwanted stuff, this won't appeal. Storage boxes will quickly organise the space and allow buyers to see the space."
For more information on Life/Edit Home Organisation or to book a home organisation and decluttering appointment with Zoë and the team (once restrictions allow), visit www.life-edit.me
Coulters are an EGG card partner offering £500 off conveyancing when you sell with them. To arrange a valuation just call 0131-603-7333!
EGG Membership Card Illustration
Join EGG Today
Become a member of EGG and enjoy a heap of exclusive benefits. You'll get access to Exclusive Offers, Events and your very own Digital Membership Card –  use it to discover great places in Edinburgh and connect with like-minded girls.
Pay Annually
---
£30
per year
Sign Up Now »