Feature
Property Focus – Green is Good
Large or small, urban or rural, the appeal of a well-kept garden is undeniable. As well as offering curb appeal, privacy and interesting views from our windows, a garden instantly provides extra living space on those hotter days and creates a secluded haven to enjoy.
So it stands to reason that when you're putting your house on the market, giving your garden some TLC is a worthwhile investment. For, whilst it won't increase the actual value of your home, a few small changes and updates can make your outdoor space seriously attractive to potential buyers and increase its saleability. Which could mean a faster offer…and even a higher sale price.
Coulters property valuer Jay Murray-Patel explains: "Maximising your biggest asset is always a great tip for selling and at the moment with gardens being one of top priorities on people's checklists, showing it off when it's at its best is a good idea.
"However, similar to replacing kitchens or bathrooms, garden improvements are unlikely to increase your Home Report value by any more than the cost of such work. It's also difficult to put a price on increased saleability. Having said that, COVID has shown us that having any sort of private outdoor space is really desirable and arguably needed. So whether you have a small garden out the front door of a ground floor flat or a large rear garden, by presenting this in the best light possible will attract viewings. And hopefully saleability."
Now whilst it would be lovely to introduce intricate water features, stunning summerhouses and pergolas, smartly designed decking and lots of unusual mature flowers, when it comes to a garden facelift to sell – less is more. After all, you don't want to spend a small fortune on a garden transformation if you can't benefit from it.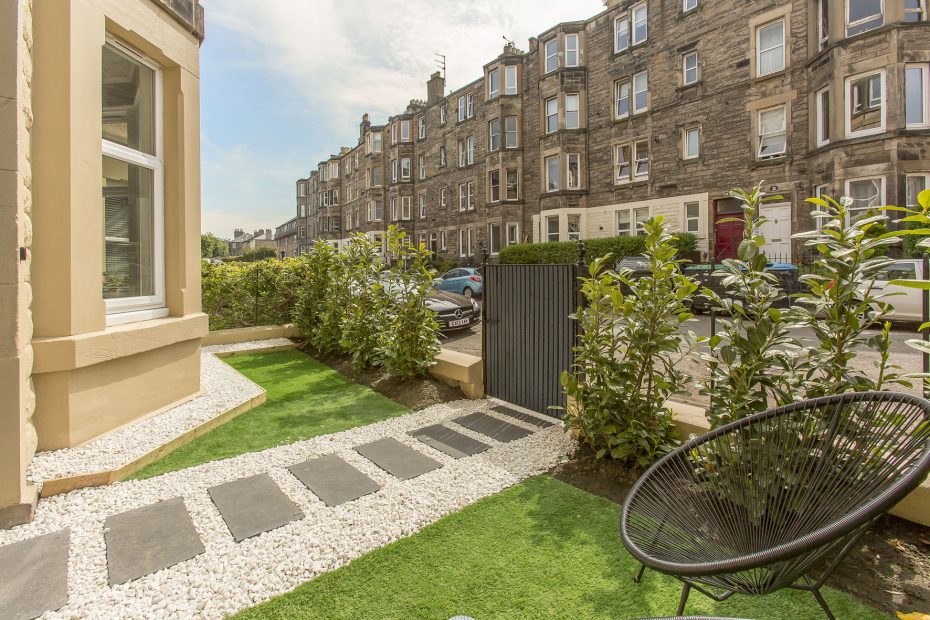 "Some purchasers want properties in turn key condition and others are open and sometimes even insistent upon making their own mark," explains Jay. "However, this is commonly interior focused so it is always still advised to give a garden enough attention to make presentable enough for sale. Just don't spend a small fortune!"
So think repairs and outdoor accessories, rather than huge overhauls.
She adds: While repairs are a must, leading to a cleaner Home Report and less worry for potential buyers, improvements are often a case of second guessing what the end purchaser would like. Instead, focus efforts on having a clean, tidy and presentable garden as this will make a difference. You can add a splash of colour with potted plants and outdoor accessories to make it more appealing on the eye. I would advise against expensive overhauls such as decking or landscaping."
According to Dobbies Garden Centres' Horticultural Director, Marcus Eyles, whatever the size of your space, style or budget, there are plenty of ways to create a practical, accordable and stylish garden filled with colour and interest.
"However big or small your garden is, there are plenty of things you can do to get it looking its best. Some very simple updates can change the whole look and feel of your home's exterior, meaning an extra living space to relax in and enjoy. Gardening is something that can be enjoyed by everyone and as the weather starts to improve, it's a brilliant excuse to get outside and make the most of what's on your doorstep."
Here are some top tips for a mini garden facelift to maximise your saleability…or just enjoy your garden this summer!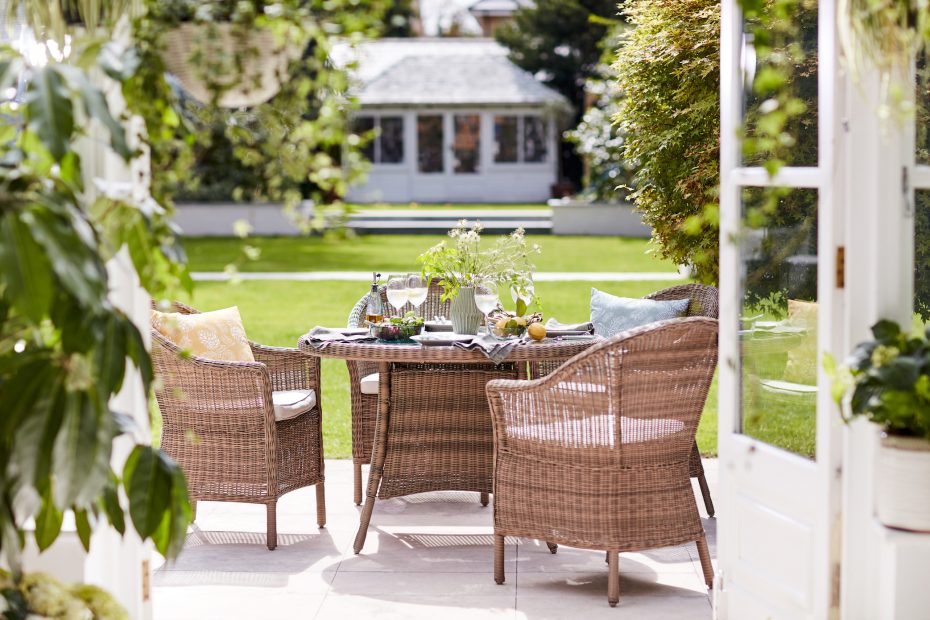 Declutter and Tidy
It's time to declutter to make your garden as spacious as possible. And that means removing any large objects that take up a lot of space and create the illusion of a smaller outdoors. Then, remove loose leaves and clutter that lurks in corners. Clean patio areas with a pressure washer to remove dirt and moss
Get Green Fingered.
Once the clutter is gone and the space is tidy, it's time to get green fingered. Remove any weeds from the grass and bedding, before giving your grassy area some TLC with a good cut and shape. Then, if you want to add some colour and fill in any empty looking areas in your bedding, plant some affordable summer flowers, known as annuals, to help your garden look in full-bloom fast…and great for those all-important schedule pictures.
Ready set paint
Painting should not just be relegated to the inside of your home, as it can quickly transform the outdoor space – think fences, walls and even decking. Exterior paint can be inexpensive and you can even match designer paint colours at local painter merchants, such as the independently owned Russell Paints in Edinburgh.
Marcus from Dobbies Garden Centres' agrees. "One of the most cost-effective ways to instantly transform a space is to paint an exterior wall or fence. Neutral colours like whites or creams will lift a dull area and create a sense of space. Perfect for shady gardens, plants and flowers will pop against a white backdrop. If you have a south-facing plot, avoid using bright white shades as it will be blinding."
Get Styling
Then it's time to style it up with some outdoor accessories, as Coulters recommend.
"A very easy way to change the overall style of your garden is outdoor pots," agrees Marcus. "These can often be an afterthought to the plants and flowers that will live inside them but can make a huge difference to lift a space very quickly.
"For a country garden feel, use terracotta, stone, and soft neutrals, as these will all make greenery really pop. A laid-back coastal theme can be created with metal and navy-blue pots or add a vibrant exotic vibe with sunshine yellow and cherry reds. Super simple, impactful, and cost-effective."
Bring interest to bare corners with some stylish potted plants, layering different shapes and sizes for added appeal. Outdoor furniture can also be transformational, staging the garden area. And the best bit is, you can take your outdoor furniture and potted plants with you too.
Lynsey Abbott, Outdoor Living Buyer for Dobbies adds: "If you're tight on space as well as wanting to cut down on spends, a folding bistro table is a brilliant solution. Easy to move around your garden, store and even pack up in the car to take camping, a bright bistro set will add a pop of colour and personality to any space."
Jay Murray-Patel is a property valuer with Coulters Property
If you're thinking of selling call them on 0131-603-7333, Egg card holders receive a £500 discount on legal fees when selling with Coulters and using them for conveyancing. You can buy you Egg card here.
EGG Membership Card Illustration
Join EGG Today
Become a member of EGG and enjoy a heap of exclusive benefits. You'll get access to Exclusive Offers, Events and your very own Digital Membership Card –  use it to discover great places in Edinburgh and connect with like-minded girls.
Pay Annually
---
£30
per year
Sign Up Now »