Feature
I'm dreaming of a Dobbies Christmas
It's safe to say, the countdown to the festive season is well and truly on. The gift lists have been created, Christmas shopping already started (thank you Black Friday and shopping evenings!) and the decorations are soon to follow.
This season, it's also time to bring the outdoors in. In fact, according to Dobbies Garden Centres, this Christmas we can enhance our decorations with foliage and plants from the garden to create an interiors magazine-worthy festive display.
From tablescaping, wild wreaths and stunning stair garlands to outdoor sparkle and festive foliage, Dobbies' Lead Stylist and Egg, Rebecca Stanton, reveals her top tips for injecting a burst of life into our Christmas 2021 homes.
FESTIVE FOLIAGE
While trees and wreaths are a festive favourite, there's a whole host of stunning plants and houseplants which can also bring some festive sparkle. According to Rebecca, these plants can even enhance our festive décor for a luxe look. And, given the proper care and attention, they'll last beyond the festivities, making them a worthwhile investment.
When it comes to which particular festive foliage we should buy at Christmas, it all depends on our decoration vibe.  Rebecca explains:
"Traditional festive décor (think striking reds and golds) will work well with classic plants such as red Amaryllis, red Cyclamen and red Anthurium to continue the warm colour scheme. Or, those who prefer a more natural festive look with earthy tones and rich greens, can complement this style of décor with Dobbies' earthy evergreens including green Holly, green Ivy and Buxus."
Plants such as Dobbies' White Cyclamen, scented Stephanotis and glamourous Gardenia will add a splash of botanical beauty to glamorous and modern festive looks. These plants work well against gold, white and rose metallic palettes. "Also try delicate plants including Camellia and White Amaryllis so as not to overwhelm the muted palette in this theme," adds Rebecca.
Moody and chic festive decorations will work well with plants like Paperwhites and white Hyacinth to add a subtle finishing touch without detracting from the overall effect. Rebecca says: "Blue Spruce, white variegated Holly and Viburnum Tinus are timeless plants that will also enhance the festive glow in this glamorous theme."
For festive foliage inspiration visit Dobbies' online plant section here, with lots more available in-store.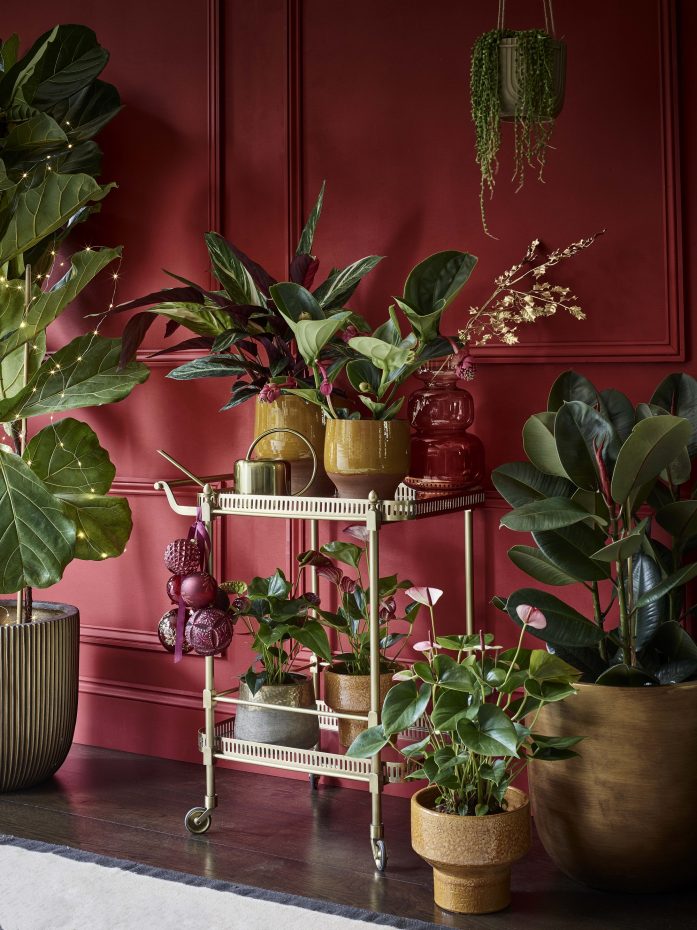 TABLESCAPING
Scroll through Instagram or Pinterest and you'll see that festive decorations are no longer solely reserved for the Christmas tree. Now, nods to the yuletide season can be felt throughout the entire home.
One of the biggest trends is 'tablescaping' and the ideal way to showcase your festive style this December.
"Tablescaping is the creation of beautifully decorated, themed and coordinated dining table arrangements," reveals Rebecca. "A chic, curated tablescape creates a real sense of occasion and is set to be really popular this Christmas. It is the setting that will really bring your dinner party alive."
According to Rebecca, the beauty of tablescaping is that you can add your own creative flair to really make it your own.
"I would always recommend choosing your colour palette first and keeping to two to three main colours," she admits. "If you're not sure what colours to go with, look at the style of your home; complementing your interior palette will create an aesthetically appealing result. From here you can select your theme for the table."
As themes go, it's hard to beat Dobbies' new 'Mystical Woodland.' The humble table can be transformed into a stunning Scandi inspired wild dining look which brings the outdoors in by utilising rich greens, anthracite and rust to create a modern, understated yet cosy festive feel. The versatile winter colour palette of dark green and hints of deep rust will also work in all homes. Foraged greenery from the garden or some small houseplants will also add appeal.
Rebecca agrees, and adds: "You can revamp your all-year-round service with baubles on the place settings and, of course, plenty of fresh greenery and foliage in vases and on the table instantly give a magical feeling. Candle sticks and tea lights placed along the table gives the perfect finishing touch."
For tablescaping ideas and decorations visit Dobbies' Christmas shop here.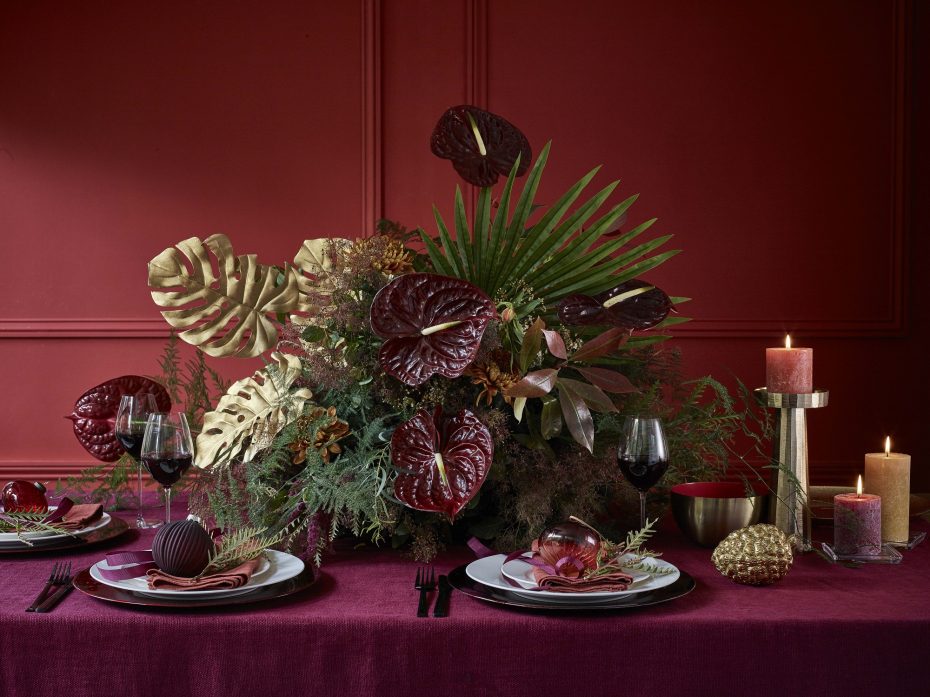 WILD WREATHS
Wreaths are set to be bigger than ever for Christmas 2021, with many homes adorning their front doors with statement wreaths for the entire winter season, not just for Christmas.
While traditional wreaths tend to be colour and decoration adorned, Dobbies highlight how we can all create wild, rustic wreathes using flora and fauna for a modern, fuss-free festive feel.
"With no metal or plastic required, flora and fauna can be foraged from the garden, including earthy greens like Conifers and Pine, while dried summer flowers are perfect for adding pops of organic colour," explains Rebecca.
"These rustic wreaths can be hung on front doors or indoors and are perfect for complementing a whole range of interior styles, from country cottage to minimalist Scandi looks. They are really simple – and fun – to make too."
Rebecca reveals all you need is: twine, scissors, twigs and cut or foraged greenery.
"Get the look by gathering twigs together and moulding into a rough hoop shape," says Rebecca. "Don't worry, this doesn't have to be perfect as each wreath should be unique. Secure as you go with the twine."
Once the wreath shape is complete, it's time to get creative. "Use your selected greenery to make little individual posies and secure with twine. This is where you can inject pops of colour with flowers – fresh or dried. Next, place each posey on the hoop, securing each one with twine. Layer the next one on top of the last, to hide where you have tied."
Rebecca adds: "Once you have taken the posies as far round as you would like, stop. It's nice to leave some of the hoop exposed for a rustic feel. Then you are ready to hang your eco wreath!"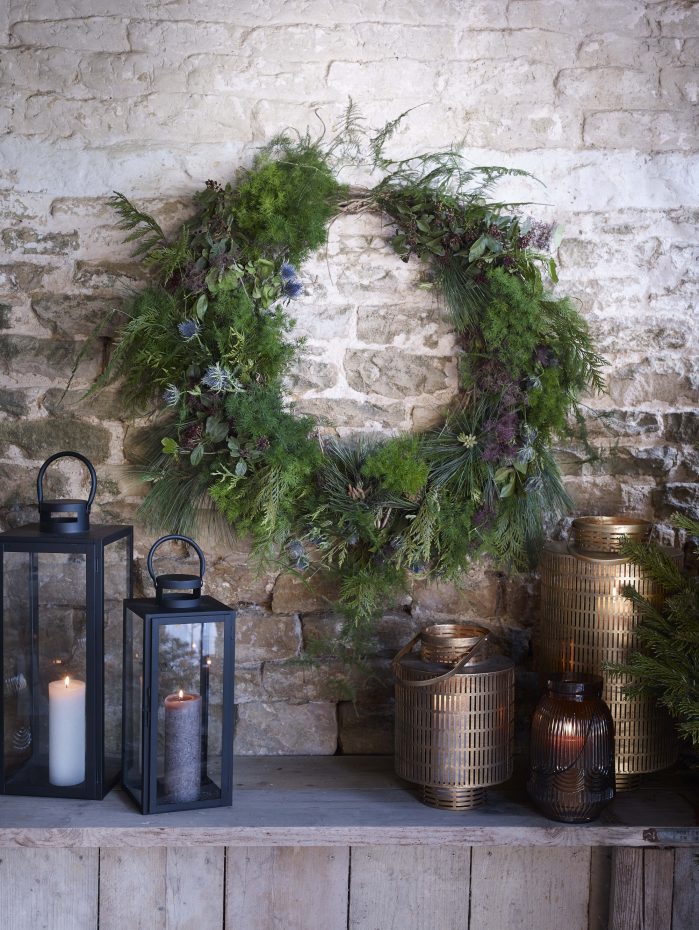 STUNNING STAIR GARLANDS
Stair garlands are becoming bigger and better each year and according to Rebecca we can create our very own Insta-worthy stunning display by using real greenery from the garden.
"Start with your base artificial garlands and weave these through the banister to secure on your stair," Rebecca explains. "Then, begin to add real greenery from the garden to add volume, detail and impact. Pine, Conifer and Bay work really well. Add lights next – battery operated lights work well on a stair to avoid any cables. Lastly, inject your own personal style with baubles and decorations."
For garland inspiration check out Dobbies' new selection here.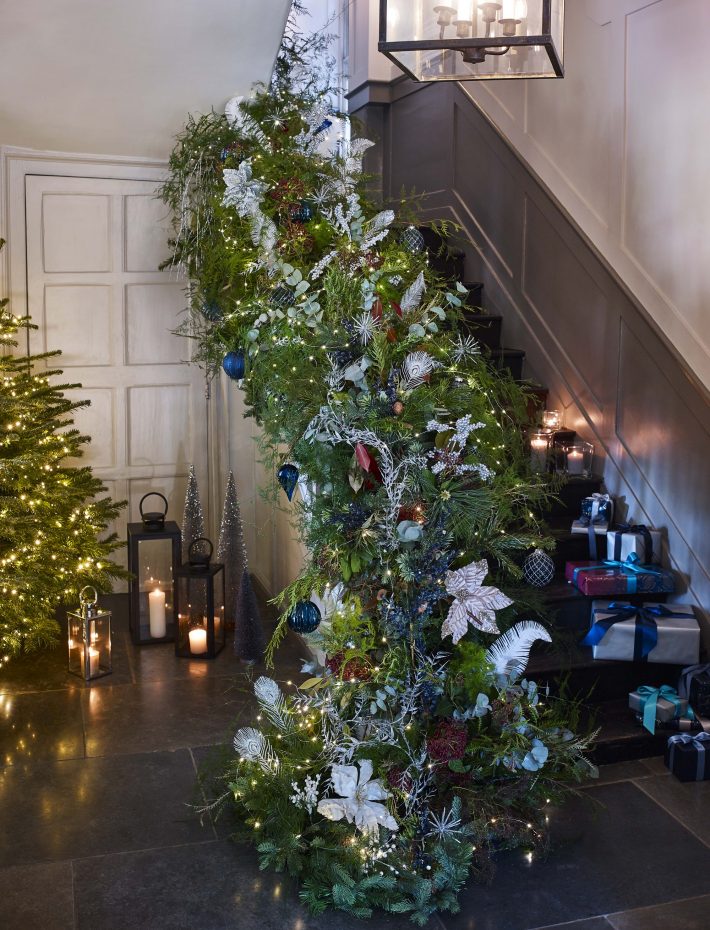 OUTDOOR SPARKLE
Why keep the festive decorations inside when you can create a showstopping doorstep display by lighting up your garden.
Rebecca agrees. "We offer a wide range of striking outdoor lights and decorations to make the most of the festive welcome to your home, creating a look with complementary decorations both inside and out."
For curb appeal, Rebecca recommends real potted trees such as Dobbies' pot grown Nordmann Fir (from £29.99) or pot grown Blue Spruce (from £19.99) combined with statement lights and fairy lights.
"Group your potted trees in a position that will provide impact but won't restrict access to your house," advises Rebecca. "Add a sprinkling of fairy lights to make them sparkle in the winter night's sky. You can also select a statement light such as our snowman or reindeer as the focal point of your display. Lastly, create extra magic with string lighting that can hang from guttering or from your porch."
Dobbies' range of outdoor lights and novelty lights is available here.  
For Christmas decoration or gift inspiration, or to chat to one of the gardening experts, visit Dobbies Edinburgh or little dobbies in Stockbridge. You can also shop online at www.dobbies.com
Rebecca is hosting a virtual Christmas your way event on 4th December at 10:30. To book a free space visit dobbies.com/events 
EGG Membership Card Illustration
Join EGG Today
Become a member of EGG and enjoy a heap of exclusive benefits. You'll get access to Exclusive Offers, Events and your very own Digital Membership Card –  use it to discover great places in Edinburgh and connect with like-minded girls.
Pay Annually
---
£30
per year
Sign Up Now »