Feature
How To Transform Your Home With A Touch Of Green
Houseplants are an interior designer's friend, instantly transforming spaces and creating visual appeal. Dobbies reveal to how to boost your greenery game this summer.
The humble houseplant is having a moment. Scroll through Instagram and your feed is bound to be filled with interior influencers and their beautiful houseplant shots. You see, it's no longer about seasonal soft furnishings, some new wall art or even a lick of fresh paint. For, if you want to transform the look or feel of any room in your home, then it's time to boost your greenery game with houseplants.
Houseplants are the perfect living accessory we often forget. They come in all shapes and sizes, from trailing string of hearts to a spiky cactus, meaning there is a houseplant to compliment any interior style.
"It's brilliant to see so many people incorporating houseplants into their décor, as they can instantly transform a space and adding a touch of green breathes life into any room," says Houseplant Buyer at Dobbies Garden Centres, Claire Bishop.
And it seems a bit of indoor greenery can also make you happy. According to experts they boost mood, improve general wellbeing and have air purifying properties. With the average person in Britain spending more time at home, houseplants are a breath of fresh air for inside spaces.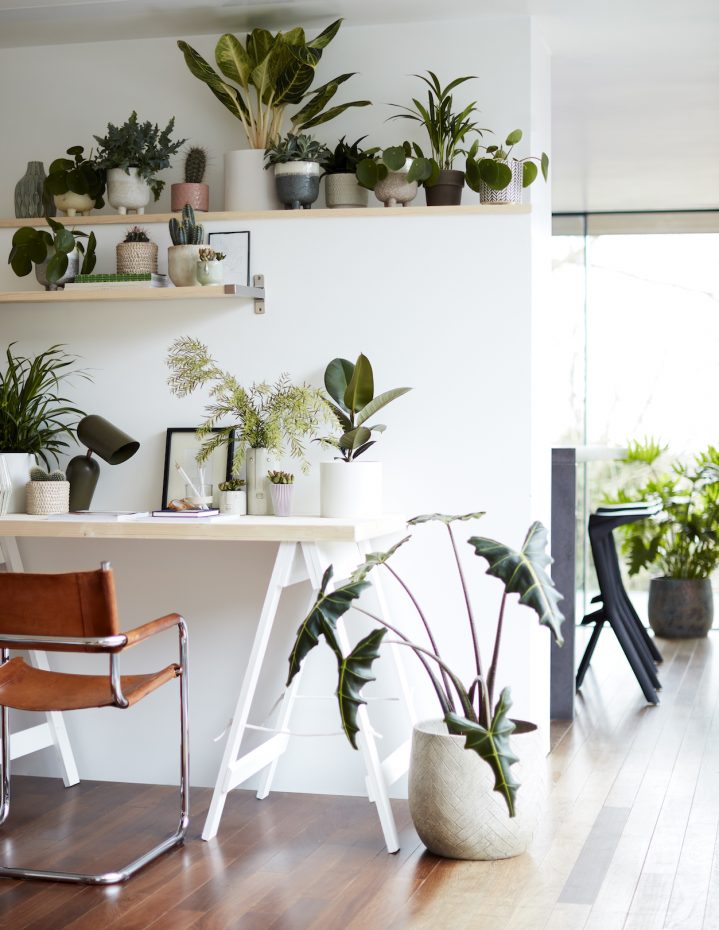 Claire Bishop agrees. "They can be a brilliant anti-pollutant, help to increase oxygen levels and bring a touch of the outside in, providing a natural healthy boost.
"Whether you have one single statement plant or fill your home with an abundance of greenery for an indoor jungle feel, plants bring us closer to nature and require regular watering and nurture, which has wide-ranging benefits from boosting your mood and creating a sense of purpose."
But the less than green fingered of out out there (guilty!) need not despair. According to Claire, there's a houseplant for everyone and any room – light or dark, hot or cold, dry or humid.
"Succulents need minimum attention and are a great introduction into houseplants," reveals Claire. "They are suited for very busy lives and thrive on minimal work and don't need watered often. All they ask for is to be placed in a nice sunny spot. And you can still get really creative with succulents as they come in a variety of shapes and sizes meaning you can still grow an exciting collection."
To help EGG up our houseplant game, Claire Bishop of Dobbies Garden Centres shares her top tips for choosing mood boosting plants, creating your very own spa-like bathroom, how to use them as a design statement and, importantly, how to keep our indoor greenery healthy!
MOODBOOSTING PLANTS
Claire's top happy houseplants include a Peacock plant (Calaethea). Due to their patterns and colours they brighten any home and also are air purifiers, cleaning its surrounding air. There's also the Cheese plant (Monstera). Their large leaves fill a room with foliage for a lush jungle feel and they are particularly effective in air-conditioned interior.
"Peace lily (Spathiphyllum) is one of the top air purifiers, but also with lovely white flowering plants and they are pretty easy to care for," explains Claire. "They are particularly good for increasing moisture in the air, so ideal in the bedroom. They get rid of chemicals by absorbing and then breaking them down."
And then there's the striking Phalaenopsis Orchid. "It's a great addition to a room that's been recently painted or renovated, removing xylene from the air," admits Claire. "It also flowers for a long time and is a great centrepiece in the home when planted on groups
CREATE A SPA LIKE BATHROOM
We can enjoy your very own spa-like sanctuary this summer with some lush greenery, embracing the wellbeing benefits that come from inviting the outdoors in.
"Often warm and humid, a bathroom offers the perfect environment for many tropical plants including Ferns, Spider plants (Chlorophytum), String of Hearts (Ceropegia) and Cheese plants', says Claire. "Spider plants won't require much watering when kept in a bathroom, as the humid conditions will allow it to absorb almost all of the moisture they need. Ferns also love humidity so either mist a couple of time a week or make sure it has regular steam from the shower, so the soil doesn't dry out. Ferns will work well in bathrooms that don't have big windows, preferring low levels of light."
Add detail to a windowsill, sink or bathtub with some elegant orchids. Windowless bathroom? "Really most green plants can work well without light, including the Snake plant (Sansevieria) or the Cast iron plant (Aspidistra)," advises Claire.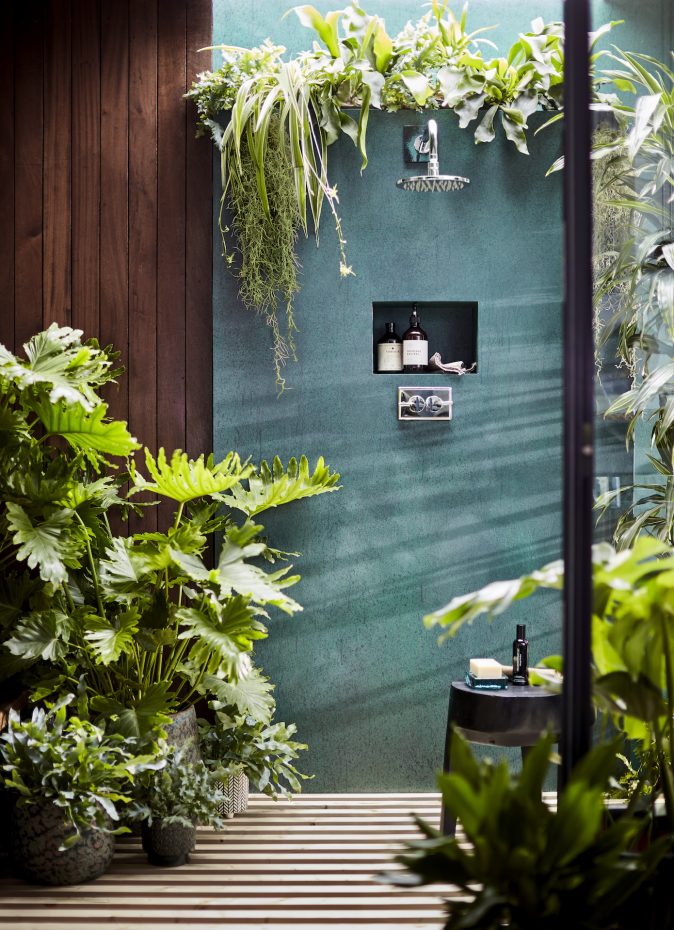 MAKE A DESIGN STATEMENT
"Styling plants in groups of three or five, with contrasting textures will brighten up any shelf or table top," reveals Claire. "Using different heights and shapes can also help create a more impactful display.
"While smaller plants suit being grouped, a large leafy houseplant like a Cheese plant or Fiddle-leaf fig (Ficus)look best on their own and can make a real statement in a room with their dark green foliage."
The plant your pot is in can also add to the feel of a room.
Claire explains: "Statement pots are another quick and easy way to change the look of a blank space, and together with indoor greenery make an instant impression. For an industrial look, opt for a chunky planter, such as concrete or stone effect, wooden baskets for rustic country, or clean whites and greys for a more contemporary scandi feel. Our new range includes a mix of cool grey ceramic pots, terracotta to make greenery pop and graphic wood and metal square planters which have the real style factor."
HOW TO LOOK AFTER YOUR HOUSEPLANTS
"The most common mistake people make is giving plants too much water," says Claire. "The majority of plants, except for succulents and cacti which only need watered once or twice a month, will thrive on a weekly water. If you are unsure, stick your finger about an inch into the soil, if it feels dry then your plant is ready to water."
Also, give your houseplants the right amount of light. It's a misconception that all plants thrive in a very sunny spot as some love a dark nook. "Your houseplant will tell you when it's unhappy," says Claire. "For example, if it is in a spot that's too bright, its leaves will get scorched. And when they are not getting enough light their foliage will turn a deep green as they are searching for light. Just make sure that you keep an eye out for these signs."
And don't forget to give your houseplants regular love and attention. All houseplants require a little clean to keep them looking their best and to help them remain healthy. Simply wipe their leaves with a damp cloth to remove any dust. Foliage that is yellow or leaves which have dropped into the soil should be removed quickly.
For houseplant style inspiration or to chat to one of the gardening experts visit Dobbies Edinburgh or Little Dobbies in Stockbridge. You can also listen to Claire's top tips on the dedicated Dobbies' houseplants podcast: https://www.dobbies.com/podcasts
EGG Membership Card Illustration
Join EGG Today
Become a member of EGG and enjoy a heap of exclusive benefits. You'll get access to Exclusive Offers, Events and your very own Digital Membership Card –  use it to discover great places in Edinburgh and connect with like-minded girls.
Pay Annually
---
£30
per year
Sign Up Now »