Feature
Half Term Fun at the National Galleries of Scotland!
During the October school holidays, the National Galleries of Scotland (NGS) is hosting free, half-term creative activities for kids. Running Monday – Friday from 2-4pm, these family sessions are both indoors and out (weather permitting – this is Scotland of course!) and encourage families to have fun at the galleries and in one of Edinburgh's most stunning outdoor spaces.
The Scottish National Gallery of Modern Art (SNGMA) has an array of outdoor sculptures in the picturesque grounds. Taking inspiration from the semi-abstract bronze sculptures of renowned British artist Henry Moore and surrealist pieces by Spanish sculptor Joan Miró, kids can explore sculpture in a playful way by squishing, collecting, combining and casting their own creations to take home with them.
Families can get messy with classic plaster casting or try out different materials and techniques like collaging and layering to create their own art-inspired figure. Outdoors there will be the opportunity to draw, collect and create sculptures inspired by nature.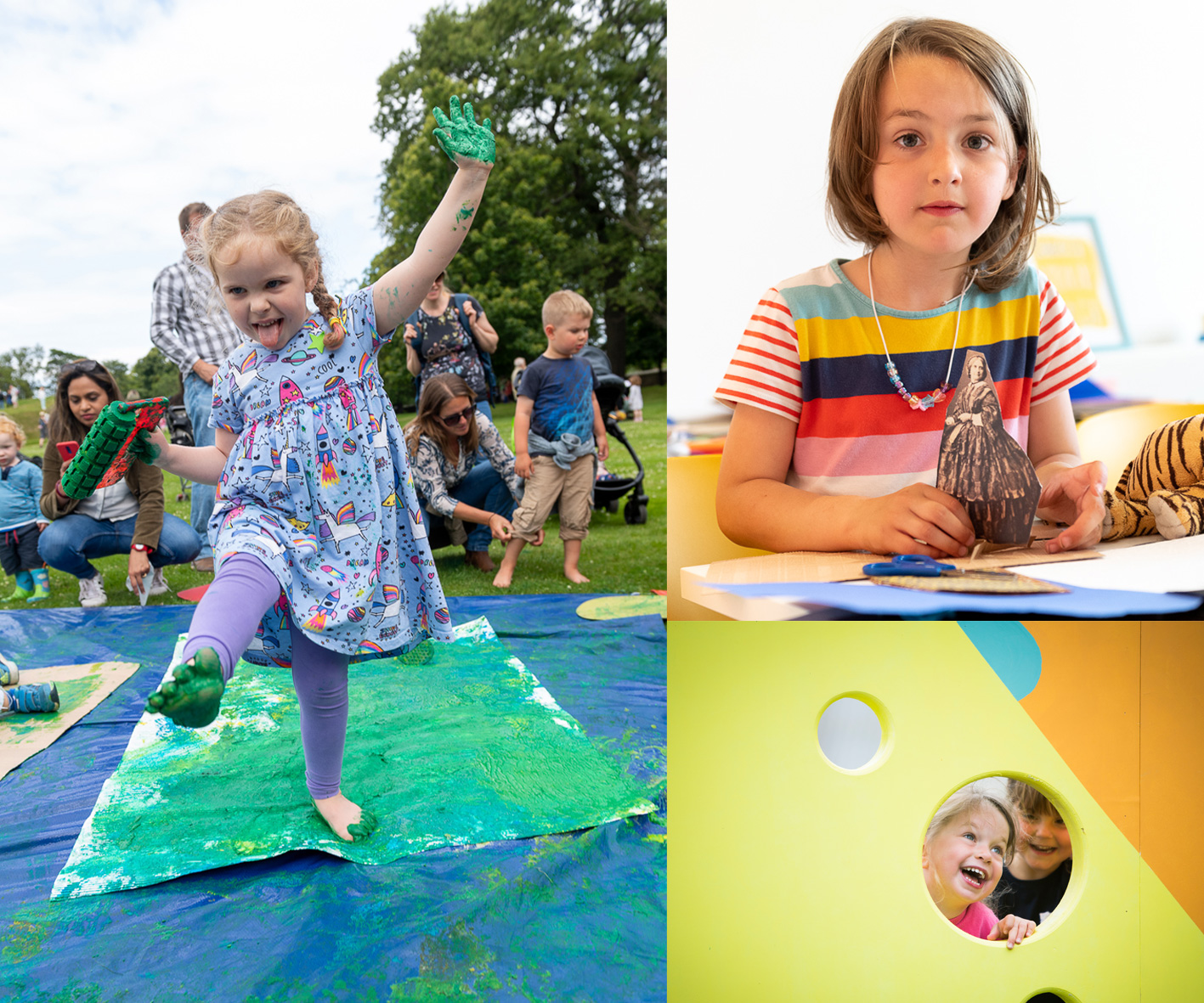 The activities are free and best suited for ages 4-12 years. As well as the art activities, the pop-up play area is still around for its last stint at the galleries. Kids can hide in tunnels, climb the rope ladder, run through foam noodles or take a seat in a boat! Our collage-inspired pop-up play area is open daily 10am-5pm for run around fun (weather permitting) until Sunday 20 October.
Come rain or shine, they will have activities on as SNGMA has two new indoor learning spaces, which opened this summer in Modern One, designed especially with kids in mind. The purpose-built rooms are large and spacious in which kids, families and groups can get involved in creative play or bring their own food or snacks to enjoy should it be too wet to enjoy a picnic outdoors.
The learning rooms are also available for drop-in visits on the weekends where there are wooden blocks; soft play shapes for building; drawing materials; trails and activity ideas.
So head along and encourage little ones to jump in and try their hand at something new with this week-long taste of sculpture.
Events Listings:
• Location: The Scottish National Gallery of Modern Art (Modern One), 75 Belford Rd, Edinburgh, EH4 3DR. In the Modern One Learning Space and outdoors, weather permitting, and also at the outdoor pop-up play area.
• When: Monday 14 – Friday 18 October 2019, 2-4pm.
• About: Free drop-in activity: creative, open, art-making afternoons indoors and out.
• Suitable for: children ages 4-12 and their carers.
• How to book: No need to book – just turn up on the day!
EGG Membership Card Illustration
Join EGG Today
Become a member of EGG and enjoy a heap of exclusive benefits. You'll get access to Exclusive Offers, Events and your very own Digital Membership Card –  use it to discover great places in Edinburgh and connect with like-minded girls.
Pay Annually
---
£30
per year
Sign Up Now »