Feature
EGG Round Up – Gourmet At Home
Throughout the pandemic, the hospitality industry has been one of the worst affected and, now,
with the latest national lockdown, our city's restaurant doors are closed once more.
In a bid to help them survive, some of Edinburgh's best-known restaurants have launched decadent delivery services bringing that coveted gourmet experience to the home. And so, as we continue to support the industry, we've rounded up our favourite destinations offering top restaurant food direct to your dining table!
BEST OF SEAFOOD
There's a number of delectable options to try at home, including Fhior, Fin & Grape, White Horse Oyster Bar and Leftfield to name but a few. We've been huge fans of their restaurant served food for years, so were delighted when Ondine asked us to try their at home option! Knowing it fell on her birthday weekend, we passed the sampling joy onto Good EGG Danni Gordon.
First impressions count and the award-winning restaurant doesn't disappoint – inside our package
was some of the most delicious locally sourced Scottish seafood available. No less than eight Diver
Scallops prepared with bacon jam and garlic butter, two whole Lobster Thermidors and two Praline
and Chocolate Tarts along with an envelope with simple instructions of how to prepare everything.
The giant scallops were stunning. Hands up who's eaten in fancy restaurants where one scallop is
served as a starter? Here we got four meaty, yet tender, and delicious scallops each. The scallops
smell delicious when you open the shell and it's so pleasing to break through that pastry after only 8 minutes in the oven.
The Lobster was next. I've never had Lobster Thermidor before and I've definitely never eaten
lobster at home (I may have drooled a little when the lobster had finished off bubbling under the
grill). The Thermidor requires 8 minutes in the oven and then finished under the grill to brown the
cheese. You could definitely taste the vermouth and the claw meat was incredibly tender. Sublime.
And let's not forget the divine Praline and Chocolate Tarts, which were the perfect end to the
perfect seafood feast.
Worth every penny, I'm already eyeing up the Oysters as well as the Fish and Shellfish Pie for next
time. What's particularly great about the Ondine offering is that you can opt for a set menu or go a
la carte. Price start at £35pp for set menu or from £11 for mains.
Takeaway Ondine Classics at Home
MEAT LOVERS
When it comes to meat, we're spoilt for choice in Edinburgh; Hawksmoor, Gaucho, Chop House At Home. For value for money and impressive service Kyloe ranks high.
Kyloe's Sunday Roast is so good it has won awards. And so, when we heard their famed Sunday
Roast (from £40) is now available to enjoy at home for 2, 4 or 6 people, we just had to experience it.
And it did not disappoint.
The generous roast rib of beef comes with all the trimmings. Think roast potatoes in beef dripping.
Outsized Yorkshire puddings. Creamed cabbage and bacon. Roasted root vegetables. Horseradish cream and gravy. Extras are also available and we couldn't resist the roasted broccoli with chilli
along with some mac and cheese.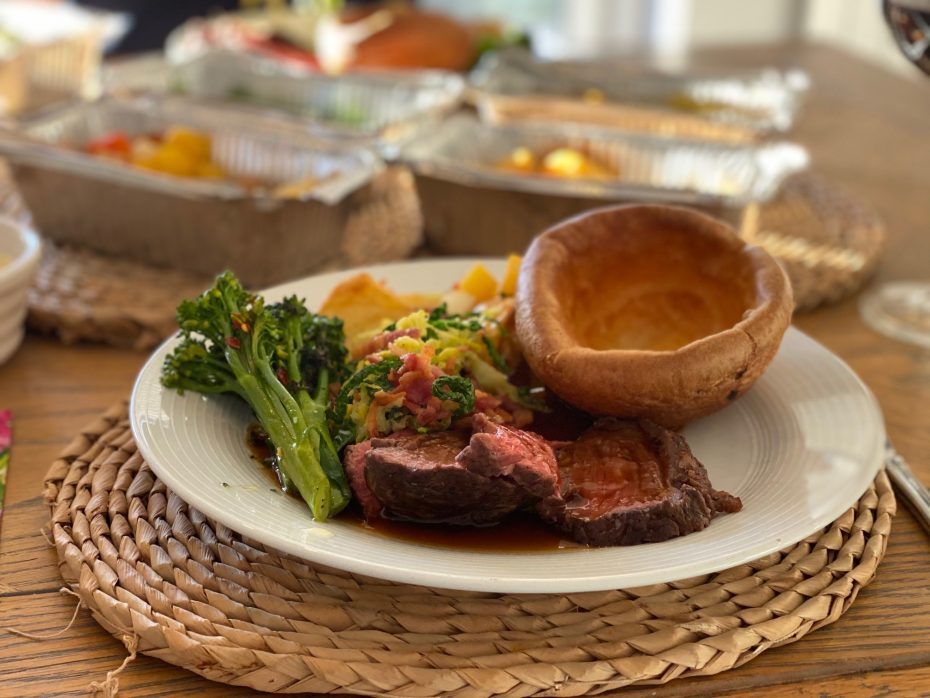 Now cooking a roast at home is time consuming. Thankfully – and importantly, almost all of the hard work has been done for you, leaving you just to do the final cook at home. With super easy and simple instructions to follow, this roast was a breeze to do. It also tasted amazing.
The veggies were fresh and flavoursome, the super crispy roasties and mac n cheese seriously
moreish. The creamed horseradish and gravy both had a real depth of flavour but the real star of the show was the beef. Absolute perfection.
CULINARY TOUR
Whilst we'd love nothing more than to jet off to exotic climes and taste inspired cuisine from around the world, sadly we're stuck here. But that doesn't mean you can't give your taste buds a culinary tour.
Which is exactly what Glasgow restaurant Mamasan is doing. Their 'One Night In' culinary tours of
South East Asia are now available to those of us in the East of Scotland as the acclaimed restaurant
now delivers its themed at-home dining experience to Edinburgh. There are set to be six South East Asian destinations over the coming months with culinary journeys to date including Bangkok and Shanghai (£65 per couple) – and it was the latter we sampled.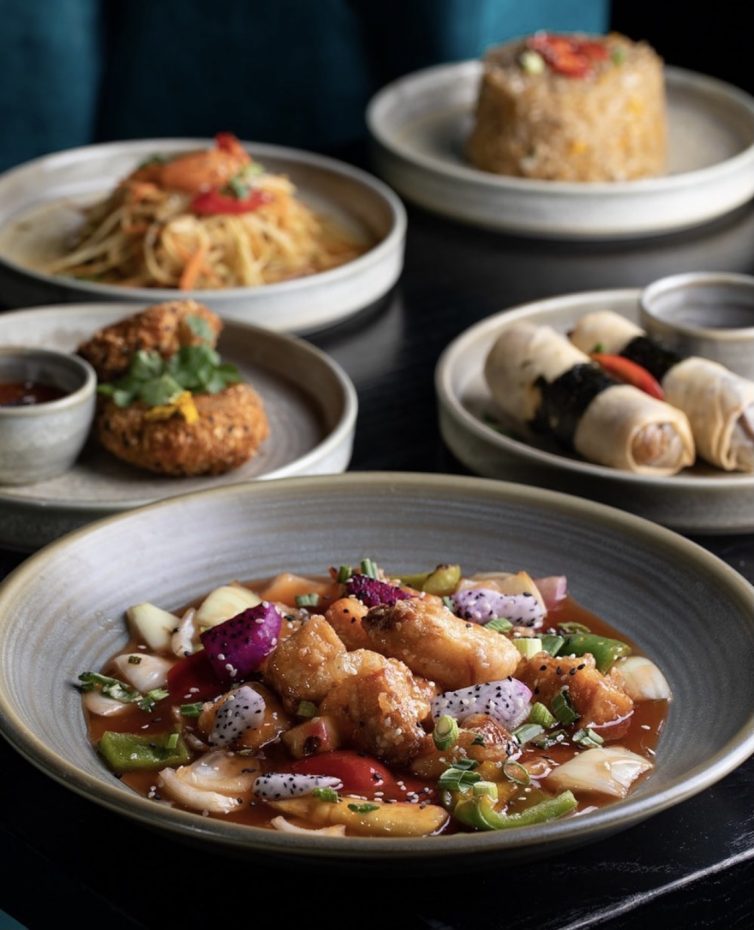 The box looked impressive but it wasn't style over substance here as it was clearly made fresh to
order, and tasted delicious. The four course menu, plus a cocktail each to enjoy, consisted of
decadent lobster and prawn toast with a burn chilli sauce; aromatic braised duck leg spring roll with a hoisin sauce; green papaya and carrot salad with a sesame, soy and ginger dressing; sweet and sour iberico pork with pineapple, banana shallots and dragon fruit served with egg fried rice; and an Asian pear sticky toffee pudding.
It was next level dining, a masterclass in how to create stunning restaurant food for the home. Oh,
and the accompanying green tea infused gin cocktail perfectly complemented the meal.
Tempo Perso is offering its authentic Italian food right across the city whilst French brasserie Cote
has launched Cote at Home , offering everything from affordable set menus to a la carte options.
There's even a boulangerie and fromagerie. La Casa, which offers Spanish and Greek cuisine, is
delivering Tapas Sharing platters from £24.95 as well as an a la carte menu.
For authentic Japanese cuisine, the multi-award winning Harajuku Kitchen is delivering to selected postcodes.
Then there's Dishoom which is offering a delivery-only service for selected EH postcodes via
Deliveroo. Or you could try celebrated chef Tony Singh and his Singh for your Supper weekend meal service, with collection from EH15. Each fusion meal is freshly made from the award-winning chef's kitchen.
FINE DINING
There's been a lot of chat on EGG recently about fine dining experiences at home and top
recommendations from you included Further Afield by Mark Greenaway, The Little Chartroom,
Rogue Dining, Wedgwood, Dine, No 11 Brunswick Place, Angels with Bagpipes and the Scotch Malt Whisky Society. But we are currently loving Hickory@Home from award-winning caterers Hickory for their gourmet at-home meal service.
Hickory's seasonal and gourmet menus, previously only served at Scotland's luxury private venues,
are now available every weekend for Edinburgh and Lothian residents. There's a number of carefully curated gourmet packages, only using finest of seasonal ingredients, packaged up into mouth- watering, stylised dishes. The inventive menus include the perfect handmade nibbles to start, scrumptious starters, mains plus sides, desserts and a paired bottle of wine – all beautifully designed, neatly packaged and hand delivered. All that's left to do is simply unwrap the gourmet delivery and lay out on the table or warm up, using the cooking instructions provided. Prices start at £33pp.
VEGETARIAN AND VEGAN
Whilst a number of the restaurants mentioned all offer inspired vegetarian and vegan alternatives, it was Home by Nico's dedicated vegan cuisine offering, Green Haus, which blew us away.
It was the ultimate vegan experience showcasing just how tasty and innovative plant-based cuisine
can be. Designed to be shared, there's no less than eight creative tasting vegan dishes plus a bottle
of vegan wine. Menus change every month too.
We snapped up Winter Vol 3 (£55) which came beautifully presented. The instructions were super
simple to follow and we enjoyed working our way through some really unusual yet delicious dishes.
Highlights included the Ethiopian Okra Pakora with lime pickle, Boondi Chaat and jaggery goor
dressing; Persian stew of chickpeas with roasted orange and almonds; Borracho beans with avocado and mint crema and pickled red onions; and the Pho broth with buckwheat noodles and chilli oil.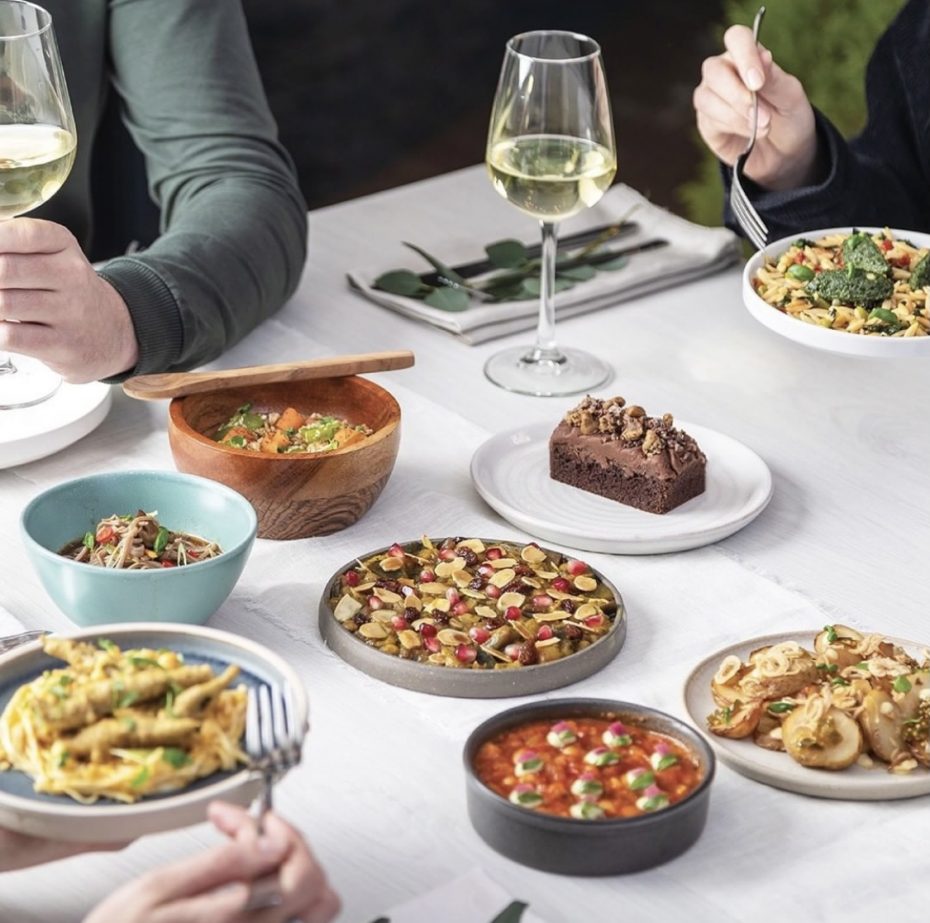 As meat eaters, this was an education in how flavoursome, filling and moreish vegan food can be.
We're already looking outAs meat eaters, this was an education in how flavoursome, filling and moreish vegan food can be.
We're already looking out for the March menu.
Green Haus | Vegan Home Dining | HOME-X
EGG Membership Card Illustration
Join EGG Today
Become a member of EGG and enjoy a heap of exclusive benefits. You'll get access to Exclusive Offers, Events and your very own Digital Membership Card –  use it to discover great places in Edinburgh and connect with like-minded girls.
Pay Annually
---
£30
per year
Sign Up Now »