Feature
Celebrating Egg Authors
We love shining a light on women in our community and having discovered just how many brilliant Egg authors we have in our midst, decided to highlight just a few of them! 
Devon Peek: The Boy In The Stars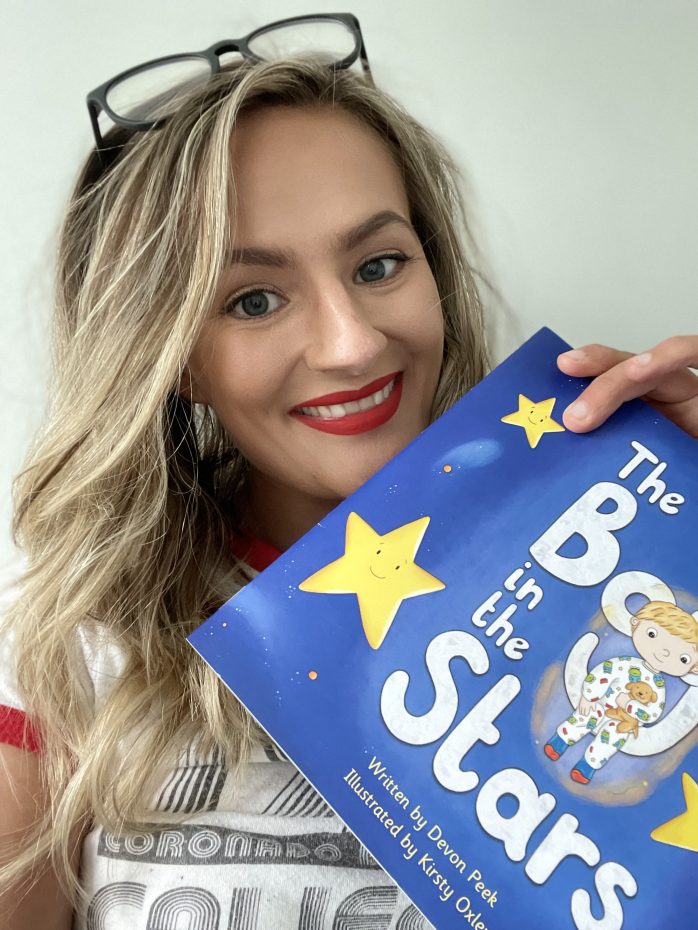 After losing her two year old son last year, Devon wrote 'The Boy in the Stars' not only as a way to help her own grief, but also to help others experiencing loss to find comfort from her story.
The book is about a little boy called Dax, who has a special light and strength that is needed to help save the stars. He can't stay on Earth with his family, which makes them sad. The story follows his adventure with the stars and how he lets his family know that he's still watching.
A message from Devon,
"Dax was such a kind and gentle little boy with a cheeky and fun character who was so loving especially to his big sister Darcie.
Dax first started showing symptoms in early March 2020 during a surprise trip to Disneyland Paris but was sadly misdiagnosed on multiple occasions. He was then diagnosed in May 2020 with a rare and aggressive cancerous brain tumour and underwent emergency brain surgery as well as many more surgeries and intense chemotherapy. However, in August 2020 Dax passed away at home in my arms, he was only 2 years old.
Dax showed an incredible strength through everything and would always have a smile on his face. Losing him has left us heartbroken but we'll love him forever and we are so proud of him.
We used Instagram through Dax's illness and treatment to keep people up to date with what was happening. Dax and his story have touched many hearts around the world. We now use the page to raise awareness for childhood cancer and continue telling Dax's and our story.  (@we.are.the.peeks)"
The Boy in the Stars is available on Amazon and will also be released as an ebook soon.
Coo Clayton: Maggie's Magical Island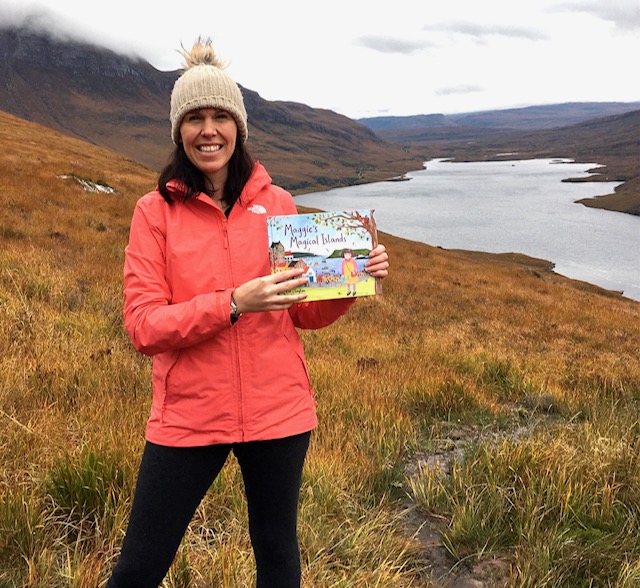 Coo grew up in St Andrews and now lives in Edinburgh with her husband and three children. As well as being an Author, Coo is also a part time Primary teacher and when she's not writing or walking the dog you'll find her eating Pringles and watching Greys Anatomy!
Maggie's Magical Islands is the third in the Maggie Series and follows on from Maggie's Mittens and Maggie's Monsters, all published by Black and White Publishing.
Maggie's Magical Islands follows Maggie and her Mum on a journey around the Scottish Islands and features Arran, Islay, Skye, Mull and Lewis. Maggie discovers an old map and decides to find out what the mysterious X on it really is…it turns out to be the most amazing treasure, but not the sort you'd imagine.
Signed copies are available through the author – drop a message through to @cooclaytonwriter on Instagram or Facebook and you can pick up a copy at many of the wonderful book shops in Edinburgh including The Portobello Bookshop.
Naomi Mills: You are the answer: why it's time to trust your body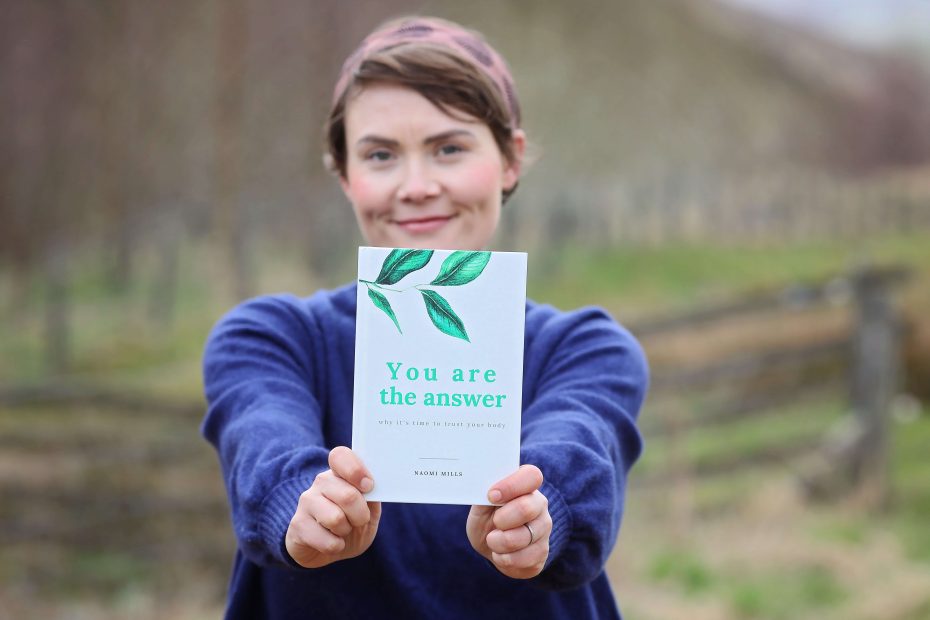 Even though Naomi Mills has spent her working life in healthcare, she wasn't always healthy herself. Through her own journey Naomi came to understand that she could have more control over her mood, energy and sense of self than she had ever thought possible. By introducing gentle and sustainable new habits over time, she learned how to help her body and mind into a relaxed state, making her less likely to get sick or overwhelmed.
Naomi hopes her book will inspire you to look at your health differently and to take a more active role in creating the life you want through a deeper understanding of listening to your body's signals. These concepts are valuable for helping navigate the world right now and sowing the seeds for healthy habits that will last a lifetime.
Pick up a copy and use code EGG for 30% off at https://lifeandlightchiropractic.co.uk/serve/book
Charlie Roy: The Broken Pane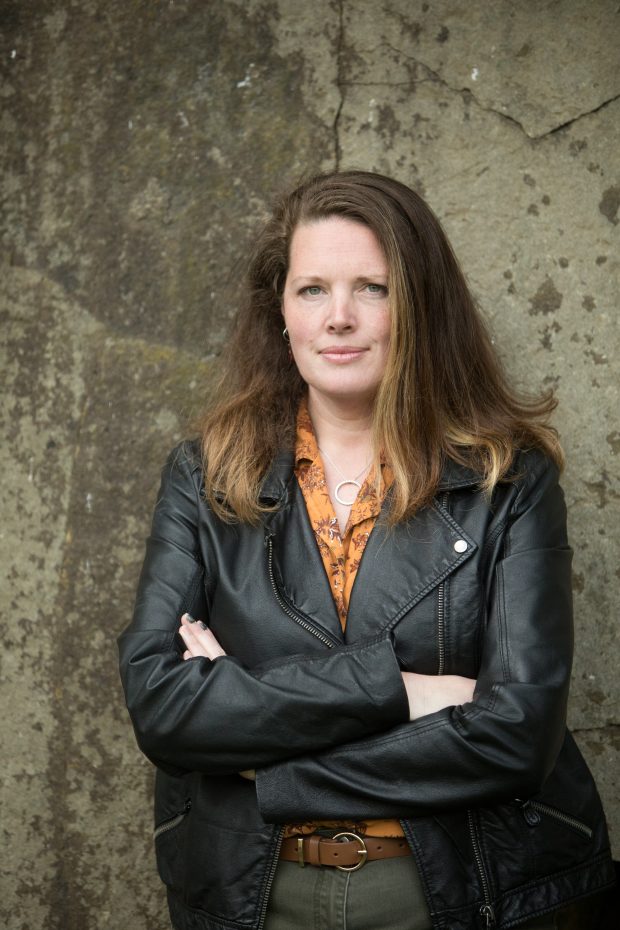 Photocredit: Ryan McGoverne
Debut novelist Charlie Roy is the author of The Broken Pane and a well-kent face on the Scottish poetry scene, performing at the BBC Slam, the Edinburgh International Book Festival and Edinburgh Fringe. In prose as in poetry, her work focuses on women's lives, mental health and family. Charlie was born in London and grew up in Spain, eventually trading the sunshine for Scottish wind, making Edinburgh home. She drinks too much coffee and loves long beach walks with her labradoodle.
The Broken Pane is about loss and family when families are broken. Finding yourself in the pieces of memory. About a young woman and her search for answers.
In her early twenties, Tam rushes to her childhood flat only to be confronted by a tragic discovery. Anchored by the weight of family lore, she struggles to come to terms with her loss. As her life spirals, she sets off to find the one person who may hold the answers: her mother. Tam's travels take her far from a home which was more broken than she had ever realised.
Walking the line between reliable memory and unreliable narrator, Charlie Roy's debut novel invites you to consider whether you are shaped by your past ― or if you shape your past yourself?
The Broken Pane comes out on 1st October 2021, pre-order your copy at Leamington Books
Michelle Deans: Birds Around the World 
Inspired at a young age by a primary school project, Birds Around The World combines a children's colouring book with informative descriptions of each of the pictures, from the giants of the skies to the world's smallest bird. The back of each colouring page is left blank to fill with additional hand drawings, cut outs, photographs and more.
Inspired by her love of birds, Michelle was drawn to create this book to inspire and educate children with the hope that one day they will travel the world to see these birds in their natural habitat, just as Michelle has done.
Pick up your copy of Birds Around the World at Amazon 
Emma O'Connor: Under Grandma's Table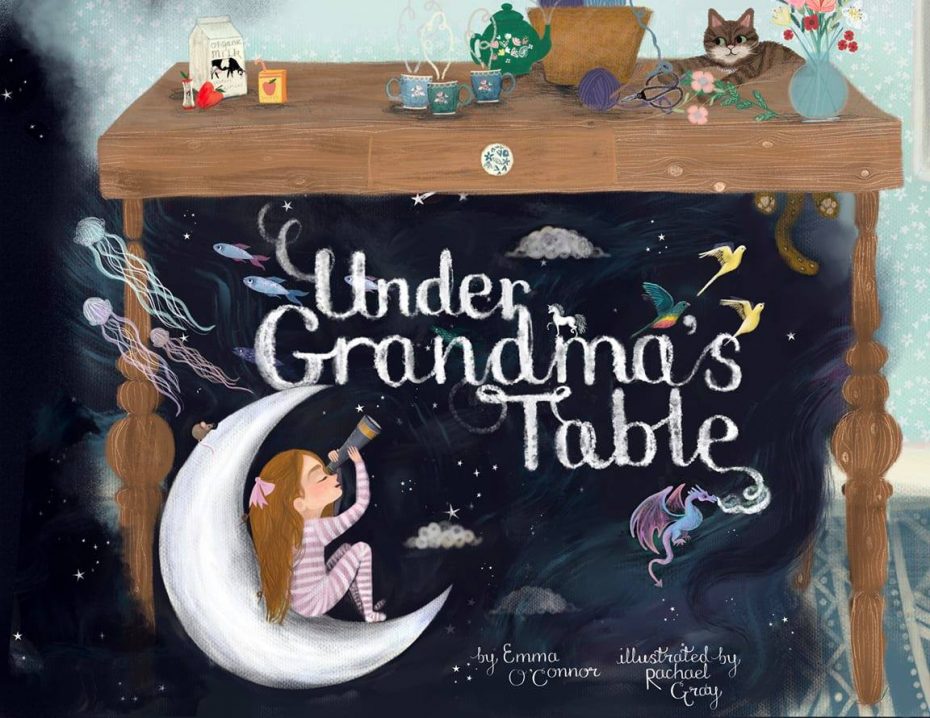 Under Grandma's Table was inspired by memories from Emma's grandmother's house, as well as being a Mum and playing with her children.
The book follows a little girl through the magical worlds she creates in her imagination. From the deepest sea to the far reaches of space, from wild jungles to sandy beaches, she demonstrates to us that our limits are only set by our own imagination. The whole story is set under the table, (with the exception of one or two wee adventures) with the space transformed by the child's imagination. Beyond the table, life goes on, with the stuff of life… like the knitting, magically transforming if it happens to swing beneath the table. There are things to find…A cat, dog, and a little mouse… and as the story progresses, the seasons pass.
Written in rhyme, so it can be easily read and listened to over and over again, this book is for fun, and to inspire creativity, imagination and play..
Pick up a copy at www.everydayhappy.co.uk
Elke Thompson: little people, big conversations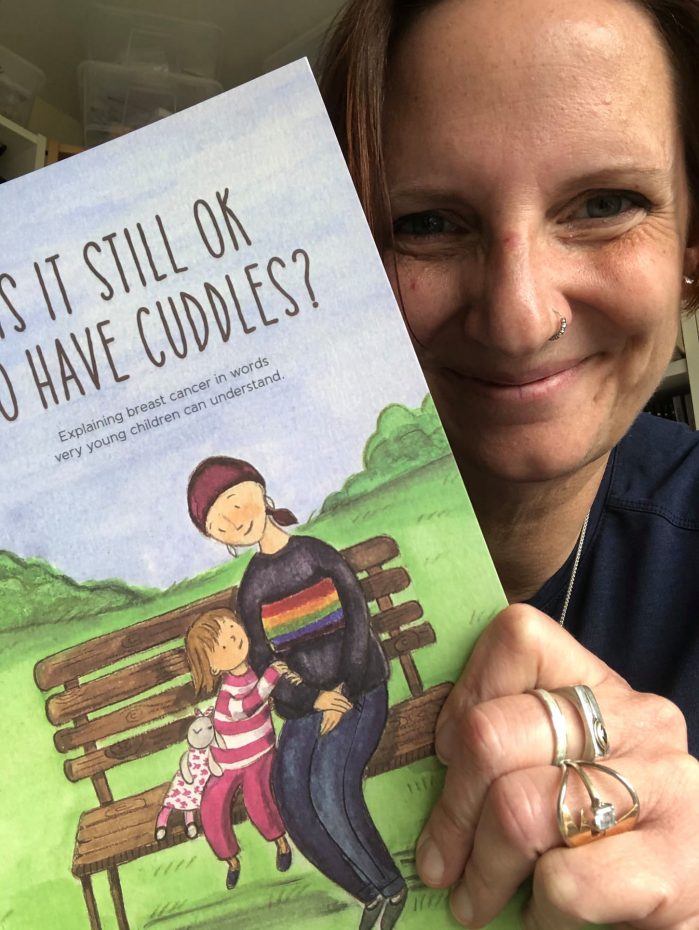 Have you ever had to explain a death or a serious illness to a young child, and didn't know what to say?
Were you frightened that the truth might scare them, and you wanted to protect them from it all?
Or were you that child, who had questions, but was brushed aside as 'too young to understand'?
Elke's fully illustrated children's books help you find words in times of trauma.
"Is Daddy Coming Back in a Minute?" and "What Happened to Daddy's Body?" explain death and what happens after death in words very young children can understand, and are written from the perspective of her, then three-year-old, son Alex after the sudden death of his own Daddy, Martin, in 2009.
In 2012, Elke was diagnosed with an aggressive breast cancer, and her latest book, "Is it still ok to have cuddles?", tells exactly that story. It is written from the perspective of her, then three-year-old, daughter Olivia, and explains cancer, chemotherapy, surgery and radiotherapy, all the while reassuring the child that it is still okay to be close and have cuddles.
Pick up a copy at www.elkethompson.com
Amanda Block: The Lost Storyteller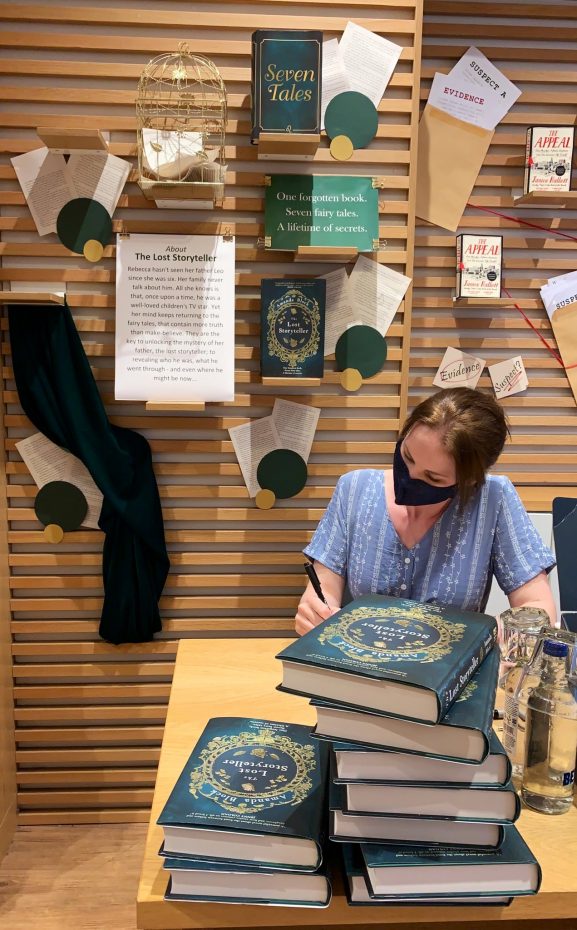 Originally from Devon, Amanda Block moved to Edinburgh in 2007 where she attained a master's degree in creative writing. Since then, she's divided her time between ghostwriting, editing and tutoring.
Amanda's writing is often inspired by myths and fairy tales which she uses as starting points to tell new stories. Her work has been shortlisted for the Bridport Prize and the Mslexia Short Story Competition and The Lost Storyteller is her first novel.
Rebecca hasn't seen her father Leo since she was six. Her family never talk about him, and she has long since pushed him firmly to the back of her mind. All she knows is that, once upon a time, he was a well-loved children's TV star.
But when a journalist turns up uninvited at her office asking questions about her once-famous father, Rebecca starts to wonder whether there is more to Leo's absence than she realised. Then, looking for answers, she unearths a book of fairy tales written by Leo and dedicated to her – but what use are children's stories to her now, all these years later?
Tentatively, Rebecca tries to piece together her father's life, from the people he used to know and her own hazy memories. Yet her mind keeps returning to the magical, melancholic fairy tales, which seem to contain more truth than make-believe. Perhaps they are the key to unlocking the mystery of her father, the lost storyteller; to revealing who he was, what he went through – and even where he might be now…
Pick up a copy of The Lost Storyteller at Waterstones 
Angela Jackson: The Darlings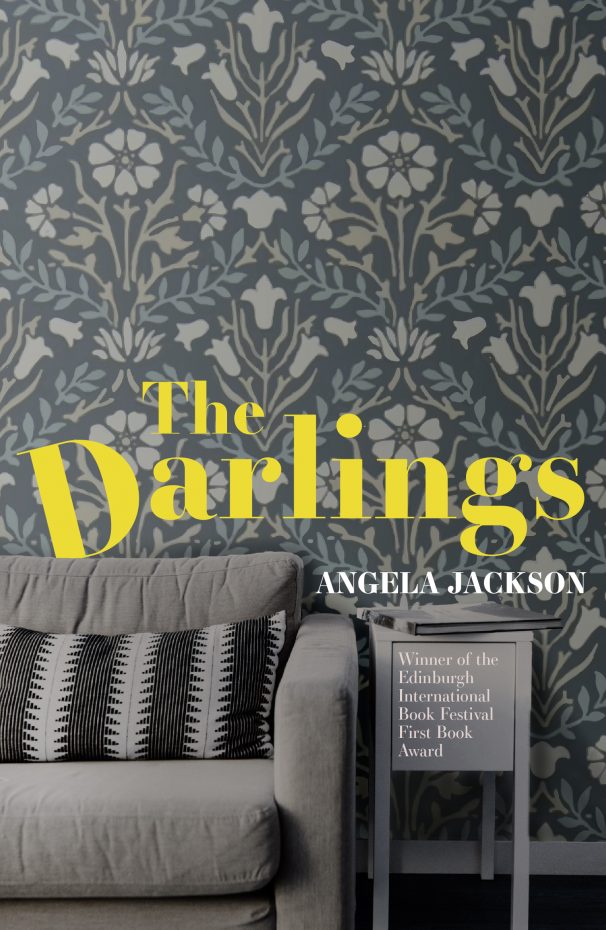 Set in Edinburgh, this is a story about how childhood experience can profoundly impact how we behave as adults. The author, award-winning novelist and former psychology lecturer, Angela Jackson, says: "It's a story about betrayal, infidelity and how we often blinker ourselves to see a version of the truth that is more palatable to us.
When Mark Darling was fifteen years old, he was golden boy, captain of the school football team, admired by all who knew him. Until he killed his best friend in a freak accident.
He spent his first decade as an adult drifting between the therapy couch and dead-end pursuits. Then along came Sadie. A mender by nature, she rescued him from the torpor, and had enough drive to carry them both through the next few years.
One evening, Mark bumps into an old schoolfriend, Ruby. She'd seen the accident first hand. He is pulled towards her by a force stronger than logic: the universal need to reconcile one's childhood wounds. This is his chance to, once again, feel the enveloping warmth of unconditional love. But can he leave behind the woman who rescued him from the pit of despair, the wife he loves? His unborn child?
Pick up a copy at your local Edinburgh book shop, or direct from the publisher
Anna Deacon and Vicky Allan: Taking The Plunge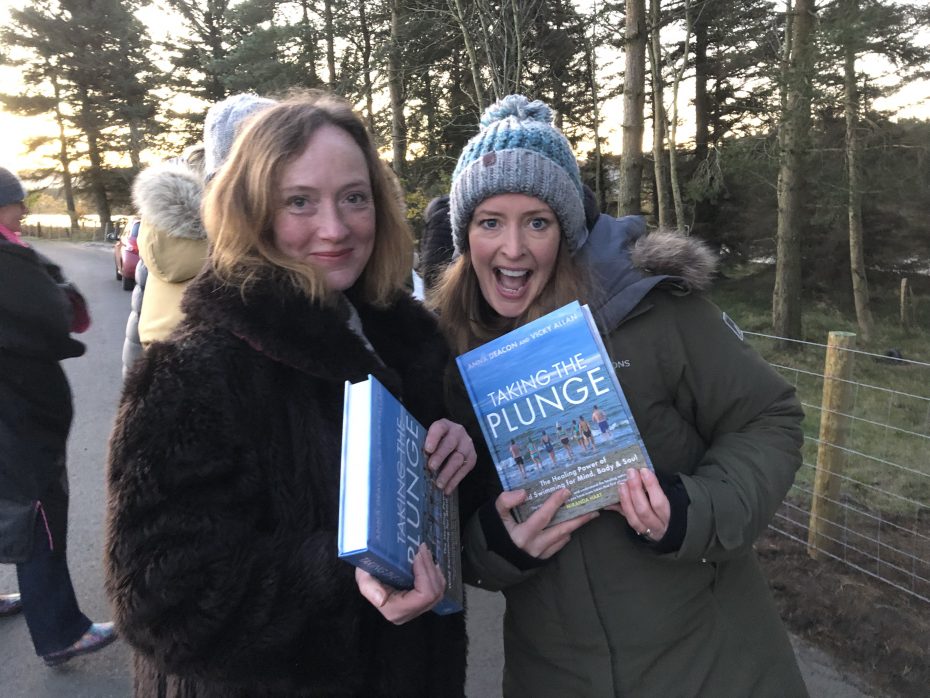 Authors Anna Deacon & Vicky Allan met through a mutual friend in Edinburgh who thought their passion for wild swimming would make for a good book. They secured a deal with Edinburgh based Black & White publishing within a few weeks and Taking The Plunge came out in November 2019. A heartwarming book about the wonders of wild swimming in Scotland, it started as a photographic project for Anna who started documenting the swimmers she met down at her local beach Wardie, then further afield. She created with Instagram account @wildswimmingstories as a place to put these portraits and with them the stories of why people were coming to the water and how it was helping them. Taking The Plunge delves into the reasons we swim, how it deals us. With chapters about bereavement, pain management, mindfulness, fun, adventures, mental health the book consults experts and tells inspiring stories from real swimmers. Filled with stunning photography, it really is the book to read if you fancy wild swimming. Jo Whiley invited Anna & Vicky onto her show and said she found the book so inspiring and she gave it to all her swim friends. It also features lots of EGG members!
Vicky & Anna have also written a book called For The Love Of Trees which is about the human connection to trees and why they are so important. They are also working on two further books which are out this autumn The Art Of Wild Swimming, there is a Scotland and an England & Wales version and they are essentially comprehensive guidebooks to how to get started swimming, where to go, what you need and filled with advice from real swimmers across the UK who champion their own local swim spots and pass on top tips.
Vicky has also written Still Hot! With Kaye Adams, an amazing book about the menopause told through stories of inspiring women.
Anna is also writing a guidebook to the Balearic islands for Wild Things publishing. Wild Guide Balearics is out in April 2022.
Taking The Plunge & For The Love Of Trees are available from most good bookshops online and on the high street. The Art Of Wild Swimming books are available to pre-order from most shops.
EGG Membership Card Illustration
Join EGG Today
Become a member of EGG and enjoy a heap of exclusive benefits. You'll get access to Exclusive Offers, Events and your very own Digital Membership Card –  use it to discover great places in Edinburgh and connect with like-minded girls.
Pay Annually
---
£30
per year
Sign Up Now »