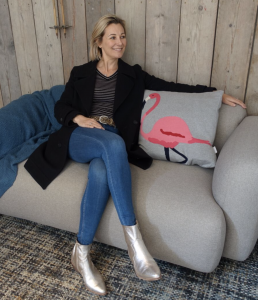 Set up in 2017 by Kylie Reid, EGG first took the form of a Facebook Group. As a newbie to Edinburgh after making the big move from Glasgow, Kylie was a new mum in a new city, feeling slightly lost and fed up of using Google as her best friend when it came to finding local recommendations for things to and places to visit. And so the EGG Facebook page was born, very quickly becoming a five thousand-strong community!
Kylie soon realised that she was not alone – there were so many women across Scotland just like her; women who wanted to connect with others; who were new to the city and feeling lonely; new mums finding their way, and many working remotely or from home. Basically, a large number of like-minded girls looking for support and looking for that network. EGG was that place! The place for women of all backgrounds to share, support and listen, forming friendships and meaningful connections.
As EGG continued to grow, Kylie left her full-time sales job to focus on this new community. EGG had soon become the hottest name in town, and was being approached by countless local businesses wanting to offer the group exclusive discounts. And so came the 'EGG Membership Card'; it was finally time to take the online community offline, and that then became the focus of the business which EGG officially launched as a business in April 2017.
Now sitting at over 25,000 members, the £30 annual subscription allows access to specially curated events and exclusive offers. EGG hosts multiple events throughout the year, including working lunches, social meet-ups, charity events, and networking with a difference. We've worked with brands such as Anthropologie, Mint Velvet, Harvey Nichols, Coach, Topshop, hush, John Lewis, and Aberdeen Standard Investments, plus many more independent local businesses.
Some of our most special events are the ones offering emotional support, and these take the form of our EGG Talks series. Covering topics such as grief, anxiety and maternal mental health to name but a few, these events have extended the hand of friendship when people may need it most and have helped make a real difference. 
In 2018, the EGG Talks To… podcast was launched. Head EGG Kylie is a self-confessed podcast addict, and is absolutely in her element when interviewing amazing Scottish women, sharing their inspirational stories far and wide.
Constantly growing and evolving into a community of thousands of women across Scotland, EGG is a safe place for women to share and discuss thoughts and insecurities, knowing that if you're ever feeling a wee bit alone, there's always someone else feeling that way too. We aim to bring women together, supporting them with businesses, wardrobes, and health & wellbeing. It's great fun and we'd love for you to join us.
EGG Membership Card Illustration
Join EGG Today
Become a member of EGG and enjoy a heap of exclusive benefits. You'll get access to Exclusive Offers, Events and your very own Digital Membership Card –  use it to discover great places in Edinburgh and connect with like-minded girls.
Pay Annually
---
£30
per year
Sign Up Now »